Apparently acknowledging shadow inventory is like holding onto childhood superstitions like believing in Santa Clause or the financial Easter Bunny. Over the last week, many of you have sent me articles where many authors both amateur and professional have started attacking shadow inventory and started proclaiming that it was a myth.  Shadow inventory does not exist according to these new articles.  Some of these authors went ahead and made up their own definitions of shadow inventory which in itself is curious since this inventory supposedly does not exist.  The problem of course is that there are many definitions of what shadow inventory is so I will try to reiterate what I have been talking about for months.
Here is how I define this category of inventory:
"(Doctor Housing Bubble) What is shadow inventory?  First, shadow inventory is housing units that are not making it onto the public market for one reason or another. There is speculation surrounding why this is happening.  Lenders are overwhelmed and simply do not have the human capital to handle the glut so goes one theory.  Others speculate that lenders are simply too incompetent to have a system in place to handle the mess they created."
This is rather clear and many people when referring to shadow inventory are discussing it by this definition.  Essentially shadow inventory encompasses housing inventory that isn't viewable by the public or measured in more historical standards.  Calculated Risk does an excellent job breaking down some of the categories:
"(Calculated Risk) There are several categories of shadow inventory:
REOs. There are bank owned properties that have not been put on the market yet. Several sources have told me the number is growing – no one knows why except possibly for accounting reasons (the banks might have to take an addition write down when they sell the property).
Foreclosures in process. The delinquency rate has continued to rise, and this will probably lead to many more foreclosures later this year. The number of foreclosures depends somewhat on the success of the modification programs. Last year many delinquent homeowners listed their homes as "short sales" – so those homes were not shadow inventory, however fewer delinquent homeowners are listing their homes now as they try to work with their lenders on a modification. Some percentage of these homes are shadow inventory.
New high rise condos. These properties are not included in the new home inventory report from the Census Bureau, and do not show up anywhere unless they are listed.
Homeowners waiting for a better market. This was the group mentioned in the Reuters story (the article also mentioned foreclosures). These are homeowners waiting for better market conditions to sell.
Inventory is usually the best metric to follow for the housing market – and according to recent releases inventory is declining for both new and existing homes – however shadow inventory clouds this picture."
I would also add homeowners that have stopped paying but banks are simply not contacting them.  In fact, according to Amherst Securities Group LP the foreclosure process now takes 18 months to 2 years, up from 15 months only a year ago.  2 years!  I have had many e-mails from people telling me they have been in their homes without making a payment for 12 months.  Amazing.  Others have stopped making payments and the banks have yet to contact them.  The bottom line, there is shadow inventory.  These are homes that in every other time in history would have been on the market as additional inventory.  I am open to debating the amount of shadow inventory but to say it is a myth is non-sense.  In fact, to think there is no shadow inventory is to believe in banking data and give the crony capitalist the benefit of the doubt that they are handling things correctly.
In addition, the crux of the argument for those stating the non-existence of shadow inventory is narrow in focus.  What they are arguing is basically one angle of the story.  Their point is that banks are not hoarding REOs and there will be no flood of inventory in the next few months.  On this point, they are correct.  That however does not mean there is no shadow inventory or that somehow it is a myth.
Let us run a quick little experiment shall we?  Let us look at an area facing tough times right now here in Southern California, Compton:
MLS Inventory:            465
Of this, 114 are listed as short sales and 48 are listed as foreclosures
So this is the public data.  But let us look at what is going on in the shadow inventory: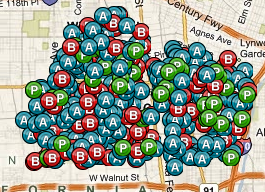 So how many properties show signs of distress?

This is exactly what I am talking about.  The public can see 465 homes with 114 short sales and 48 foreclosures.  But the reality is, there are some 1,639 properties either in pre-foreclosure, default, or bank owned.  Now, if we remove the public listings that would leave us with 1,477 homes not showing up.  Given the entire MLS inventory is 465 I would say that is a rather significant number.  Most of these homes will default.  This is something we already know.  This is in fact shadow inventory.  Banks are simply self-serving and are holding off on foreclosing on homes because to do so, would implode their business.  That is, they would need to take an immediate and gigantic write-down.
And banks are getting their hands slapped but nothing is being done.  Timothy Ward who is the deputy director of the Office of Thrift and Supervision even acknowledged the shady practices currently going on at banks:
"(OTS Letter) The following practices are considered weak and do not appear to be in accordance with GAAP and/or supervisory guidance.
1)  Institutions charge-off losses only at foreclosure or when deemed uncollectible. A sound practice is to establish charge-off policies in accordance with the Uniform Retail Credit Classification and Account Management Policy (CEO Memo #128, July 27, 2000). Institutions should assess the current value of the collateral and selling costs when a loan is no more than 180 days past due. Any loan balance in excess of that assessment should be classified Loss."
180 days past due?  You mean 6 months?  Well we just found out the foreclosure process is taking 18 months to 2 years (assuming banks even start the process which we now know in many cases they are not).  What we need is a heavy crack down but with suspension to mark to market, banks are playing fast and loose with their data.  If you recall, the public private investment program (PPIP) was set to move forward in July.  It is still having the kinks worked out apparently.  I guess they still haven't figured out how to fleece the public enough.  Many banks were assuming they were going to dump all their toxic waste onto taxpayers.  And to acknowledge toxic waste while the stock market is rallying like it just took some speed might throw a wrench into the party.
Also, I think some confusion came from the Alt-A and option ARM tsunami that I have talked about for nearly a year.  This is not a myth and the tsunami is already here: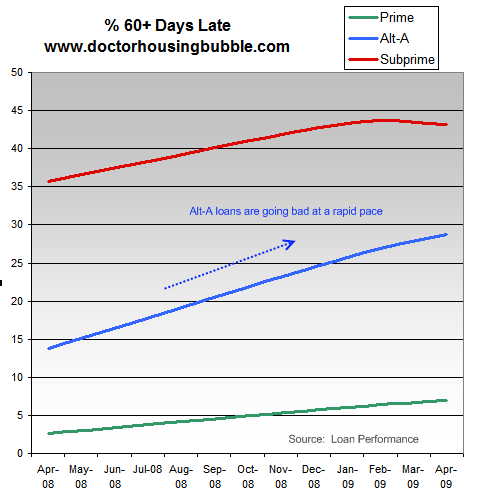 These loans are going into distress as expected.  This is happening in California and also nationwide:
The question whether banks are foreclosing on these homes is another thing entirely.  In fact, the way things are playing out not paying your mortgage seems to be an actual solution to the crisis for banks.  Most are betting their cronies will come through and they can suddenly dump the waste onto the public.  At a certain point however, you have to get to price discovery.  To think that loan modifications or sales are fixing the imbalance is naïve and misses the entire scope of the problem.  Currently, the market still has $1.1 trillion in active Alt-A and subprime loans.  That is an enormous number.  Let us not even talk about the rising number of prime defaults which is another major issue in itself.  And to clarify, pay option ARMs can also be Alt-A loans.  Not all pay option ARMs are Alt-A loans and vice versa.  Alt-A is simply a category called Alternative A-paper meaning banks played fast and easy with the underwriting.  There are a few general reasons a loan would fall into the Alt-A category:
>Less than full documentation
>Lower credit scores
>Higher loan-to-value ratios
>More investment properties
So you can technically have a high credit owner with an option ARM that isn't an Alt-A product.  Or you can have a low credit owner with an option ARM that is an Alt-A product.  This is rather clear.  Option ARMs are a small part of the toxic mortgage world.  The bottom line is we have some $1.1 trillion of extremely toxic mortgages floating in the market and most of the Alt-A loans are here in California: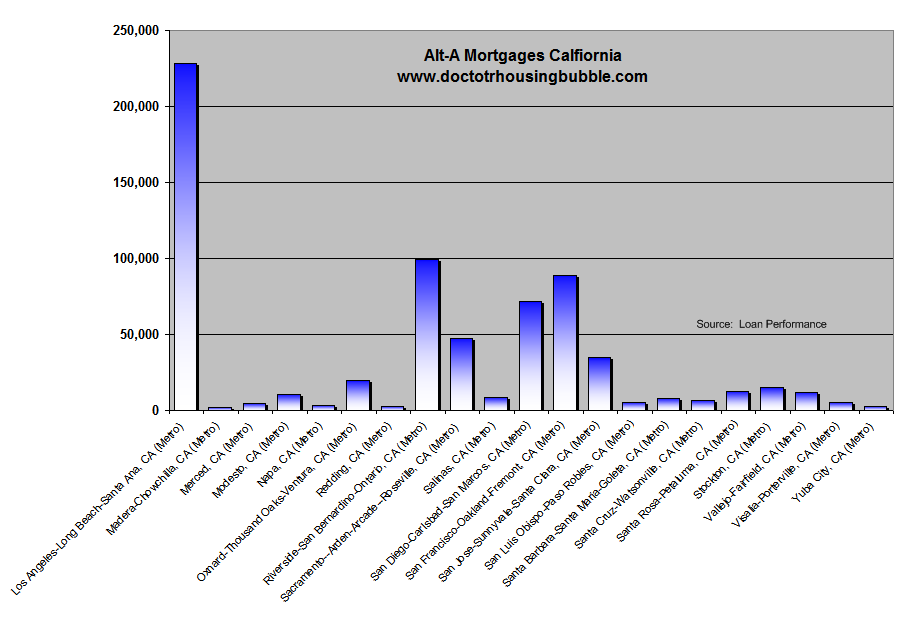 So the flood of problems are already starting.  Banks are simply operating under incompetent rules and mixed standards where one bank might foreclose on a regular timeline while another bank might be doing absolutely nothing.  In fact, I have gotten a few e-mails from those in the industry stating that banks are simply waiting to "see where the market goes" in the next few months.  This confirms what was said in a recent American Banker article, Postponing the Day of Reckoning (August 26, 2009 – subscription required):
"Deferring foreclosures could have bottom-line benefits experts say.  With fewer foreclosed properties hitting the market, housing prices have rebounded slightly.  Moreover, properties might recover more of their value later on, so by waiting, banks may be able to cut their ultimate losses.
"Everybody is waiting to see what the market is going to do from a property perspective," Volez said, "At some point, they have to liquidate these assets."
That is the main issue right there.  Here in California, many of those Alt-A loans will never recover.  A property that sold for $400,000 in the Inland Empire that is now going for $150,000 is going to cause the bank a loss no matter what.  At a certain point, having so many borrowers not paying is going to cause massive cash flow problems.  This will drain your capital as well.  Some think that by delaying foreclosure that banks are being creative and smart.  They are basically trading a sudden punch to the head with death by a thousand mortgage payments.  That isn't a solution.  That is praying the government and the taxpayer bail you out once again.  And then what?  The government owns these toxic mortgages?  At a certain point the home has to be valued at non-bubble prices.  In places like California with an 11.9 percent unemployment rate, prices may not recover for a decade.
Let us look at another prime location to see some more shadow inventory if you still have some doubts.  Many are itching to buy in Culver City so we'll use that as an example:
Culver City MLS listings:           101
2 listed as a foreclosure and 12 listed as short sales
Now let us look at properties in distress:

How many properties are we looking at above?

170 properties.  Keep in mind that only 14 of these are on the MLS.  Take out the 2 foreclosed homes and 11 short sales and you have 157 properties not viewable by the public.  Given there are only 101 properties on the MLS, there are more properties in the shadows than in the public view.  22 homes sold in Culver City last month.  This is the difference between 4.5 months of inventory (low) and 12 months of inventory (high).  Big difference and the shadow inventory does exist.  I know it was painful to hear as a child that there was no Santa Clause but you can feel comforted that shadow inventory is the real deal.
Did You Enjoy The Post? Subscribe to Dr. Housing Bubble's Blog to get updated housing commentary, analysis, and information.