Being a landlord is no easy task. In the long run owning a rental property can be a nice addition to your investment portfolio but there is nothing sexy about it. Many small time landlords only start to see the benefits many years into holding the property. For the most part, this is why Wall Street and large hedge funds have avoided owning single family homes in their portfolios. That of course changed in 2007 when the market went into full on implosion mode and the mantra of the day was "chase yield anywhere you can find it." There is this odd notion that somehow all the great deals went to other families that timed the market perfectly. The excellent deals of 2008 to 2011 were happening at a time when the economy was in crisis mode. Some of the best deals to be had were done via auctions and you needed to have a cashier's check to play so many regular people had no access to this. 7 million foreclosures and many of these are now in the hands of investors. The homeownership rate is a clear indication of this. It should also be no surprise that we've added 7 million renting households. How big of a change have we seen? Rental income which held steady between 2000 and 2007 at roughly $200 billion per year is now up 240 percent coming in at $640 billion. Since few people actually own rentals, this is money flowing into a concentrated group.
Send those rent checks in
How many people in the US actually own rental property? The figures are hard to get but the number is very low. The Fed does an extensive survey on consumer finances and found that in 2013, roughly 13 percent of families had another property outside of their primary residence compared to nearly 50 percent that have some money in retirement funds. Keep in mind however, that this number includes vacation homes so these are not all rentals.
First let us look at the number of households with other real estate besides their own property: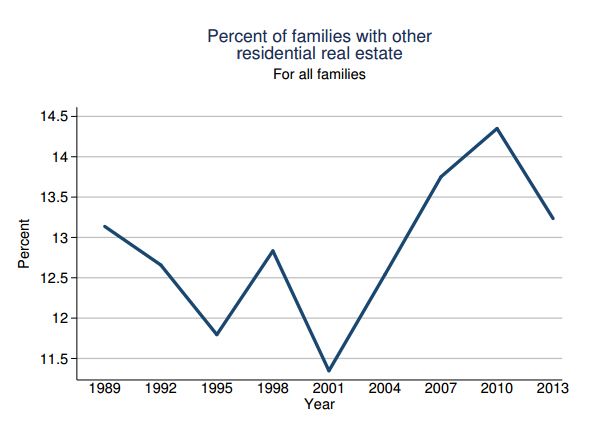 Source: Fed Survey of Consumer Finances
This is interesting that the number has pulled back in recent years for families given the massive number of investor buying. What this tells us is big groups were the large beneficiaries of the recent rental buying boom.
If you think families are owning incredibly expensive second homes think again. Take a look at the median value of those other pieces of real estate: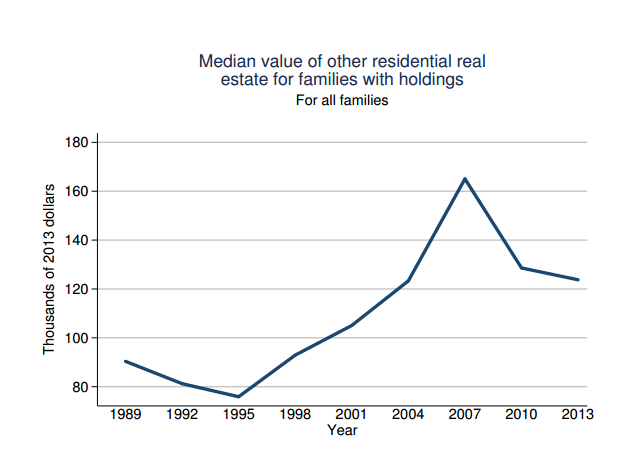 According to the survey the median value of these other pieces of real estate is close to $120,000. Certainly not your $700,000 crap shack in California. What we can also derive is that much of the recent buying is going to groups that are new to the single family game. Given constrained inventory, any marginal buyer (in this case large investors) easily pushed prices higher.
Look at it this way. From 2000 to 2007 we had the largest boom and bust in US real estate that we have ever known. You would think that many would have been diving in to buy investment properties for rents yet somehow, rental income held steady throughout this period. Most were using the easy access to debt to over leverage and buy more home than they could afford and used their homes like ATMs. Many others were aspiring flippers in it for the short game. The figures back this up. What we then see in 2008 is big money and investors that live and eat spreadsheets coming in strictly for rental income. The below chart couldn't be any clearer: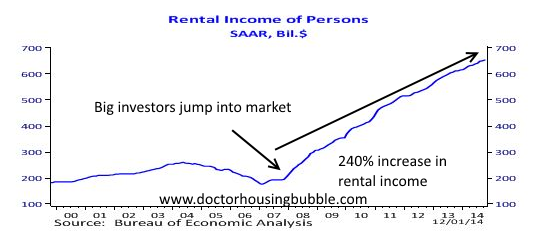 Source: NAR, BEA
Rental income is up a whopping 240 percent from 2007. And the vast bulk of spoils are going to Wall Street and large investment funds. Rents are now up across the United States while incomes are stagnant. Simply more income is going to housing in either rents or higher mortgage payments. This is also why the homeownership rate has gone this way since the bust happened: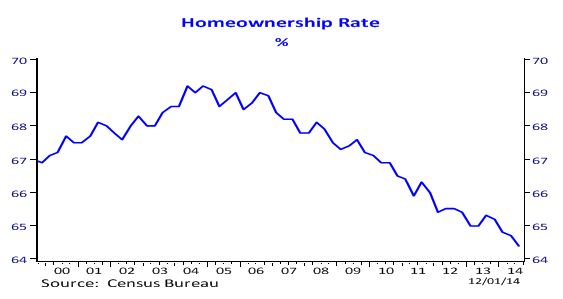 Follow the money carefully. If you do, you will see that big money is pulling back from real estate. The nation is largely becoming one of renters and the big juicy gains are going to recent landlords. This is also a reason why the market has stalled out in 2014 as investors have pulled back since current prices simply do not make sense for investment properties. There is much speculative thought in the market today. The number of people saying that they wished they would have bought smells of 2006 and 2007. If you are in it for the true long run and not some quick turnover property ladder enthusiast, then buying today assuming your income can support it should not be an issue. 30 years of inflation will eat a lot of things away. But is it a good investment? You have to factor in opportunity costs, additional outflows for owning versus renting, and ultimately your lifestyle choices. For many, buying today would seriously put a vice grip on your monthly budget. And what you are able to buy is one step above junk.
The fact that we've added so many more renting households is a trend that is not going away. Younger households are largely cash strapped and this has put a dent into the first time home buyer market. The good news though is that more rental income is going to larger landlords. The wonderful benefits of the bailouts, QE policy, circumventing regular accounting standards, and artificially controlling the market.
But you are itching to blow your money. So let me help you by pointing you the way to a place in Pasadena: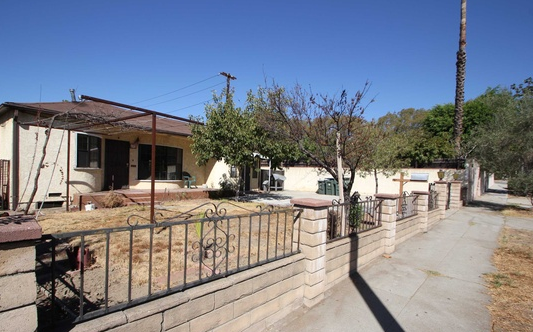 541 Sierra Madre Villa Ave, Pasadena, CA 91107
3 beds, 2 baths, 1,521 square feet
I love it! More deferred maintenance on the grass and trash cans in the photo. I love that the ad tells us to "fix and save!" as if we are getting the deal of a lifetime. The ad might as well say "hey sucker, we won't even spend a few thousand bucks to get the lawn up to speed or try to take a good photo. The market is so hot, we can set the trash cans on fire and we would still get offers." This place last sold in 1994 for $165,000. Today it is listed for $575,000. Here is the street view of the home:

Good idea to have a home directly on a major street especially if you are planning on having a family? Not if you are paying close to $600,000. Then again, this is SoCal so have at it folks!

Did You Enjoy The Post? Subscribe to Dr. Housing Bubble's Blog to get updated housing commentary, analysis, and information.