Some people would like to believe that the outstretching tentacles of green shoots will all of a sudden resurrect the California housing market.  You have people focused on the Westside of Los Angeles with eagle eyes waiting for their moment to pounce on their prized 900 square foot piece of property.  Something over the last few months has shifted and people are jumping back into the housing game.  That something was a pause in the financial Armageddon that was leading us to Mad Max territory.  They all of sudden dismiss the Alt-A and option ARM catastrophe heading down the tracks and suddenly feel that they will miss housing bubble 2.0.  Many think that if they don't buy now, they will miss the next manic phase of the market where a 500 square foot shack will cost $1 million.  A little bit of housing bubble perfume is back in the mix in Southern California.
To give you a true sense of what is happening, we uncovered some 40,000 homes being hidden by banks here in the region.  Consider it the bank keeping a few homes in their back pocket for another rainy day.  Today we are going to shed our light once again on Culver City.  Why are we heading back to this spot?  Because this is the perfect landscape where the Alt-A and option ARM problems will take place in 2010 and 2011.  Out of the 5,559 homes sold in June in Los Angeles County only 19 took place in Culver City.  This is considered a prime location by many, (certainly not on the level of Bel Air or Santa Monica but still a good location).  You have many fence sitters wondering whether it is time to jump back into the game.  Ideally, after looking at another on the ground example, you will sober up.  Today we salute you Culver City with our Real Homes of Genius Award.
Culver City – Prime Time
Whenever I think about half million-dollar homes, I think about steel bars over my window.  Some people have forgotten what insanity looks like in the housing market because they assume that prices for the most part have come down to reflect reality.  In many areas, they are still over priced.  Take the above home for example.  The home has 2 bedrooms and 1 bath on a palatial 901 square feet.  The home was built in 1941 so you can rest assured everything is up to date.
Let us take a look at some sales history here:
Sales History:
03/24/2005: $652,000
11/18/2004: $530,000
Good times in Southern California.  Where else are you going to pay over $500,000 for a 900 square foot home?  We probably want to get a better angle look if we are going to drop half a million on a home: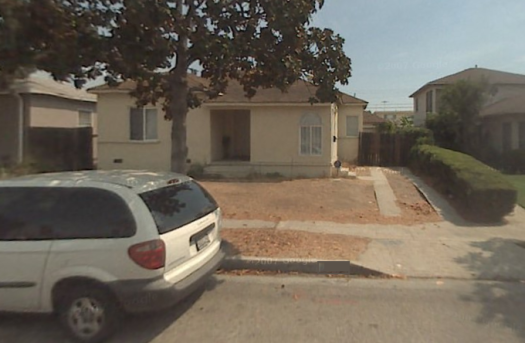 Keep in mind these are the kind of homes people are obsessing about in the Westside of L.A.  But this home has more of a story than meets the eye.  This home also demonstrates the wonderful lending habits of Washington Mutual and Citibank, two big crony banks.  WaMu is no longer with us but many of you are probably sick of seeing all those ex-WaMu buildings telling you that "Chase is finally here" and Citibank is pretty much one of the ultimate taxpayer banking bailout stories.  This home is currently listed as a short-sale: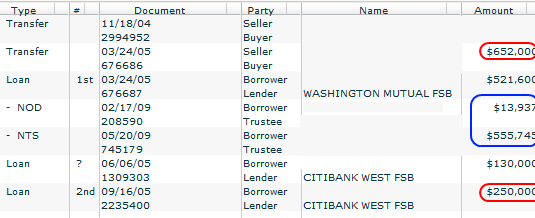 What happened here probably flies in the face of what many people think would be a typical foreclosure.  The first sale in March of 2005 looked conservative in terms from the banks standpoint.  Of course to WaMu anything that moved and didn't smell like old socks was a good bet for underwriting.  So let us walk through that last sale in 2005:
03/24/2005: $652,000
Down payment 20%:              $130,400
Loan #1:                                  $521,600
Holy crap!  I think we may have found one of the few loans that Washington Mutual did with a 20 percent down payment.  Even a 20 percent down on this place isn't enough to keep you safe if you start using your home like a mortgage equity withdrawal machine.  Only 3 months after purchase, Citibank thought it wise to allow that 20 percent to be yanked out from the home in the form of a second to the tune of $130,000.  Well at least the home had equity of $400 at that point.  So much for that 20 percent buffer.
But this is 2005 baby.  Time for another trip to the mortgage ATM.  Like an addicted gambler in Vegas, the ATM is not your friend.  Another 3 months go by and Citibank sees it fit to allow for a loan of $250,000 as a second.  So apparently, the home increased in value by $120,000 in the matter of three months.  Maybe it had to do with that spectacular lawn?  So let us now run the notes:
Loan #1:          $521,600 (WaMu)
Loan #2:          $250,000 (CitiBank)
Total:              $771,600
Now this is looking more and more like a Real Home of Genius.  In the span of six months we took what was a conservative 20 percent down payment and turned the house into a zero equity mortgage equity withdrawal machine.  Some may think this is something from the bubble bursting days but this is something happening right now if you look at the NOD and NTS.  When the first notice of default was sent in February of this year, the borrowers were already behind by $13,937.  They obviously have not caught up with their payment and the NTS was filed in May.  The current list price is $550,000 and is in the more expensive zip code in Culver City if you believe the data.
And some will probably chalk this up to one example.  But since the Real Homes of Genius series has over 100+ homes that are ridiculous examples of Southern California real estate, I have a feeling this is the tip of surface.  And here is more savory details.
MLS Single family homes in this zip code:                12
Distress property notices:                                            35
So you have nearly a 3 to 1 ratio of distress homes to MLS listed homes.  Of those 35 homes only 3 show up on the MLS.  Hello shadow inventory!  And how do those other 2 short-sales look like?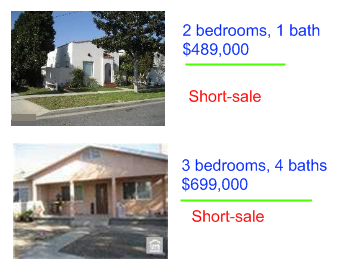 Oh yes, this is certainly the bottom!
Today we salute you Culver City with our Real Homes of Genius Award.
Did You Enjoy The Post? Subscribe to Dr. Housing Bubble's Blog to get updated housing commentary, analysis, and information.