2017 starts with US housing markets in full mania.  This recovery is largely disconnected from household wage gains and with the election results, mortgage interest rates surged making housing even more unaffordable. Now while this blog is largely focused on California and many see things through the Hollywood only lens, a large number of metro areas across the nation saw wicked price increases.  This price jump has come in an environment with tight inventory, investors, and low interest rates (until the end of 2016).  The fastest growing markets in terms of price gains are not in California.  In fact, the top 10 metro areas with more than 1 million people are all outside of California.  Will this trend continue into 2017?
The top 10 fastest growing real estate markets
In California we have insane markets like San Francisco where $1.2 million is the entry point for a crap shack.  In many ways, the capitulation talk is dominant as the Dow Jones Industrial Average nears 20,000.  People are itching to get a piece of the crap shack mania and don't want to miss out on homes going from $1.2 million to $2 million.  Forget about incomes, logic, quality of life, other investments, or the reality that you are buying what is an inflated poorly built property.  The delusion now runs very deep.
This real estate lusting is not confined simply to California.  Take a look at the top 10 fastest growing metro areas based on home price gains: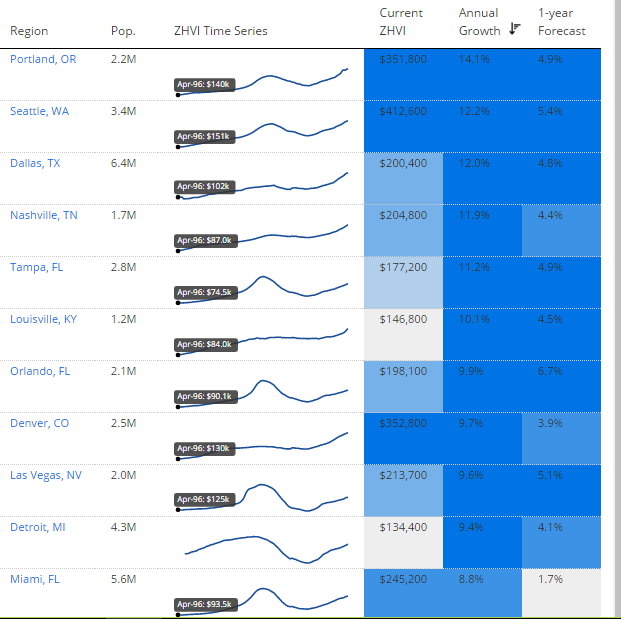 Portland was the hottest market in 2016.  It saw prices jump by a stunning 14 percent year-over-year.  Coming in a close second was Seattle seeing prices going up by 12 percent.  You do have to wonder how much California cash has flowed up to the Pacific Northwest.  These are already relatively expensive markets yet prices still went up.
You then have lower priced markets like Dallas, Nashville, Tampa, and Louisville all seeing double-digit gains as well.  Finally you have Orlando, Denver, Las Vegas, and Detroit rounding out the list all with 9 percent price gains.  From coast to coast prices are surging.
You have Taco Tuesday baby boomers that like to pretend that their California HGTV drywall sarcophagus is the only real estate that is great.  "All real estate is local and they're not making any more beach front property!"  Well according to the data above, house horny mania is sweeping the nation and is even more aggressive in other areas.  I didn't know beach front property was prominent in Denver or Detroit.
Something bigger is going on here.  You have a couple of things going on:
-Low interest rates still fueling buying

–Investors are buying in many of these lower priced markets

-Low inventory

-Buying into a trend
You would think that there would be a broad base gain in homeownership but the percentage of homeowners remains near a generational low.  Millennials are living at home deep into adulthood and many are priced out of the rental market, let alone buying a home.
Housing markets have turned into a speculative asset class.  The difference however is that unlike stocks, prices go up and down in longer periods.  We're in a stage where the public feels like it doesn't want to miss out which is very reminiscent of 2006 and 2007.  We don't have toxic mortgages floating around but any mortgage is toxic when you can't pay it (by the way, most of the 7 million foreclosures from the last crisis came from vanilla 30-year fixed rate mortgages).  And in places like California where a dump can cost $1 million ($200,000 down and an $800,000 mortgage) the carrying costs can be a big burden if a recession hits and one person in the family loses an income.
So get to your bank and buy any house you can get your hands on.  Real estate isn't local.  This is a countrywide mania so you can't go wrong buying anywhere.

Did You Enjoy The Post? Subscribe to Dr. Housing Bubble's Blog to get updated housing commentary, analysis, and information.