I ran into a successful Millennial couple this month and we had a good discussion about housing.  They are in their 30s and still do not have any kids. Both are career driven and ultimately would like to buy a home.  They have the money to buy but just don't want to.  What they brought up was interesting and they mentioned some of their peers had to resort to moving back in with mom and dad.  What they brought up simply reflects a "new normal" for Millennials and that is many are simply not eager to purchase a home.  Many are delaying marriage, have smaller families (if any), and a large number are carrying sizable student debt.  All of this has caused a low demand for housing and alternative choices to buying a home especially for this cohort of Americans.  In California we have a high number of adults living at home largely because of the cost of rents and home prices.  Yet this trend encompasses the entire country.  Higher home prices and rents have only exacerbated this movement.
The Millennial home buying dilemma
What was interesting about the couple I had a chance to talk to is that they are highly successful and their income put them in the top echelon of earners.  But they had little desire to buy a home.  I'm sure if we hit the rewind button to the last generation, buying a home would probably be the first item on their financial list.  This isn't happening and it is hard to tell if this trend will reverse as some are forecasting.
Let us first look at the data: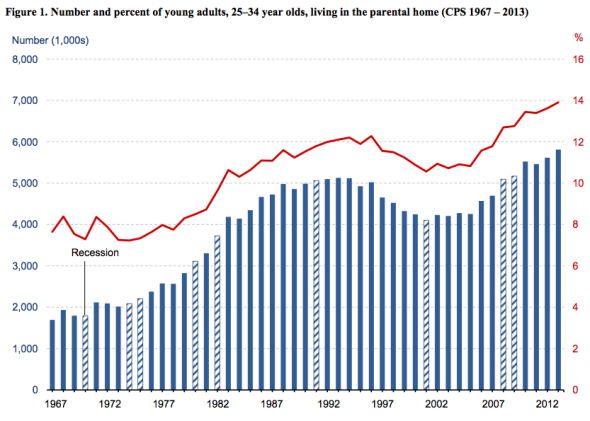 The percent of young adults between the ages of 25 and 34 living with parents remains at historically high levels.  The Catch 22 here is that higher home prices and higher rents have made this problem worse.  In the past, higher rents and higher home prices came from regular household demand.  Today, this function has been stunted by investors, foreign buyers, and local banks stalling on the foreclosure process so you have a small amount of inventory and prices going up largely because of non-family buying.  The end result?  Tons of adults living at home or renting as the next option.
What is dramatic is looking at the number of new rental households versus homeowners: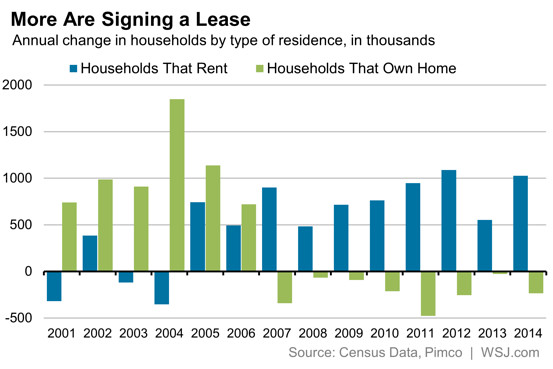 If you are a young adult, your first venture into the "real world" is renting an apartment, typically.  You don't go from getting a job to buying your dream home right off the bat.  Sure, in some states where home prices are cheaper you will have better luck.  But in most metro areas where a large portion of people live, this is simply not doable.
The Fed has interesting data on this.  They find that student debt is actually impacting buying rates with Millennials. This makes sense because many more young Americans are going to college: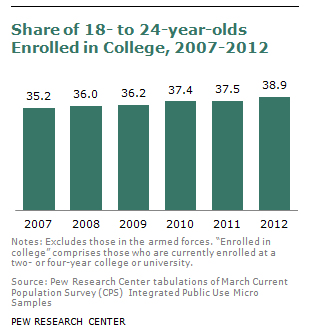 It is hard to believe but there was a time in California where one blue collar worker was able to buy a home.  Many of those Taco Tuesday baby boomers went down this road.  That is the expectation that they pass down to their kids.  Yet it is drastically different reality in this market.  Today, like that dual income no kids couple, even two professionals (with in-demand college degrees) are on the fence about buying a home.  Paying $700,000 for a crap shack to smart individuals causes them to pause and rightfully so.
Even if we look at more recent Census data, the trend continues: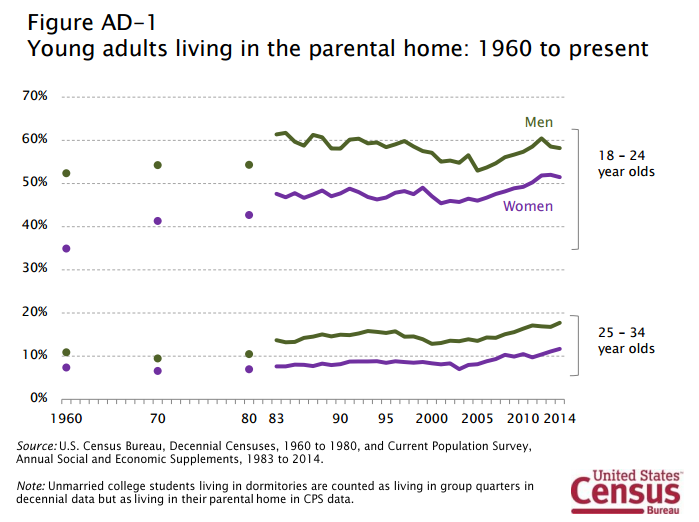 You expect the 18 to 24 year old crowd to move out to go to college.  But it looks like the 25 to 34 year old crowd is heading back home after getting those degrees.  Is this the future buyer of more expensive homes?  Builders clearly think not.  And that is why building demand for multi-unit housing is booming (aka apartments).
We are living in a housing market with no parallel in history.  The fact that so many grown adults are living at home into their 30s and 40s should tell you something.

Did You Enjoy The Post? Subscribe to Dr. Housing Bubble's Blog to get updated housing commentary, analysis, and information.