One of the biggest reasons why people "need" to buy a home is to expand their family.  And when I say expand, I mean having a baby.  It is always interesting to see the carefully planned budgets but in many cases, daycare costs are not factored in or how much additional costs a new mouth to feed will be.  And one baby is just the start.  Why is this important?  Because people choose to enter into major life changing events simultaneously.  That is, taking on the purchase of a home and starting a family.  I bring this up because I get many e-mails from people saying "my spouse wants a baby and our apartment/rental is too small so we need to buy."  Yet for the most part, we get calculations based on two incomes and these don't factor in the big cost of daycare for many.  For example, in a place like Pasadena daycare can cost you $1,400 a month.  That is a nice chunk of change.  The LA/OC market is already incredibly unaffordable.  In San Francisco it would take the typical family 35 years just to save for a 20 percent down payment.  That is why the typical family is getting pushed out of these markets.
You really can't afford to buy
It is very clear that most families are unable to buy in expensive states like California.  This is simply a fact with current price levels.  How much are you willing to sacrifice for that $700,000 crap shack?  A large portion of buying over the last few years has come from investors and foreign buyers.  Those able to buy have had to take on much larger mortgages with historically low rates to squeeze in.
The numbers seem clear when people get real estate obsessed.  It doesn't help that the HGTV "success" stories convert everyone into the next millionaire property flipper.  So buying seems like a simple move.  You don't have shows highlighting complicated option trades, hedges, dollar cost averaging, or building a small business from the ground up.  That is too boring and too slow.  Better to buy a beat down place and pay others to fix it up and then sell it for a big profit.  Work is for suckers right?
Here is an interesting chart looking at income levels required to buy a modest home in each area: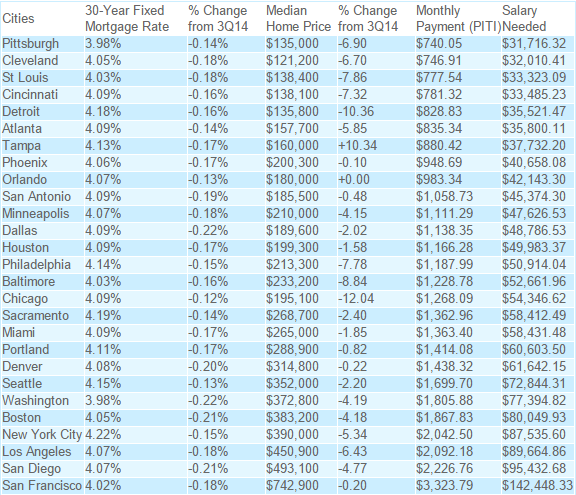 Source:  Hsh.com
And at those price levels, you are getting crap shack central in Los Angeles, San Diego, and San Francisco.  Even the example of the $742,900 home in San Francisco, you would need a household income of $142,448 to avoid eating Fancy Feast to pay the mortgage.
People always talk about diving in with low down payments.  What is interesting in places like San Francisco, a big down payment is common.  Shouldn't be a surprise given the number of investors and foreign buyers.  They aren't like your typical family trying to go in with 5 percent down and trying to work magic with their mortgage broker to fluff up their income statements.
The reason low down payment structures are popular is because people are too broke to even save a modest amount.  Take a look at how long it will take the typical family to save a 20 percent down payment in various markets: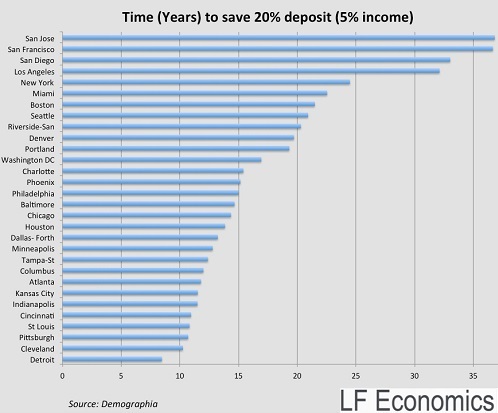 The above is based on data on how much Americans save, not your anecdotal case study of how you saved a massive amount or know of a neighbor that did it.  I'm sure you will have the person saying "move in with mom and dad and squirrel away for 10 years and then you can buy your crap shack in Pasadena."  If you think daycare is a non-issue, take a look at this:
"Hello mommy's! I am four months pregnant and starting to look for an infant day care in Pasadena, CA. I work in Pasadena and will need to put my baby in day care at four months old. All I can find so far are day cares that are $1400 to $1800 a month. Are there any Mommy's here that have a child in a day care in Pasadena? If so, do u like the day care and how much do they charge for infants. Please don't judge. I am the main bread winner and have to work. This is not an easy choice. I have had a point in my life were I could barely pay the bills and I don't want to go through that as a parent if I don't have too. Thank u for any info u can provide."
First of all, it is unfortunate that this person feels bad about having to go back to work.  But this is the reality in high priced areas.  Sure, you earn more income but more is eaten up on the cost of living, largely on housing.  Instead your baby becomes another line item to squeeze into the compressed budget.
One thing that I truly agree on with the real estate pumping side is that people buy on emotional decisions more than rational behavior.  After all, this is the home where your child is going to grow up in right?  You don't want to buy a more modest home and have your kid coming back to you when they are 25 saying "I never succeeded in college or life because you bought a crap shack in Highland Park instead of Santa Monica just because you wanted to be near a Trader Joe's!"  Should have bought in prime Santa Monica.  The nice thing for many parents is that adult "kids" in their late 20s, 30s, and even 40s are moving back home so you have plenty of time to talk it out over Taco Tuesday lunches.
From the contact I have from readers looking to buy, many are wanting to buy because of adding a new family member.  Yet the math is nearly always lacking on costs that will happen.  The focus is merely on getting to pay for that monthly mortgage nut.  Everything is based on their two-income household without the added mouth.  Everything else will miraculously fall into place and many don't even bother saving for retirement.  Just wait for college costs down the road.  This is why we have a ton of baby boomers living in a million dollar home eating Purina Dog Chow while seeing their kids moving back into their rooms and partying it up in the LA scene.

Did You Enjoy The Post? Subscribe to Dr. Housing Bubble's Blog to get updated housing commentary, analysis, and information.