Housing inventory continues to remain tight across the United States.  It would seem logical that home builders would be taking the plunge to build homes for future buyers.  But that is a bet that is looking into the future.  Builders continue to bet with their budgets that the United States is deep in a rental trend.  Keep in mind that new home prices are going up steadily.  Yet the push up is coming on lower volume and higher priced homes going to a smaller portion of the population.  Investors are largely not interested in new homes with higher premium prices. They are largely focused on discounted prices from existing home sales.  The big investors are largely out of the real estate play.  Going back to every recovery from the 1960s, new home sales typically take off once the recession is officially over.  This recession officially ended in the summer of 2009, nearly six years ago and still there is no sign that new home sales are leading this recovery.
New home prices up on tight supply
I think it is important to fully understand why new home sales are bucking a 60 year trend here.  After a recession, with jobs and incomes picking up, family formation leads to the desire of buying new homes.  The pattern is really unmistakable and new home building is a large catalyst for the economy: construction jobs boom, big ticket item purchases surge, and new communities rise in the McMansionvilles across the US.  Yet this isn't happening during this recovery.
The real estate market recovered largely because of big investor money surging into the market.  What we now see is low supply pushing up prices.  The new home sale market is a clear example: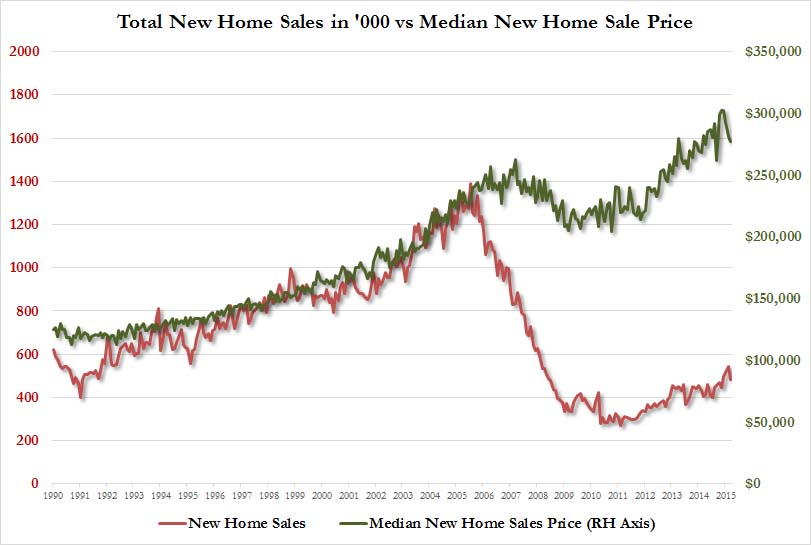 Prices are up significantly for new homes but volume remains weak.  This is at a time when the population rate continues to grow.  What gives?  Try adding 10 million new rental households in the last decade while losing a net of 1 million homeowner households.  You have Millennials moving back home because they can't afford local market rents.
Builders are not fools here and those that survived the last crash are extremely cautious in moving forward with big expansions.
Builders not jumping in
The pattern over the last 60 years is worth looking at carefully: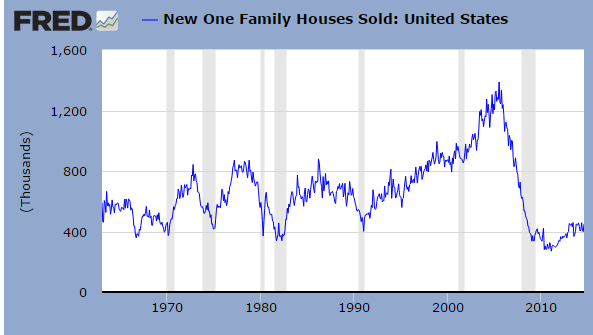 The grey bars signify recessions.  Virtually in every case, new home sales jumped right when the recession was officially over.  It isn't even a subtle move.  This is a clear movement.  Yet this is not happening this time.  And housing starts are a better forward looking indicator of what is coming down the pipeline: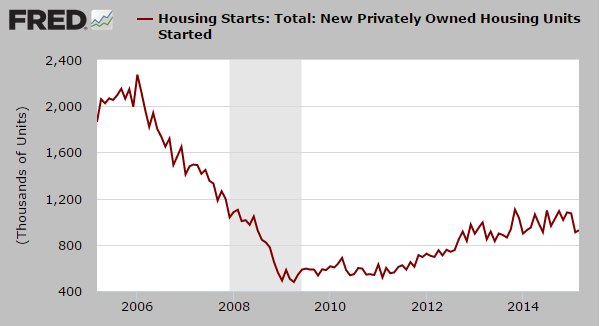 Housing starts remain weak despite the healthy trend in rising prices for new homes.  Builders are betting on a continuation of more rental household formation.
Rental nation building
While housing starts remain weak, mulit-unit housing starts are doing fairly well: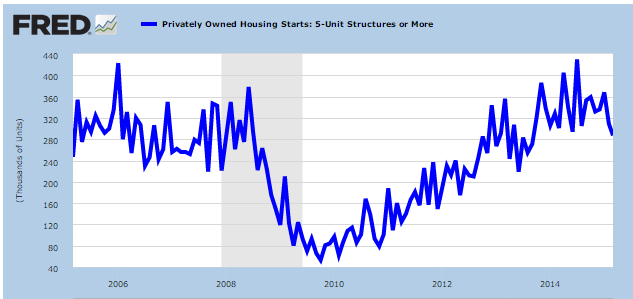 The demand is for more rental units and builders are placing their money here.  It is fascinating that for the first time in 60 years, this recovery is not seeing any significant jump in new home sales or housing starts.  This should be a very telling sign of how odd this "market" has become.  All indicators would suggest that builders should dive in and build (low supply, higher prices).  Yet builders realize the underlying funny money math here – artificially low rates, investor demand, and stagnant household wages.  In the end, this becomes a pseudo-market and builders protecting their money are doing what you would logically expect, chasing the trend with what data they have.  And to them, the money is to be had on building more rental units.

Did You Enjoy The Post? Subscribe to Dr. Housing Bubble's Blog to get updated housing commentary, analysis, and information.