Very few housing markets have been hit as hard as Nevada and in particular the Las Vegas market.  Southern Californians share a close kinship with Las Vegas since a large part of the Vegas economy is based on weekend freeway flyers across the desert on Highway 15.  A few markets in Southern California like Riverside and San Bernardino counties have been hit nearly as hard although this is out of the mind for most.  One fascinating component of the Vegas expansion and bubble had to do with California money flowing into second and investment homes out in Las Vegas.  You can say that Californians added additional fuel to the already raging real estate bonfire.  Yet as we are well aware the bubble was nationwide with varying degrees across states.  Some states had minor bubbles while others went deep into the mania.  Las Vegas was unique in the sense that run-off money from the California bubble entered into their market in large numbers.  At one point roughly 40 percent of investment homes were being purchased by those with California ties.  So it should come as no surprise that we have gone full circle where 1 out of 3 investment purchases again are from California buyers.  Only this time, prices are off by 50, 60, and 70 percent.
Californians take another jump into the Las Vegas market
Nearly half of all sales in Las Vegas last month came from investors.  This trend has been going on for years and over half of the properties sold were distressed home sales.  This is down from the peak of 73 percent distressed sales reached on April 2009.  Cash buyers paid a median price of $84,000.  That is right, $84,000 for a home out in Las Vegas.  Because of the crushing blow to prices we have seen sales increase dramatically: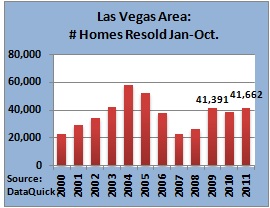 Source:  DQNews
Because of these incredibly low prices Californians are rolling the dice once again with Las Vegas:
"(Vegas Inc) Out-of-state buyers — led by Californians — accounted for one-third of Las Vegas home sales in June in a reflection of the demand by investors and vacation-home buyers.

Absentee buyers, including investors who live in-state, purchased 46 percent of all homes sold in June. That figure is down from the record 49.9 percent in March, according to statistics released by San Diego-based DataQuick."
I always find these trends fascinating.  What this tells us is that Californians are hungry for low priced real estate especially when it comes to investment properties.  We have seen some action like this out in the Inland Empire.  For years I have been hearing that big money bags from Asian countries would be soaking up this excess real estate.  The data doesn't exactly show us that:
"Of June's absentee buyers, 34 percent had a mailing address in Nevada, and 30 percent were based in California, DataQuick reported. Most of the remaining out-of-state buyers were based in New York, 5.6 percent; Pennsylvania, 3 percent; New Jersey, 2.4 percent; Utah, 1.9 percent; and Florida, 1.8 percent.

Three 3 percent of all Las Vegas homes sold in June were bought by foreign buyers based on public property records, which can undercount the actual number, DataQuick said. Of those foreign buyers, 78 percent were from Canada, and 11 percent were from Australia. Buyers with addresses in Israel and China were 8 percent of the total."
In essence the action is coming from our neighbors to the north and from our friends in Australia.  Fascinating when you cut deep into the data.  The big draw is definitely coming because prices have absolutely cratered: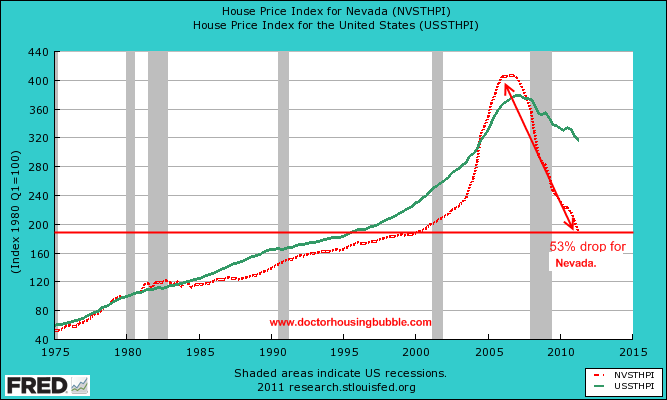 While nationwide home prices are down roughly 30 percent from their peak Nevada home prices are down a stunning 53 to 63 percent depending on what market you examine.  The biggest market of course is Las Vegas.  In fact, the median price of $114,900 for Las Vegas is down a stunning 63 percent from the peak reached five years ago on November 2006.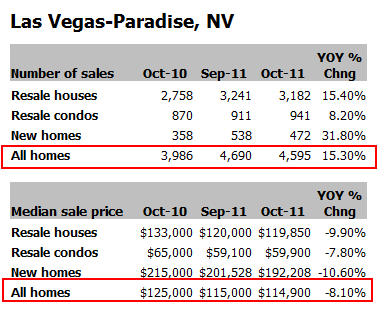 Although good news, this is essentially trading cards between already existing real estate inventory.  The shadow inventory is being cleared out quickly in Las Vegas but even at this rate it will take years.  This is why the median price fell yet again year-over-year by 8 percent while sales were up by 15 percent.  The economy in Las Vegas is still hurting and the once booming construction industry is still clearly in the doldrums: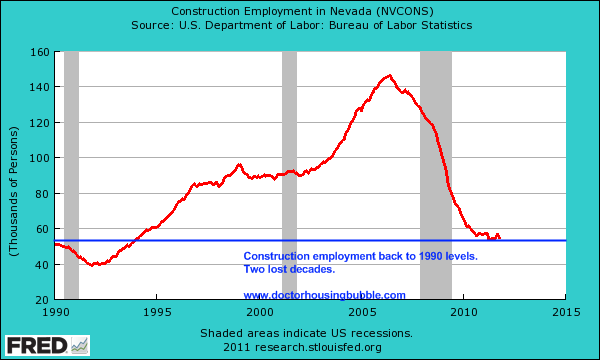 Until we see a more evenly balanced market, there is little to believe a bottom has set in and even if it has set in, expectations of appreciation may be overstated in the short-term.  Las Vegas is showing that even five years into the crisis and 63 percent lower in price, there is still a good amount of momentum for lower prices.  As an investor, many are competing with a flood of cheap rentals but for a vacation home prices are looking obviously attractive to snowbirds from Canada.  Yet the big buyers are from California once again.  1 out of 3 buyers for investment properties in the Vegas market come from California just like they did during the peak push.  To paraphrase Mark Twain, history doesn't repeat, but it does rhyme especially when it comes to California.

Did You Enjoy The Post? Subscribe to Dr. Housing Bubble's Blog to get updated housing commentary, analysis, and information.