Only in Southern California will you have someone moan about making six-figures while driving their European financed car and not being able to "live well" while the weather is near perfect all year round.  There is one thing you can't complain about and that is the weather.  Ironically though, some of the cheaper SoCal counties like the Inland Empire have weather on par with Arizona or Nevada.  So the groaning comes from people looking to buy cheap beach front property for example.  Newsflash, beachfront property will be expensive in boom and bust.  Yet let us focus on bigger markets since SoCal is vast.  Last month sales reached a five year high for April but guess what?  So did the use of jumbo loans.  Jumbo loans accounted for 26 percent of originated loans, the highest since September of 2007.  Another 33 percent of purchases were made by all cash buyers.  FHA insured loans still accounted for 21 percent of mortgages and this will be an interesting figure to watch as FHA insured loans become incredibly expensive in June.  Little by little certain areas of SoCal are being gentrified as those unable to buy are pushed further inland or are forced to move out of state (or rent which isn't such a bad deal).
Population growth
First, let us look at population growth for Los Angeles County: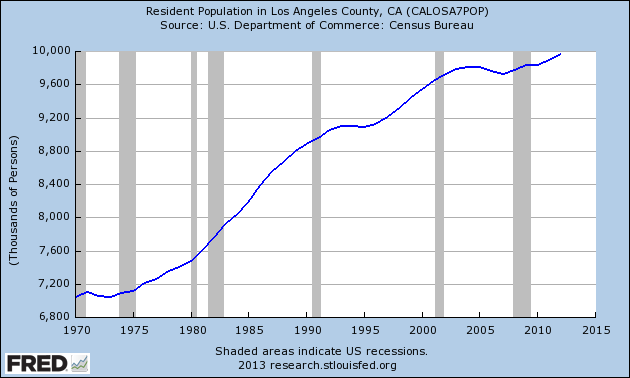 Population growth for L.A. County has remained steady for most of the 2000s and interestingly enough, started going down prior to the official start of the recession.  It has now picked back up but the year-over-year growth rate has definitely slowed down over past decades: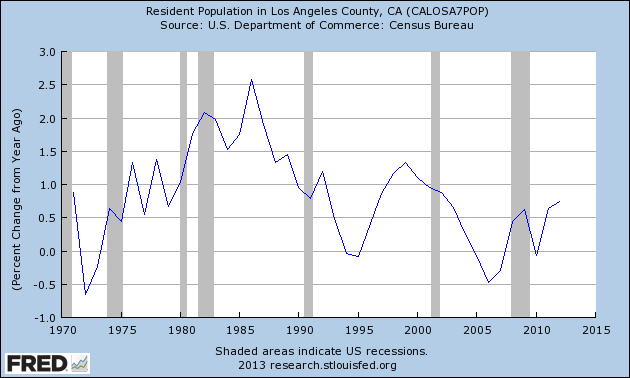 For the first time since the 1970s, L.A. actually saw annual population growth decline in 2006 and 2007.  That has now reversed but the growth rate is slow.
SoCal home prices are on a tear.  The median priced L.A. County home is now up to $395,000 (up from $310,000 last year).  This is a 27 percent year-over-year gain.  Regardless of market mix, this pace is fully unsustainable.  Good luck trying to time this rollercoaster ride!
Foreclosure resales are now a tiny part of the market making up 12 percent of sales.  Jumbo loans and all cash offers are a big part of the home sale mix and these are going to either investors or higher income households.  We see the gentrification of certain hipster neighborhoods in Los Angeles like Silver Lake and Echo Park.
Take a look at this home for sale: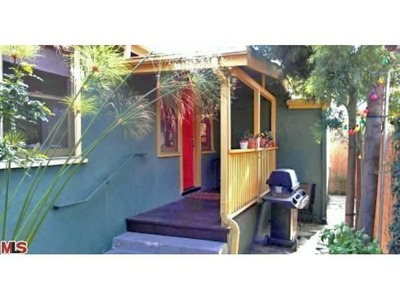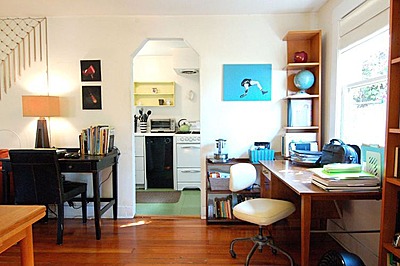 1140 Manzanita St, Los Angeles, CA 90029
Looks nice right?  Well this is a 1 bedroom 632 square foot home.  Some of you may have offices larger than that.  Just look at the sales history: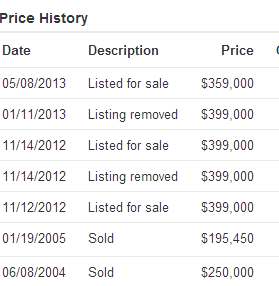 They actually tried for $399,000!  When you see this kind of random pricing, you know you are in full fledged mania.  What suddenly changed in a few months to warrant the $40,000 price drop?  When you are this off, you are basically trying to sell into momentum.  The place was bought for $195,450 back in 2005 which actually is more of a reasonable price for the size of the home.  What is funny is that the Zestimate on this place is $419,000.
Silver Lake is a very high priced hipster market.  Just look at all the homes for sale (in red):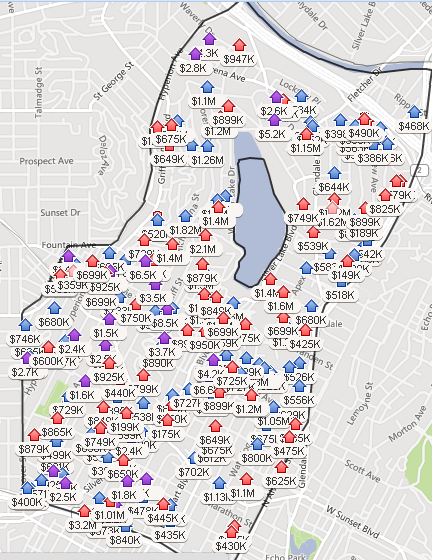 The Hallmark of total gentrification is Whole Foods and Silver Lake now has that:
"(Curbed) It has arrived: Silver Lake's gentrification singularity. Whole Foods is moving into the Ralphs site at Glendale near Fletcher (in not the prettiest section of SL). There's been renovation/redevelopment gossip swirling around the site for a while now–Ralphs claimed it was just updating its store as several of the smaller businesses on site have closed (the landlord hasn't been renewing leases)."
So what is my take on the low population growth, higher prices in targeted markets, and high jumbo activity?  Essentially lower income families are being pushed out of these areas and creating a 1-to-1 exchange where population stays unchanged yet those that can afford or overstretch move in.  Speculation is still rampant and flippers are active in these hipster markets.  Finally, families are diving in with jumbo loan activity reaching a five year high.
These markets are gentrifying yet prices at current levels go beyond regular gentrification.  We are now into a deep seated fever of people feeling they will be left out if they don't buy today.  Go ahead and pull income tax data for all zip codes of Silver Lake or Echo Park.  It is an interesting contrast to what is happening in housing.  Inventory remains low and we are just starting to enter the summer selling season.  If Whole Foods is part of the gentrification singularity, then high usage of jumbo loans is a sign of real estate fever.

Did You Enjoy The Post? Subscribe to Dr. Housing Bubble's Blog to get updated housing commentary, analysis, and information.