Going to any open house in Southern California during a sunny weekend will make you think that the entire housing market is on fire and that the homeownership rate must be going up.  Obviously with all these buyers, the rate must be going up.  Right?  Well  it isn't because a large number of these buyers will be absentee buyers or will flip the house shortly.  Another bigger reason comes from the lack of supply.  The maddening crowds are simply hungry investors and regular buyers trying to out-bid each other for the limited supply of homes on the market.  Low rates are adding fuel to this mania but the homeownership rate continues to decline.  So what gives?
Renting under 35
Younger Americans are having a tougher time buying homes in spite of the current prices in the market: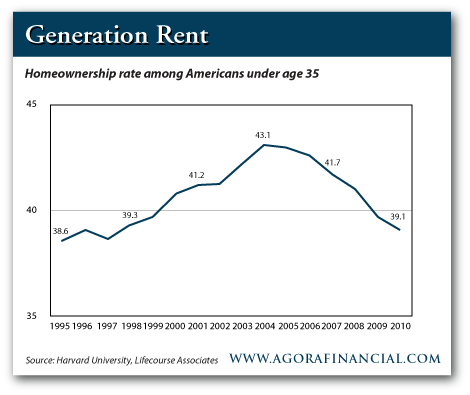 Homeownership rates for those under 35 continue to decline.  This comes in the face of record low interest rates and record rates of affordability.  But good luck trying to buy a moderately priced home in Nevada, Arizona, Florida, or even California for that matter where investors have swarmed like a California marine layer.
Recent data suggests that this trend is continuing: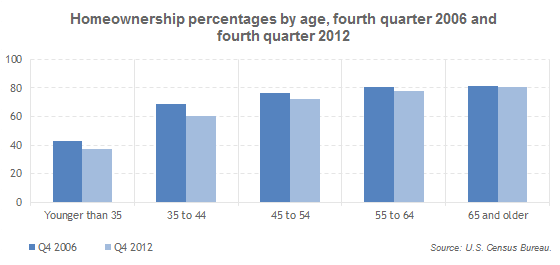 This leads to a more important questions since the purpose of lower rates were to essentially help Americans to ride out the recession.  Yet that isn't entirely clear when it comes to homeownership.  Investor demand in places like Southern California has been over 30 percent for many years now.  That is a giant percentage when supply is so limited.  It is clear that younger Americans are having a tougher time as well since many are deep in student loan debt and their wages are simply not keeping up with prior generations.
Homeownership rates by age
Every age range has seen homeownership rates decline but for younger Americans the fall has been rather dramatic: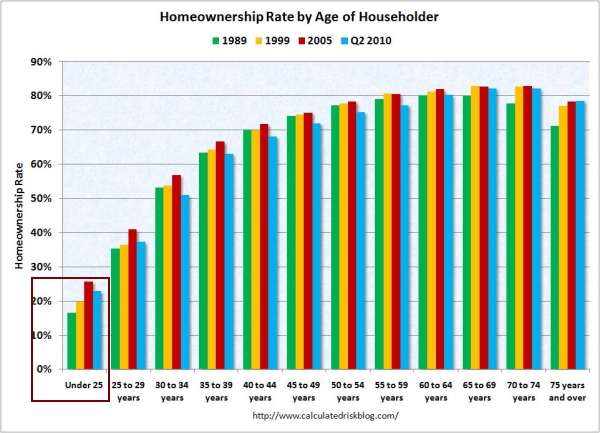 The homeownership rate for those 35 and younger has fallen by 9.2 percent since 2004.  Compare this with a drop of 3 percent for the entire pool of homeowners.  For those 65 and older the rate fell by 0.7 percent over this period.
West coast homeownership
In states like California, homeownership rates are already low.  The current homeownership rate is in the 50 percent range.  Before looking at California, let us first look at the west coast: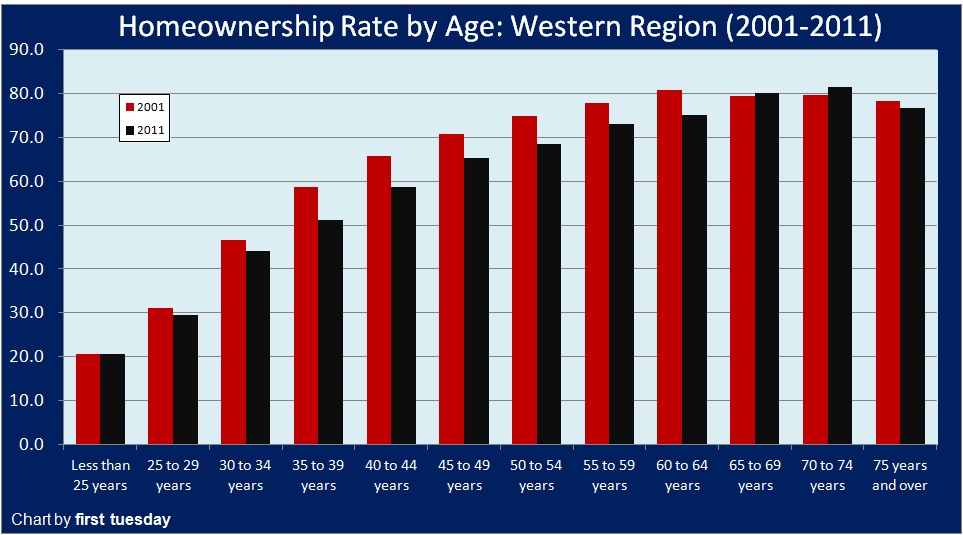 What is interesting is that the only age ranges that saw homeownership increase in the last decade came from the 65 to 69 age group and the 70 to 74 age group.  Every other age range saw solid declines in homeownership.
The California gap
So with all this manic buying behavior, surely the homeownership rate is rising especially in California where prices are soaring upwards.  Correct?  Not exactly: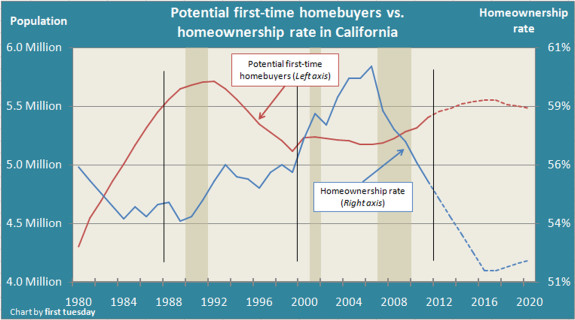 While the potential pool of home buyers may be increasing, the homeownership rate is decreasing overall.  How can that be?  For one, not many people are selling.  Inventory is low.  Second, investors are buying up a large pool of these homes.  So this is why overall the rate continues to move lower.  It is an interesting dynamic.  This is why the homeownership rate in California looks like this: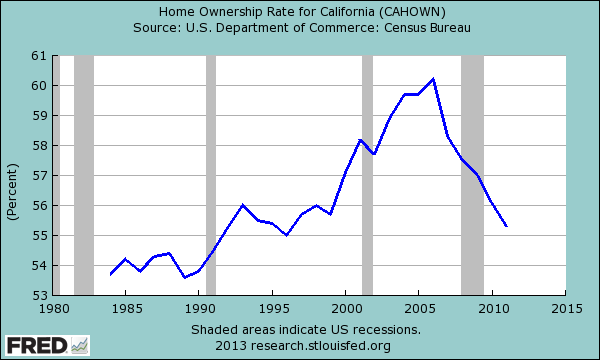 Since our population hasn't decreased, it is safe to assume that many more people have simply shifted to renting (Census data backs this up).  Given current prices in many markets, it is a challenge for many young families to buy.  The data supports this.  Homeownership rates for those 35 and younger have fallen the most of any age range.  Another important point to make is many of the properties that are purchased as rentals will be off the market for a few years, most likely.  So instead of a more "normal" market where someone buys a home, but usually will list their home to add to supply, we have a case today where a home is brought to market, and then taken off the market with no subsequent addition to supply.  If you missed the last housing mania and wished you had a chance to glimpse how it is to see a group of people go into a feeding frenzy, try an open house in Southern California during the weekend.  The Wall Street hunger for rentals and easy money from the Fed are creating a big generation of renters.

Did You Enjoy The Post? Subscribe to Dr. Housing Bubble's Blog to get updated housing commentary, analysis, and information.