However you want to slice it, median or repeat same home sale prices the price of a home in California went into the stratosphere over the last year.  The psychology has now shifted to full fledge mania where people think they are going to be priced out but some are oblivious to the reality that they are competing with a massive amount of investors.  The median home price of a SoCal home in March of 2012 was $280,000.  For March of 2013 it jumped to $345,500.  What justifies such a big move?  The only true justification is the artificially low interest rates being provided by the Fed, low inventory, and investors (the trifecta of the current market) but this pace is completely unsustainable and you will see this trending out towards the end of the year.  Why?  Because there is no way you are going to have 20+ percent annual gains on the median price and the media is running with this feeding into the frenzy.  A stunning 34 percent of all SoCal purchases in March came from all cash buyers.  How much momentum does this trend have?
The rise in home values
The annual rise in home values is now above 10 percent for the LA-OC region (same home repeat sales):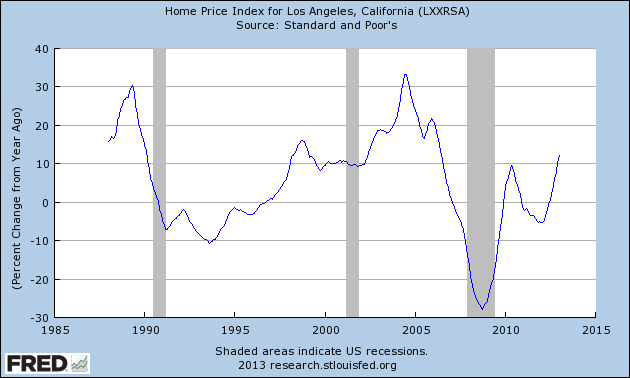 The last time we had such a strong pace upwards was during the peak years of the bubble.  Of course we are nowhere close to the 30 percent gains from the bubble but 10+ percent is significant especially when much of the growth is coming from hot money and incredibly low inventory.  The name of the current game right now is capitulation.  We saw similar things in 2004 and 2005 when it was becoming clear a bubble was in place but people to get into the game took on toxic mortgages to finance their play in the housing market.
Just because people are verifying their income does not mean they can handle a mortgage when other debt items are factored in (i.e., student debt, auto debt, etc).  The rally in the housing market is incredible given all the weak employment reports that are coming out.  A large portion of job growth is coming from low wage jobs and we are hearing from the Census that the last few months of labor "improvements" have flat out come from people exiting the work force.
So you have to take the gains in context.  We also have the Fed mentioning that part of the recovery is because of housing causing a snake eating its own tail effect:
"(WSJ) Federal Reserve stimulus aimed at spurring growth will likely grow more powerful as the housing market recovers further, but the trends that have fueled income inequality aren't likely to change much, a U.S. central bank official said Thursday.

"The accommodative policies of the [Federal Open Market Committee] and the concerted effort we have made to ease conditions in the mortgage markets will help the economy continue to gain traction," Fed governor Sarah Bloom Raskin said.

"As house prices rise, more and more households have enough home equity to gain renewed access to mortgage credit and the ability to refinance their homes at lower rates," she said.

"I think it is possible that accommodative monetary policy could be increasingly potent" as the housing market picks up, Ms. Raskin said."
So basically investors and large hedge funds will continue to buy up properties while more and more Americans will be given the boot form the middle class.  It is naïve to think that having artificially low rates comes at no cost.  We are already seeing the hit being taken across the board.  So you have banks, many that caused bubble 1.0, kicking people out, buying these places up with Fed artificial QE and then jacking rents up or flipping them to new buyers.  Sounds like a fantastic gig and that is why Wall Street suddenly has butterflies in their stomach when they think of residential real estate.
Look at the median price changes in SoCal: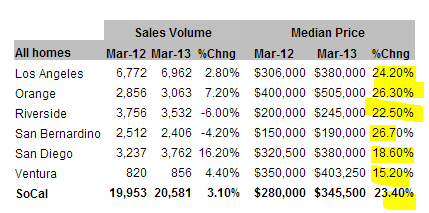 The repeat index has prices up above 10 percent and the median price is up 20+ percent.  Yet overall household economic gains are weak.  In other words, jump on the housing bubble bandwagon for round two.  Looking to buy in the city of Los Angeles?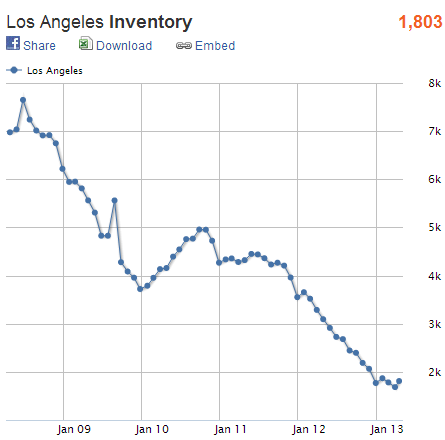 Inventory is down nearly 80 percent over the last few years.  You want to own a home?  Gear up since you'll be entering a shark tank with very little inventory being fought over by all cash investors, foreign money, FHA buyers, and your regular conventional mortgage buyers.  And we've only started the spring and summer selling season!  So how much momentum does this rally have?  Hard to tell but the psychology now is fully in a mania stage "I need to offer $50,000 over ask or I'll be outbid" or "forget about any inspection, let us just clear all contingencies."  Or the heartfelt letters to sellers begging them to sell you a Great Depression cookie cutter home for $800,000.
"(Daily Breeze) A little sincerity goes a long way today. Agents are increasingly pushing their buyers to submit more than a purchase agreement when making an offer to buy a home, reports a recent article by the New York Times.

Personal letters and even baked goods can win-over a hesitant seller, giving the buyer just enough of a competitive edge to garner the seller's acceptance when multiple offers have been submitted. It seems that cash is nice, but love letters sweeten the deal."
Long live the California housing rally!  On the bright side, the state budget needs those higher property tax bills so it is win-win all around.  Right?

Did You Enjoy The Post? Subscribe to Dr. Housing Bubble's Blog to get updated housing commentary, analysis, and information.