The spring season is now in full bloom and the real estate market continues to have a wickedly low amount of inventory for sale.  According to the California Association of Realtors, annual home sales are now down about 6 percent while the median home price is up 24 percent.  Inventory is still at or near a record low.  What is interesting is that the number of real estate agents saying now is a good time to buy has decline while the number of agents saying now is a good time to sell, has spiked dramatically.  While prices have soared in the last year sales have not.  As we just mentioned, the annual sales rate for California actually fell year-over-year.  Buying power brought on by low interest rates has caused two major shifts in the market; a big bounce in purchasing power in spite of stagnant income growth and a low interest rate environment causing big money to choose real estate as the investment vehicle of choice.  Is this record low inventory simply a part of the new housing market?
Housing inventory
While on a monthly basis national housing inventory is up by 3 percent, it is still down by 20 percent over the last year:

Inventory is down nearly 60 percent from the peak in 2007.  Without a doubt, the Fed and government have decided to focus on increasing buying power seeing this as an easier choice than trying to increase household incomes.  This isn't a new trend.  The decline in interest rates has occurred since the 1980s and has accelerated in the 2000s.  The recent push has turned out to be more aggressive with the Fed openly buying MBS through QE3 operations: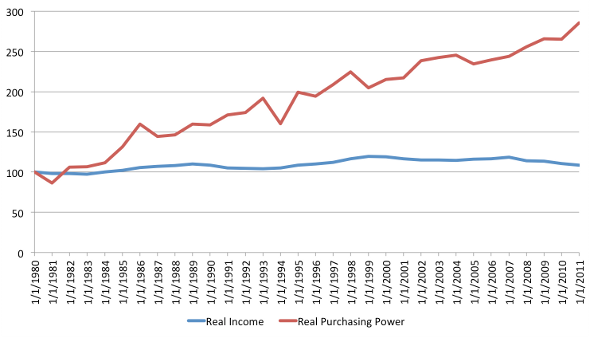 This renewed buying power has put a bottom on prices for the nation.  Yet in many markets especially in places like California, this added leverage has caused big money and foreign money to flood into niche markets crowding out local buyers.
What is interesting is that many agents are now seeing this as a good time to sell and not necessarily a fantastic time to buy: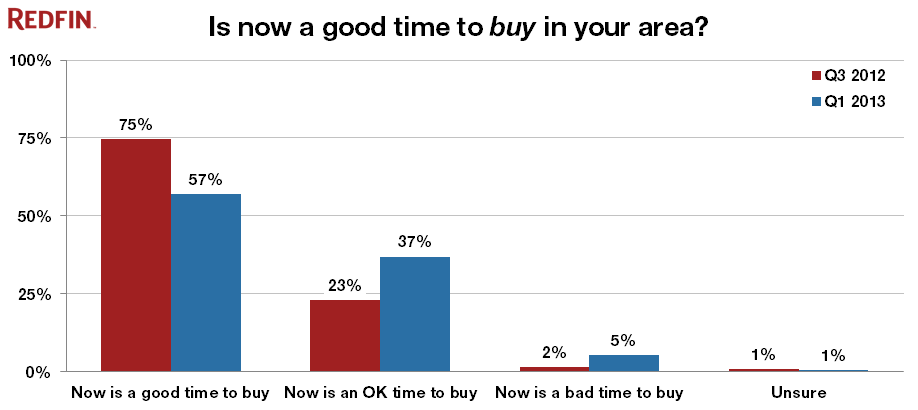 The number of agents thinking now is "a good time to buy" dropped from 75 to 57 percent from Q3 2012 to Q1 2013.  Some are even saying it is a bad time to buy (up from 2 to 5 percent).  Coming from real estate agents, that is a big deal.  Of course, on the other side of the coin, those saying now is a good time to sell has jumped up: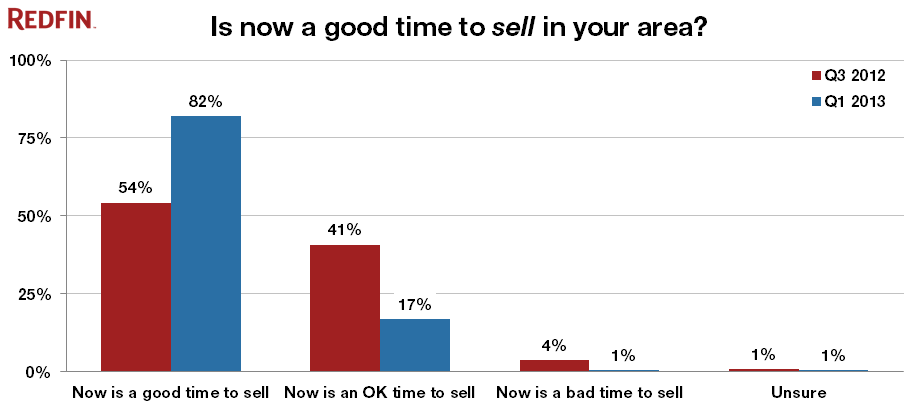 The number of agents saying now is a good time to sell went from 54 to 82 percent from Q3 2012 to Q1 2013.  That is a near unison agreement that now is a good time to sell.  Whenever an entire group believes something is a certainty, you have to watch out.  Even when you look at historical stock market peaks, you see similar emotional trends.
Of course, if you believe that now is a good time to sell and agents are telling this to clients, then you would expect some bounce in inventory which we really haven't seen.  Also, if some are saying now is not a good time to buy, you would expect that the prospective buyer side of the equation would shrink somewhat.  Yet with one third of purchases coming from big money, the agent is more of an afterthought.  They are buying based on their own internal models versus your average buyer that probably is more swayed by those in the industry.
The decline in inventory is still very much a story.  What I found interesting in the recent survey is that the idea that prices were going to go up in the next year has jumped: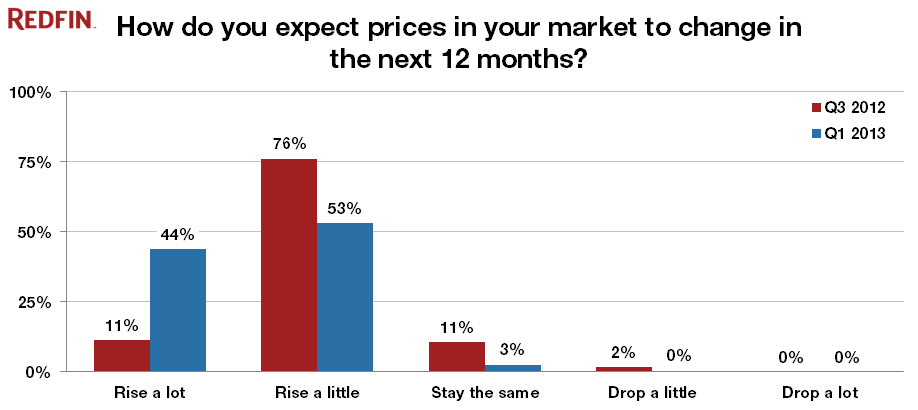 44 percent of agents now believe prices will "rise a lot" over the next 12 months.  This figure went from 11 to 44 percent from Q3 2012 to Q1 of 2013.  That is a massive jump.  Yet if inventory rises (time to sell) and demand falls (not good time to buy) you would expect prices to remain stagnant or even fall a bit.  When we look at sales volume, we are already seeing somewhat of a bottleneck.  We've discussed that some big investors are losing their appetite for housing given declining yields and we should find out shortly the impacts on the market with such a high demand of investor buying.  The fact that we are seeing wild optimism coupled with declining sales and prices reaching bottlenecks, it will be an interesting few years ahead.  Are you seeing any of this agent euphoria in the current market?              

Did You Enjoy The Post? Subscribe to Dr. Housing Bubble's Blog to get updated housing commentary, analysis, and information.