"Capitulation:  the action of surrendering or ceasing to resist an opponent or demand." There seems to be an air of capitulation floating around the air.  No, not the toxic fumes floating over Porter Ranch but something akin to giving up.  It is actually a weak form of giving up since you are talking about hipsters and house humping adults looking to overpay for a crap shack.  Forget about the fact that last month the median price on your typical California home fell.  No, it is time to buy now or be priced out forever.  You get the selection bias going: I bought at X time and now I'm X times richer.  Let us ignore the 7,000,000+ households that recently lost their homes to foreclosure.  At least some are willing to admit their "investment" was basically blind luck.  At a few open houses, you can see people as if they were entering a cult with their eyes dilating like the cat in Shrek.  "Can you please let me buy this place and take on a massive mortgage?  Pretty please?!"  To be honest, it is rather shocking to see people waiving contingencies and throwing caution into the wind.  In many cases, people are buying old crap shacks that actually have a ton of deferred maintenance.  One open house, a standard SoCal stucco box, looked like it hadn't been touched since the 1970s and the aroma of cat urine and dog poop whiffed around the room as people elbowed each other to "examine" the place.  The only sense you had was of panic of missing out.  In other words, mania.
Low inventory and rising rents push people off the fence at the top
You've heard it before that the masses get skewered at peaks and troughs.  Well it very much looks like the masses are capitulating but many simply can't afford to buy.  This is why sales volume is low despite rising prices.  Low interest rates have magnified purchasing power but how much lower can you go if the Fed is already near zero?  High priced mega metro areas are completely detached from what most Americans are feeling.  And that is why this year politics are trending to the extremes on both sides.  Why shouldn't day?  We live in an extreme economy.  You either have big bucks or you are leveraging every penny you have to maintain the pretense of a middle class lifestyle.  You can feel it at open houses in "good" areas.  The sense of desperation is palpable.
A big part of this simply comes from constrained inventory: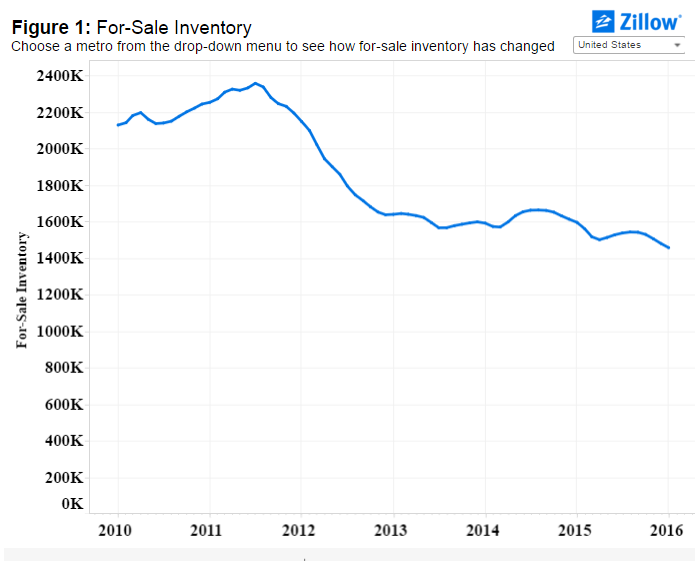 Inventory is incredibly tight.  You want to buy?  Good luck with what is out there.  This is why large metro areas from Denver, Seattle, Las Vegas, Los Angeles, San Francisco, Miami, and New York are all seeing similar trends.  Prices are rising on normal sales volume thanks to tight inventory.  Over the last few years, a large part of the buying went to investors.  Now with sky high prices and investors pulling back, you are seeing people stretch into homes with no down payments or very little down – all to get a piece of the crap shack dream.
Investors, those that bought up the inventory are doing well on the rental side of the equation: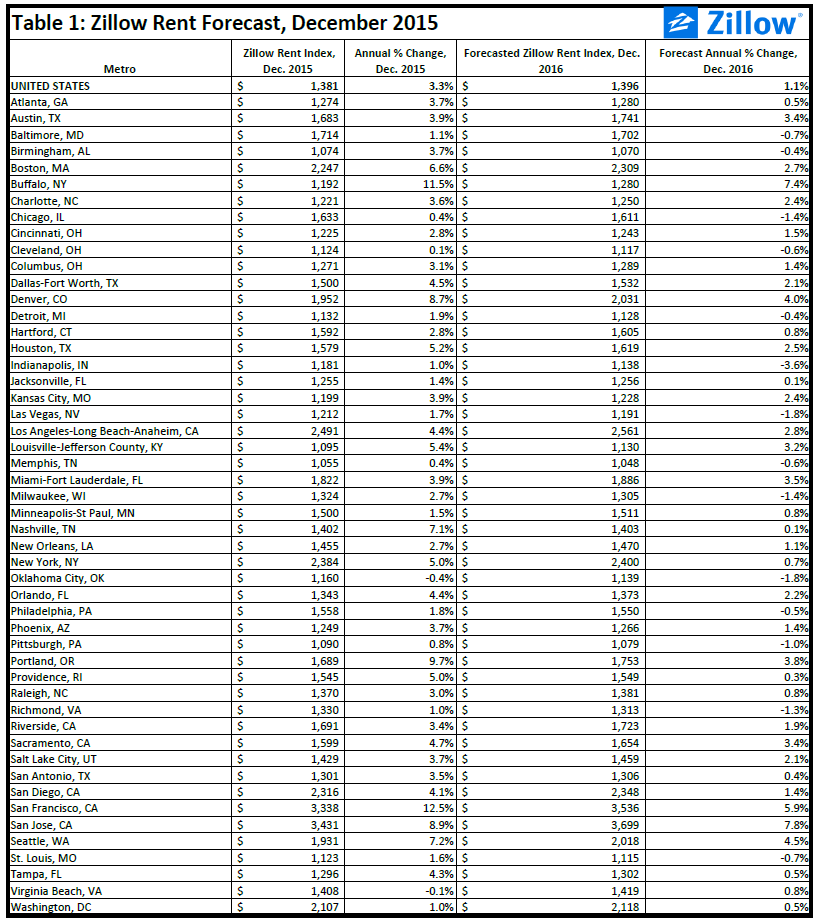 Rents are rising in this tight market as well.  Millennials, the next large cohort to buy homes actually opted to rent or live at home with parents because they simply cannot pay current prices.  Of course we have seen a bull market in stocks since 2009.  It is yet to be seen how this market will respond to your typical recession that appears every 7 to 10 years.
There is this misnomer that desire is equal to demand.  Of course many Millennials or prospective house lusting shoppers want to own a home.  That does not mean their income can justify a $1 million crap shack.  Even in many L.A. "hoods" prices are in the $400,000 to $500,000 range.  These are areas with horrible schools.  And let us be honest, many that are buying are looking to procreate and pop out some kids if they have not done so already.  Once that stage hits as seen in many open houses, hormones and emotions take over and goodbye to rational financial thought.  And some people equate volume at open houses as somehow meaning people are acting rational.  Open houses were packed in 2006 and 2007 as well.  Go to an open house and see how rational people are acting.  People are acting like the desperate 40 year old trying to flirt with younger girls at the club.  After all, isn't it worth it to spend $700,000 so you can paint your kids bedroom?
The only problem with this logic is that people wanted these housing "amenities" years ago as well.  What is different this time is probably what we are seeing in our politics.  Extreme choices.  No middle ground.  No middle class.  The investor class and the debtor slaves.  You can have your crap shack but the bank is going to own your life.  And what about that next recession?  Of course human psychology being what it is, an open house smelling like a rescue pound has people trying to buy without seeing what is directly in front of them.  People drank the Kool-Aid again.  Those of us who have lived through previous bubbles recognize the chorus but on a different soundtrack.

Did You Enjoy The Post? Subscribe to Dr. Housing Bubble's Blog to get updated housing commentary, analysis, and information.