The S&P/Case-Shiller monthly home price data was released on Tuesday and showed another abysmal month for home prices.  The Composite 20 index is off by 27% from the peak and the Composite 10 index is off by 28.3%.  Yet even with these dramatic price drops, we are still nowhere near a bottom.  We need to reach a 50% drop from the peak given our current economic conditions.  That is the troubling nature of this current bubble.  It grew to such a level that even 28% nationwide drops still keep us at overpriced levels.  This isn't even considering regional markets like Southern California that are now off by 50% from their peak levels.
Today I want to examine a few key data points as to why housing is still very much miles away from a bottom.  The first chart I want to look at is the Case-Shiller data dating back to the late 1800s.  This chart really helps to put things into context but also the magnitude of our current housing bubble.  In fact, we even see in the chart that prices can even undershoot historical measures if things get really bad like during the Great Depression:
Chart 1 – Case-Shiller Historical Data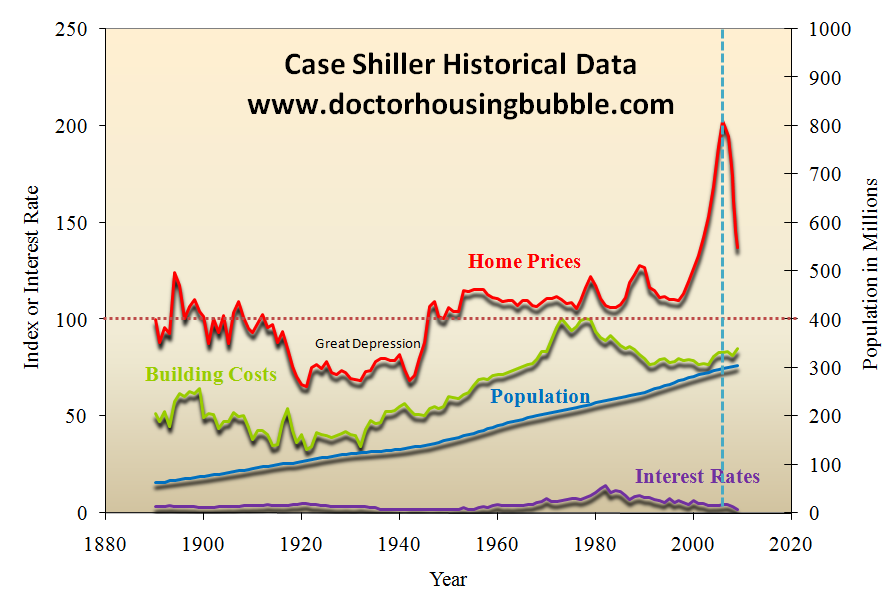 Click for sharper image

This is really a beautiful chart to look at because it really encapsulates the mania during this current housing bubble.  Even in more recent peaks and bubbles, we have seen prices go up 30 or 40 percent above the 100 baseline.  Yet starting in the late 1990s this housing bubble took off and went into the 200 range.  That is home prices doubled in less than a decade.  Now this would have made sense if incomes had doubled during that time as well.  Yet that is not the case.  Incomes remained stagnant and now given our raging unemployment rate, are now facing a pull toward the downside.
You'll also notice that interest rates are now at historical lows.  Normally, in previous recessions any sign of a market struggle or credit drying up, the Fed would simply lower rates and flood the market with easy money.  They do not have this option in their arsenal anymore.  In fact, we are now realizing that the Fed and U.S. Treasury are nothing more than big debtors.
What the chart above tells us is that prices still have a long way to go on the downside.  And we are talking potentially beyond the 100 baseline.  If you look at the period during the Great Depression, home prices were actually under the 100 level for many years.  Do not fool yourself, this is a deep crisis and to think we'll trend easily back down is too optimistic.  Major market moves on the upside usually have equally feverish moves on the downside.
Chart 2 – Nationwide Foreclosures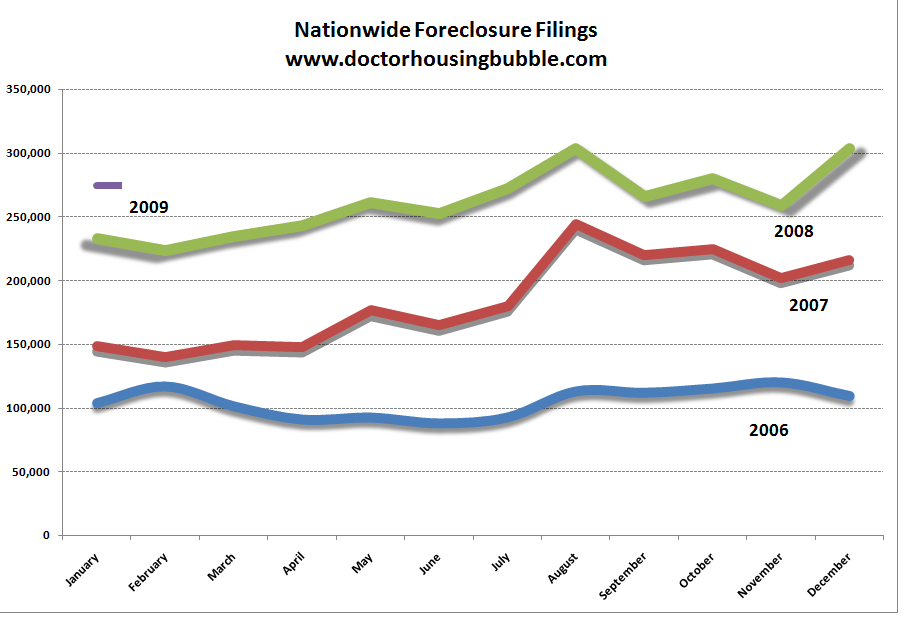 As you can see from the chart above, right out of the gate we are starting out with record monthly foreclosures.  You also have to factor in that we have multiple foreclosure and loan modification programs in the market yet this chart shows how much of an impact they are actually having dealing with keeping foreclosures at a lower and more manageable rate.  Until we start seeing foreclosures decline, there is absolutely no reason to believe we are nearing a bottom.  Recent figures put nationwide foreclosure resales at 40 to 50 percent of the entire market.  In California, the number is approaching 60 percent.  So with that factored in, only half of sales are happening without some fire sale or distressed history.  That is not a good and healthy market.
When we see the above numbers trending down significantly then we'll know we are starting to see a bottom but until that time, any bottom talk is foolish.
Chart 3 – Housing Starts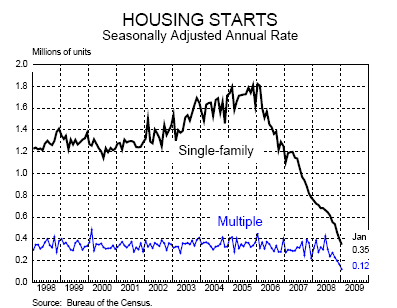 Another sign of major market distress is with housing starts.  Back in December I was talking about the 80 percent drop in housing starts during the Great Depression and how this played out in the housing market overall.  At the time only a few months ago, the current fall off rate for us was 70 percent.  Well guess what?  We are now at Great Depression levels.  Housing starts have fallen by 80 percent, today.  This is simply stunning.
Now why is this even significant?  Well first, it demonstrates the massive glut of housing that we had in our current market.  We built for a decade in a few years.  Much of our economy was built around real estate, finance, and insurance.  So now with fewer housing starts a large part of the economy will sit passively by because we simply do not need more product.  With all the foreclosures hitting the market for the next few years, this only ensures a steady stream of inventory onto the market.  No need for new homes.  Also, there was a high vacancy rate on many properties so until we start seeing these properties filled up with renters, then we are still nowhere near a bottom.
Chart 4 – Home Sales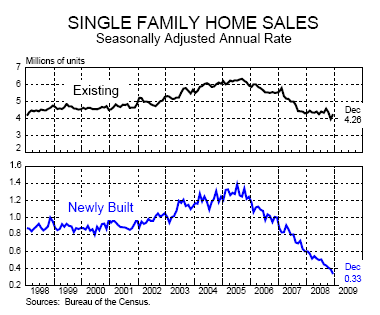 Nothing really drives this point deeper than  the above chart.  What you'll notice is that existing home sales although they took a beating, have suffered nothing to what new home sales have faced.  Existing home sales are off their annual rate by approximately 30% and keep in mind this also includes the fact that nearly 50 percent of all these sales are distressed properties.  These are horrible numbers.
Yet what is more troubling is the pounding taken by newly built homes.  Newly built home sales are off by a stunning 75+ percent annual adjusted rate!  This above chart correlates directly to the 80 percent drop in housing starts above.  Until we see any movement here, again there is no reason to believe we are at bottom.
Chart 5 – Household Debt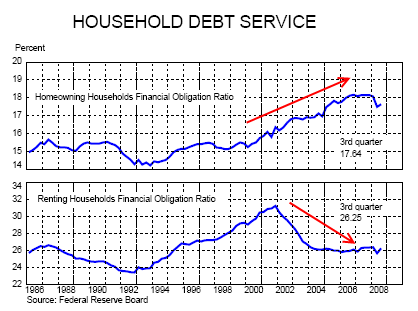 Some charts sum up the credit crisis so perfectly.  Here, you can see that starting at roughly 2000, renting households saw their debt service burden decline while homeowners saw their debt burden shoot up.  You can argue this has to do with merely being a homeowner but this chart goes back to 1986.  What occurred is homeowners massively over stretched themselves.  Basically, some were never meant to be homeowners yet were sucked from the renting category to the homeowner category.
We had this cultural obsession where everyone deserved to be a homeowner.  Nothing could be further from the truth and more financially destructive.  No one deserves a home like no bank deserves a bailout.  You deserve to own a home if you are prudent and have savings to back you up without going into massive debt.  Yes, this goes for all those "prime" borrowers that over extended their household balance sheet because they couldn't resist the granite countertop siren call.  In fact, that group is the most irresponsible. After all, these are the folks taking out HELOCs to add $50,000 pools and going on $20,000 vacations.
So anytime someone tells you we are near bottom, just look at the above data and see if there are dramatic changes in the trend.  If there isn't, then you know full well we are not even close to having that debate.
Did You Enjoy The Post? Subscribe to Dr. Housing Bubble's Blog to get updated housing commentary, analysis, and information.