Foreclosures are still relatively high but what makes things appear to be better comes from a couple of fronts.  First, foreclosures are being purchased at a faster rate by investors and some are doing this at the courthouse steps under a Nevada sun or rolling storms of Florida.  So many do not make the MLS where the public can view them.  The low supply has definitely pushed prices higher.  What is interesting is the jump in pre-foreclosures.  Part of this has to do with moratoriums that occurred over the last few years in a handful of states.  It looks like banks are now deciding to move on more properties given that the market is now prime for this.  Low supply and higher prices will make it a more lucrative venture to move on some of the pending foreclosures.  This is a reason pre-foreclosure activity, the first step in the foreclosure process is up by 200,000+ from last year.  It is useful to also look at home prices in relation to inflation.  Let us first examine the foreclosure situation.
The rise in pre-foreclosure
There has been a big jump in pre-foreclosure activity: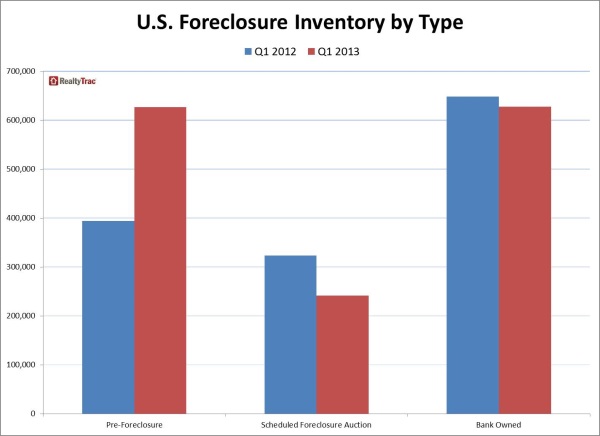 In the last year, the notice of default category has soared by over 200,000+ properties bringing the current total to 600,000+.  So why the big jump if the housing market is in full recovery?  Part of it stems from banks now moving on foreclosures and the moratorium laws that came into place a few years ago.  Yet many investors are likely to yank many of these properties even before they hit the MLS.  One common misconception is that all investors are buying for rentals.  That is not true.  In places like California good luck getting a good return on a rental.  But as a flip?  That is where the action is at.  We've highlighted flipping action in hipster areas like Silerlake and other hotspots.
Looking at the foreclosure data more closely, you can also see why a state like California is seeing big price jumps: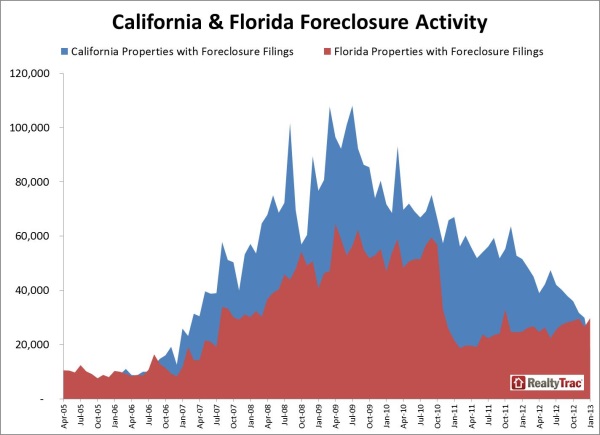 At one point, California had about 40,000 more properties with a foreclosure filing than Florida.  Today, Florida has taken the lead and just remember the population of Florida is half the size of California.  Florida goes by judicial law when it comes to foreclosure.  The above isn't all necessarily a good sign since a big drop has come from the Homeowner Bill of Rights in California that has made the process tougher.  In a supply constrained market this has only added to pushing prices higher.
Inflation and housing
Professor Robert Shiller has argued that over a very long period of time, housing generally tracks the overall rate of inflation.  From 2000 on, the overall US inflation rate has moved up by 35 percent.  So let us take a look at various regions and where they stand relative to the overall inflation rate: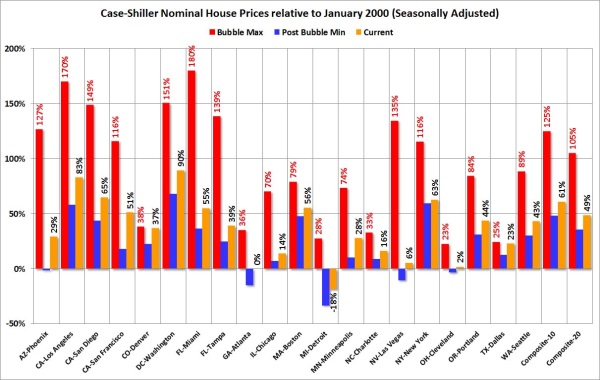 Source:  Calculated Risk
It looks like Charlotte is under the inflation rate and so is Las Vegas for example which is only up by 6 percent relative to 2000.  You can see that the bubbliest area is Washington DC.  Of course Los Angeles (including OC) and San Francisco are up there as well way above the rate of inflation.  The rate of inflation in California is very close to the nationwide rate of inflation.  The rate of inflation during this same time for California was 38 percent.
So it is interesting to see where prices now currently stand in relation to the overall inflation rate.  Low interest rates would impact every region equally.  Yet investors and hot money are targeting certain markets in droves.  The idea is that regular buyers are a big part of the market recovery but they are not as indicated by the number of purchase applications: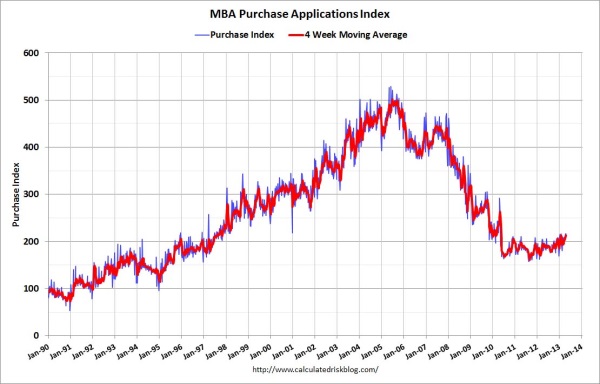 The volume of purchase applications is nearly the same as it was in the late 1990s.  Nothing remotely close to the peak days in 2004 and 2005.  Of course this is coming from virtually a third of buyers being investors.  In some markets like in Arizona the number of investors is even higher.
It is hard to say whether that jump in pre-foreclosure activity is going to add more supply on the market.  We already are seeing inventory increase nationwide but in certain markets like those in California, inventory is still near record lows.  One thing is certain and that is banks realize that prices are rising so it might be tantalizing to get rid of some of those properties and thus add some supply to the market.  Yet this is something more likely to happen nationwide and as we all know, real estate is a segmented system.  The fact that bidding wars are occurring is stunning.  I just had a talk with someone that mentioned to me, "real estate is back and this time I'm not missing out especially with such low interest rates" in relation to the California housing market.  What can you say to someone with that kind of conviction?  I just wished them luck as they enter the market to compete with hungry cash loaded investors.  With such a limited supply in desirable areas, competition is fierce.

Did You Enjoy The Post? Subscribe to Dr. Housing Bubble's Blog to get updated housing commentary, analysis, and information.