The Southern California housing market had its lowest number of sales in February in three years.  This does not highlight the slowdown accurately since in February of 2008 the market was in complete free fall with the credit markets frozen.  The current market is damaged and the only reason it even looks remotely okay is the large number of investors buying lower end properties.  There is no large scale evidence of foreigners buying up expensive properties across the Southland and many people fail to see this simply because they know of a few examples or tiny regions where demand has always been high.  But what of the bigger areas like Culver City, Pasadena, Huntington Beach, or other mid-tier areas that are correcting?  One aspect many forget is that unlike many consumer items like food, technology, cars, or items that have global demand housing has to be consumed by the local community.  If you are local you need to pay your mortgage with wages from typically a local job.  If you plan on being an investor, your renters will come from the local area and they will only be able to pay what local area incomes support.  A car or food can be sold globally to the highest bidder regardless of local wages (we are seeing this especially with food and oil).  Housing is area specific and many have over played their assumption of what Californians make.
Investors dominating Southern California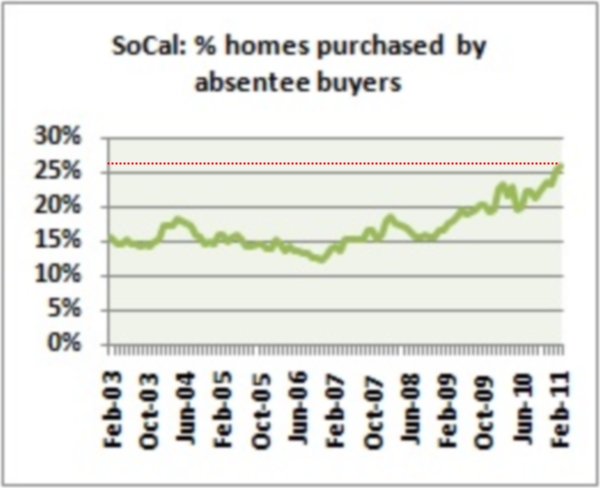 Source:  DQ News
Last month was a record month for absentee buyers.  Over 26 percent of all homes purchased in California last month came from this group.  To play more to the point that these people are not scooping up $750,000 homes in prime areas the median price paid by these investors was $198,000.  In other words they are scooping these places up for lower priced investments.  Speaking to many people including active investors they are planning on using these homes as cash flow investments.  More to the point, 31.7 percent of all buyers last month paid all cash for SoCal home purchases.  Southern California housing is seeing a continuing trend of investors buying up lower priced homes.  I spoke with someone that bought a $150,000 home in the Inland Empire that will likely rent for $1,000 per month because of the area.  This is how he breaks it down:
$150,000 investment on home

$12,000 in gross rents per year
That looks like an 8 percent annual return.  Not bad right?  But it doesn't really work that way with investment properties.  First, you will have vacancy rates especially in areas like the Inland Empire where unemployment is sky high.  Take a look at unemployment in this region of California: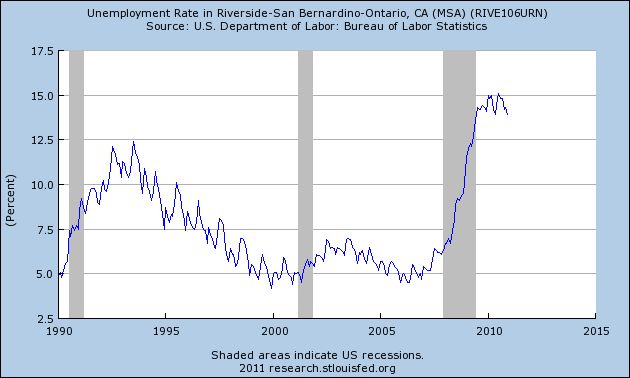 Not that California overall is in better shape with a 12.4 percent unemployment rate but this region has an unemployment rate close to 15 percent.  So investors need to factor in a high vacancy rate and this will cut into your profits.  Some are astute investors but many are first time investors.  Some will need to rely on property managers (there goes another 8 to 10 percent off your profits).  Did we forget about taxes and insurance?  Fixing the place up and repairs?  Most investors realize that each year 35 to 45 percent of your potential income is eaten up by these expenses depending on how good of a property manager you are or hire.  So run that figure again:
$12,000 gross rents x .45 percent in expenses =$5,400

Net operating income   =             $6,600
Now your annual rate of return is down to 4.4 percent.  Not bad in this current market but certainly not 8 percent.  And this is actual work unlike a passive bond or annuity.  I own rental property and I think some people think that because of this blog, that I somehow don't even have any interest in real estate.  My entire perception on housing is that it has to reflect local area incomes.  I think many of these investors in the Inland Empire for example will do okay.  But nothing spectacular.  Also, you are reaching a point where local area families would be better off just buying the place instead of renting.  As I discussed in a previous post the Inland Empire depends on cheap oil for their economy since many drive into Orange County and Los Angeles County for work.  What if oil prices stay elevated or move higher?  This is my major concern for this area.
Either way, the market right now in Southern California is dominated by the lower end investor.  Here is a breakdown of last month home sales in the region: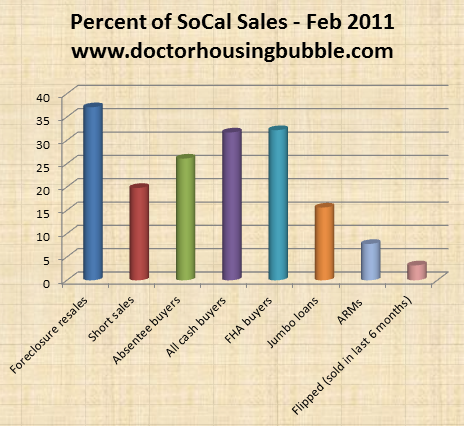 Let us do a narrative for the above gathered data.  36 percent of home sales were foreclosure resales.  These are dominating the market because of the lower priced investor demand.  Over 31 percent purchased with all cash and 26 percent were absentee meaning a likely investor.  Keep in mind many of these can cross over with one another.  For example, you can have an absentee, all cash buyer, who bought a short sale (or foreclosure).  On the other end you also have FHA insured buyers going after 32 percent of all sales.  This is likely your first time buyer here.  Again, this shows a lack of down payment ability since they are going with FHA with higher rates and PMI instead of a likely cheaper conventional mortgage.  Jumbo loans which would reflect a healthy expensive move up market are only 15 percent of all sales and only 7 percent of buyers purchased with an ARM.  I guess that Alt-A and option ARM fiasco has left a bad taste in the mouths of many.  Plus, you would be an idiot to buy with an ARM in this market with interest rates at a historically low price thanks to the massive intervention by the Federal Reserve.  There is no doubt the rate will go up, it is only a question of when.    
In other words, investors are buying what they perceive to be cheap properties for cash flow and first time buyers are gravitating to FHA insured loans because they have a hard time mustering a 20 percent down payment.  Contrary to the propaganda that comes out from the real estate industry most of these first time buyers do not have sizeable down payments.  The median down payment for an FHA buyer is 3.5 percent, the absolute minimum.
Keep in mind there is nothing normal about this market.  If we run the numbers, 32 percent FHA insured buyers and 31 percent all cash buyers, historically a low percent of the market we now have 63 percent of all sales in SoCal from these odd groups!  The two typically small groups that make up sales now dominate the market.  The low end and little money crowd.  A healthy market is when you have people selling homes and moving to other homes.  Right now it looks like this: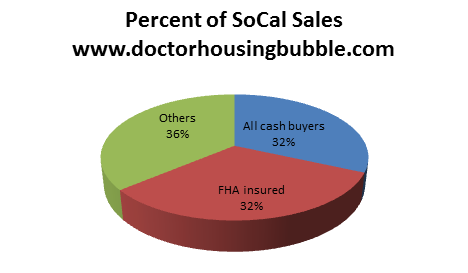 Obviously if you buy a home with all cash you did not take out an FHA insured loan.  This is not a healthy market and with the number of underwater homeowners, you can expect the low end to dominate for years to come and many areas will be dragged lower because this is obviously what the market can support.  Just take a look at the foreclosure timeline:

What this tells you is that banks still have no idea how to move the shadow inventory.  They have learned how to move the lower end stuff in the Inland Empire but in mid-tier markets the trickle is now finally starting to show.  This housing bubble took a decade to build and will likely take a decade to fizzle out.  After all, prices peaked in 2007 so you can count this as being year four in the correction.  And sales did plunge and if weren't for FHA insured loans and investors this would have been the lowest sales month ever: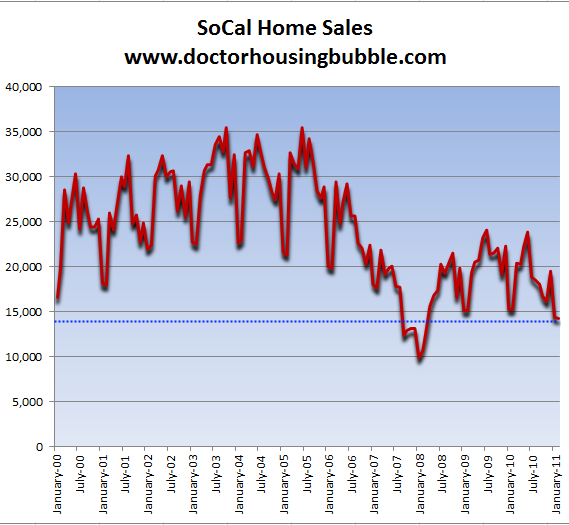 This trend of investors is likely to last as money moves off the sidelines but with a median price of $198,000 it certainly isn't moving to the mid-tier markets.  In other words, prices in many Southern California cities will be coming down to reality at some point simply to reflect local area incomes.

Did You Enjoy The Post? Subscribe to Dr. Housing Bubble's Blog to get updated housing commentary, analysis, and information.