The big story surrounding American housing has to do with distressed inventory that is not reported in any meaningful way.  It is amazing that even after the National Association of Realtors had to revise home sales lower and was blasted by those who track the housing industry, little has been done to reform the system.  Keep in mind this is the data that is quoted line by line on a monthly basis by the mainstream media as if it were gospel.  It is hard for average folks to understand what is really going on with the housing market because much of it is hidden in the dark netherworld of bank balance sheets.  Thankfully there are methods of shining a light on the true nature of the housing market but it takes time and using multiple sources.  The shadow inventory is enormous and Bank of America is hinting at going forward with a "bad bank" model which is likely to make it even harder to track the true health of the U.S. housing market.  The mid-tier market in California is much worse than what the surface shows.  Today we'll examine Huntington Beach.
Mid-tier beach homes feeling the pinch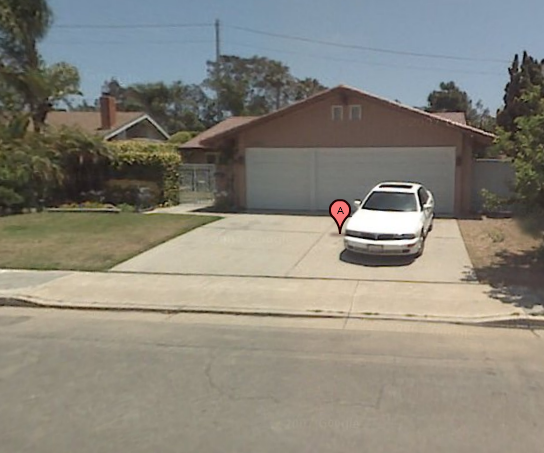 Bedrooms:                   4

Baths:                          3

Square feet:                2,700

Year built:                   1969
Don't bother searching for the above home in the MLS because it isn't listed.  This home is scheduled for auction on March 24, 2011.  This is definitely a mid-tier home in a mid-tier beach city.  Huntington Beach falls in the same place that Culver City does in that it is a target for young working professionals.  Yet the current market is saturated with shadow inventory and the problems are profound in these markets.
The last public sale on this place appears to have occurred sometime in 2005:
Sales History (07/15/2005):                $1,050,000
Does the above home look like a million dollar home to you?  Maybe it does after a decade of insane bubble prices for California.  After this purchase at a seemingly high price Washington Mutual went ahead and allowed a few refinances pushing the price of the place even higher.  Let us take a look at the mortgage action here: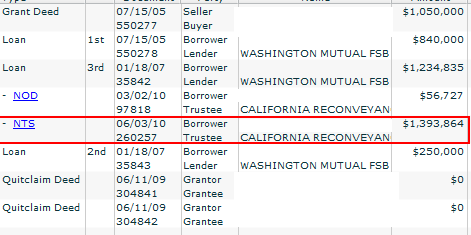 By January of 2007, it looks like this home had $1,484,835 in loans.  Just look at the above home and think that right now, JP Morgan Chase is claiming this as an asset at an inflated value.  Want to take a wild guess how much they are valuing this place at?  Of course we don't know even though these banks wouldn't even be standing without taxpayer bailouts.  The shadow inventory gets even more distorted.  Transparency?  More like the banks and the government took a page out of the NAR playbook:
"(UPI) The "most popular measure" of existing home sales, the National Association of Realtors' Existing Home Sales, has increasingly overstated home sales for ten years as measured by five other sources, and reached a level in 2010 that is 15 to 20 percent higher than actual sales, according to CoreLogic, which made the charges in its US Housing and Market Trends Report.

CoreLogic reported sales totaled only 3.6 million in 2010, down 12 percent from 2009. By comparison, NAR reported sales fell only 5 percent in 2010 after rising in 2009, and were flat relative to 2008. CoreLogic said sales did not actually rise in 2009."
Clearly this Huntington Beach home is overpriced.  It was listed on the market briefly in 2009 but was pulled back:

Source:  Zillow
So do the numbers here.  This place has close to $1.5 million in loans in 2007 and suddenly two years later is listed at $895,000.  Pulling it back did nothing as the above data shows.  In March these owners already owed a tidy sum:
Notice of Default (03/02/2010):                   $56,727
There is little to do when you are this underwater.  How many months went by before this first NOD?  Let us just use the $1.23 million first mortgage and try to estimate payments here:
Loan amount:  $1.23 million

Loan term:      30 years

Interest rate:   7 percent (being generous for a jumbo loan)

Monthly PI payment:  $8,209
I'm guessing the NOD was filed for the first only.  So run the numbers:
$56,727           /                      $8,209  =  ~7 months no payment before NOD
Now this is a rough estimate because it can be that they had an option ARM with WaMu which would mean they went even longer without a payment here.  Bottom line is you have a major foreclosure in process here.  How many more of these exist in Huntington Beach?
According to the MLS only 20 foreclosures are listed.  But if we take a look at the foreclosure in process map it is much more than that: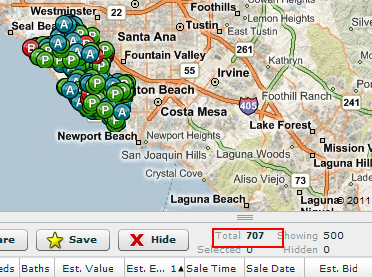 20 foreclosures listed on the MLS while 707 homes have a notice of default filed, are scheduled for auction (the above home), or are bank owned.  Still think everything is fine with the current market?  Huntington Beach is going to have a significant correction and homes like this will lead the way.

Did You Enjoy The Post? Subscribe to Dr. Housing Bubble's Blog to get updated housing commentary, analysis, and information.