Negative equity is a polite way of saying someone over paid for a home.  The technical term takes away the actual visceral reality of being underwater on a mortgage.  Empirical research has come out of this nationwide housing crash and the number one predictor of foreclosure is negative equity.  Now this is obvious on the surface but it is good to have actual data validating this reality.  Being underwater puts many Americans in a negative net worth situation.  Most Americans do not participate in any significant way in the stock market.  The vast majority derive a large amount of their net worth from the equity in their homes.  So the current nationwide housing crash has wiped out over $6 trillion in real estate wealth from the peak.  Was this even wealth to begin with?  Of course not but psychologically people were spending as if equity gains of 15, 20, and even 25 percent per year were a new paradigm.  With the ability to leverage housing purchases for an entire decade we are now dealing with the unfortunate repercussions.  As one would expect, home prices are now at a post-bubble pop lows.
Home prices reach a new low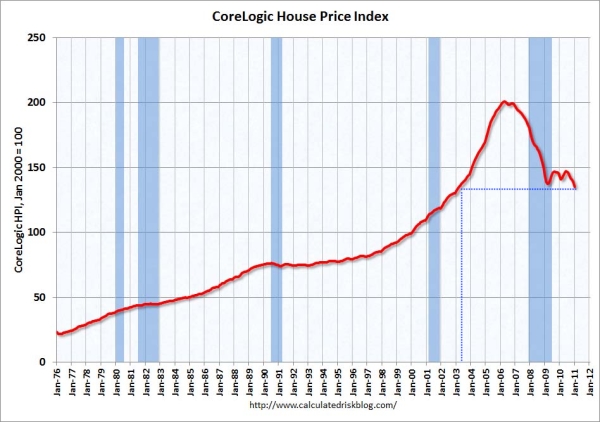 Source:  Calculated Risk, CoreLogic
As the chart above highlights home prices nationwide have reached another new low for the crisis.  Keep in mind this new low has occurred even with the Federal Reserve pumping trillions of dollars in loans, bailouts, and other gimmicks into the banking industry.  The end result was that banks solidified their balance sheets while home prices saw a brief respite that is now coming to an end.  This would be expected since people pay for their home mortgage with a job.  Jobs are harder to come by as noted by the current civilian participation rate in the employment market: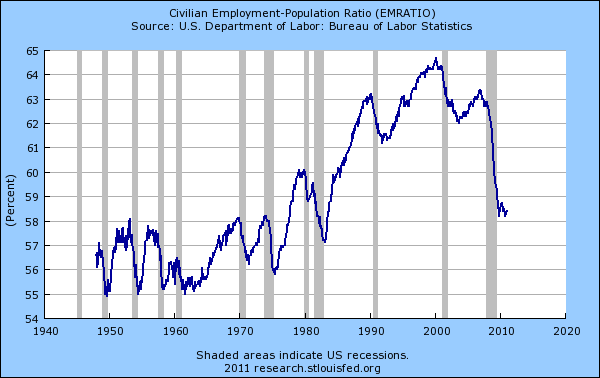 The last time we had an employment-population ratio at this level was back in the early 1980s.  The recent jobs that were added were largely lower paying work.  So how are you going to pay for a $500,000 home working at Wal-Mart?  Most in the country realize this unsustainability and that is why in places like Nevada, Arizona, and Florida with incredibly large housing bubbles, prices have fallen across the spectrum as the market adjusts to the new reality.  Here in California aggregate prices have fallen dramatically but the delusion runs strong in certain niche areas.  People find it hard to believe that a place like California can see another 15 to 25 percent cut in prices.  Yet this is exactly what will and is happening and we have shown many examples in mid-tier markets of homes that serve as tipping points.
The big future losses come from severe negative equity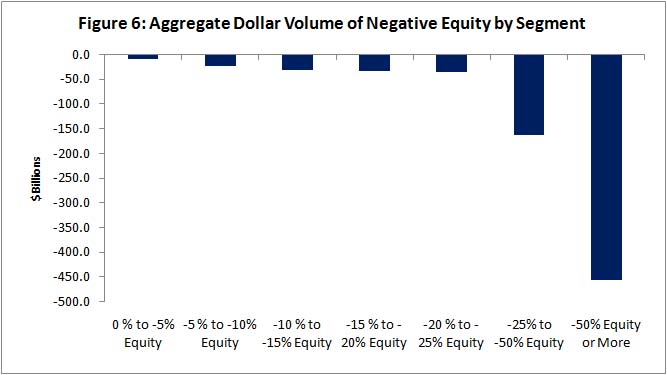 Source:  CoreLogic
Not all negative equity is created equal.  Say you have a home in Alabama that is underwater by 5 percent. This might translate into being under by $5,000.  This is likely to have little impact on a family moving out.  However, try a home in California with an option ARM that is underwater by 30 percent and was purchased for $800,000 at the peak.  You are now talking about being under by $240,000 which is enough to mentally encourage you to walk away.  $240,000 does make a decision easier.  Psychologically many of these people have walked but are simply staying put enjoying the rent free aspect of the bubble bust.  Keep in mind it is your taxpayer dollars paying for these people since the banks that allow this to happen would not even be in existence today without the trillions of dollars in various bailout programs.  Banks are the largest beneficiary of the bailouts and the biggest culprits of the crisis.
States of negative equity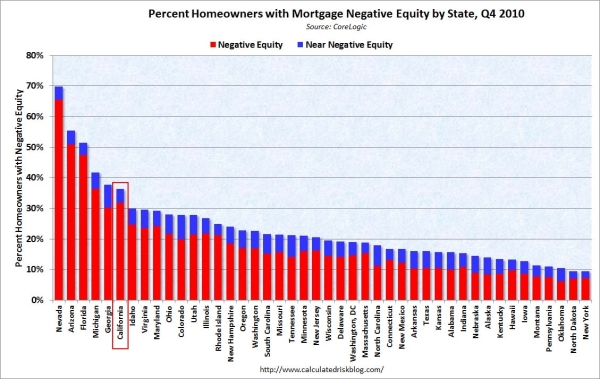 Source:  Calculated Risk
Over 35 percent of California homeowners are in a negative equity position or near negative equity (within a 5 percent range).  This is an enormous number of mortgage holders: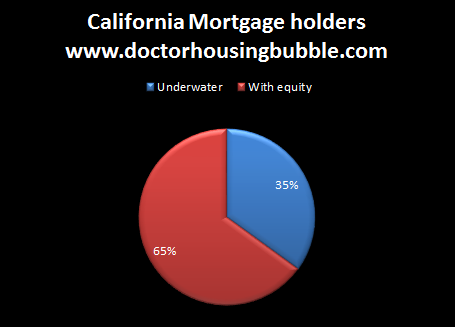 What this translates into is 1,880,000 California mortgage holders have no equity in their home.  They are essentially in a worse position than a renter and could be deep underwater if they used one of the common toxic mortgages that we are all so familiar with.  Many of these people would walk today if given the chance or if forced to pay their mortgage.  Psychologically it would make sense.  Take the hit, rebuild your credit, and buy a home in this much cheaper environment.
Banks now have years of shadow inventory in their balance sheets and it has gotten to the point where Bank of America, the largest U.S. bank has discussed creating a bad bank to place $1 trillion of legacy loans in it to clear out over the next three years.  Guess where a large number of these homes reside?  In bubble states.  Bank of America now owns Countrywide Financial which was notorious at making bad loans in California.
Never in our history have we had so many people underwater.  So think of the psychology of those 1,880,000 Californians with no equity in their home.  As of latest count 277,000 homes are in the process of foreclosure in California.  Do you think 1.5 to 1.6 million people will simply keep paying their mortgage as charity?  Of course not.  Many can't pay even if they wanted to because of lack of cash.  We don't have data on how many people have stopped paying yet banks simply continue to ignore this and allow them to live rent free.  You have the corrupt banks helping the irresponsible.  The large prudent majority in the U.S. is starting to wake up and realizes this is one large shell game and is essentially a Ponzi scheme.  Banks are hoping there will be enough new suckers that will jump in at current prices to rescue their balance sheet but also the current buyer who willingly signed the paper to buy the home.
I don't buy the tear jerking stories especially here in California.  Are you going to shed a tear for the million dollar home owner who lives on the beach but has stopped making payments?  Maybe you feel bad that they can only drive one Mercedes instead of two.  Scams like this can only go on for so long and banks realize the quicker they can erase the past the better.  After all, if they can hedge taxpayer money and speculate on global stock markets and make more money they can afford to unload property and rid themselves of the negative publicity.  Think of BofA's announcement were they plan to unload $1 trillion in legacy loans over 3 years.
Keep in mind many of these people will not be put on the street.  They have an option that many Californians currently participate in.  It is called renting.  Nothing wrong with that.
People will walk away in many cases in California.  There is no shame in walking away.  The banks have set the moral standard so low that it would be ridiculous for someone to keep paying on a massively underwater property.  Why continue paying on that tulip bulb?  Manias are fascinating case studies in herd behavior and even logically minded people get swept up in it.  Even today, you have people trying to justify bubble prices in many California cities.  Prices will fall and fall hard because you have to have a steady source of income to support current prices.  In many areas that is not the case.  The only reason someone would pay today's price in many markets is the belief that the bubble day appreciation gains are only one day, month, or year around the corner so it is time to get in.
Some in California keep talking about the million dollar market.  Last year 22,000 homes sold for $1 million or more in the state.  That is great but California sells about 546,000 homes a year.  So now that we've addressed 4 percent of the market, what about the other 96 percent?  Bubble markets have a long way to go before any bottom can be called.

Did You Enjoy The Post? Subscribe to Dr. Housing Bubble's Blog to get updated housing commentary, analysis, and information.