The amount of all cash offers being made across the country is deep into record territory.  Once again, the real estate market is crawling into unchartered waters here.  We all know about the flood of money coming from hungry Wall Street investors ravenously chasing yields in the rental game.  What about foreign money floating into the market?  Data on this is hard to come by but anecdotally we know that money from China is flooding into California.  How much?  Hard to say but some good data was recently released regarding the buying habits of foreigners.  Some will remember when Japan lived through their boom and money flooded into California then as well.  The big difference this time is that China has more than 1.3 billion people versus 127 million for Japan.  In other words, the potential for a high volume of activity is now starting to be seen in dramatic fashion.
Chinese purchases focused on prestige locations
One of the most interesting figures regarding international demand is with the typical amount spent on a purchase: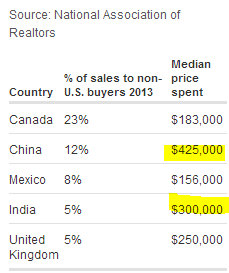 Source:  CNN Money
"(CNN Money) At a median price of $425,000, the Chinese are also buying more expensive homes than other foreign buyers, who spent a median of nearly $276,000 on U.S. homes. And nearly 70% of those pricey Chinese deals were made in all cash.

Nowhere is the influx of Chinese homebuyers felt more strongly than in California, where more than half of the homes sold to foreign buyers went to Chinese nationals."
A couple of points.  You'll notice that the largest percentage of international buyers come from Canada but the median price paid for a home is $183,000.  Many are "snow birds" or retirees buying in areas like Arizona and Florida, hence the lower price.  You'll notice a similar trend from international buyers from Mexico although for different reasons and many are buying in places like Arizona, Nevada, and Texas.  The median price here is $156,000.  Yet for buyers from China, the median price paid was $425,000 which reflects a preference for more expensive coastal regions like California.
The data shows that half of Chinese real estate purchases were targeted in California.  The flood of all cash buyers is still in full session.  What I would also argue is that this is highly focused purchasing in areas like Irvine for example where some realtors actually have special services for this client base.
California all cash buying
Last year California saw a record breaking number of all cash purchases: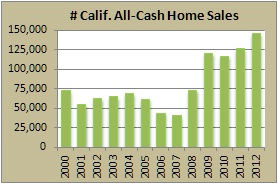 "(DataQuick) Cash purchases accounted for a record 32.4 percent of California's overall home sales last year, up from 30.4 percent in 2011 and more than double the annual average of 15.6 percent since 1991, when DataQuick's cash statistics begin."
A large number of all cash purchases came from Chinese buyers.  What is fascinating about this dynamic is the incredible volume of non-traditional buyers (i.e., those simply buying a home to raise a family and plant roots).  In California, for the entire year, one out of every three purchases went to Wall Street investors, hedge funds, flippers, or foreign buyers.  Compare this with the more typical 15 percent average going back to 1991.  I would say this number is also a bit inflated given that in the 1990s you had many all cash purchases being driven by the tech bubble and in the 2000s, a lot of this was driven by the real estate bubble.  Today, we have a different audience that is coming in with all cash offers.
What is interesting about the foreign demand especially from China is the direct targeting of prime markets:
"Most purchase the homes to raise their family and they pay special attention to the local school systems. Turley also has Chinese clients who buy homes for their kids. Last year, a family from Shanghai bought a condo for their daughter who was attending Stanford. The daughter has since graduated and now works at Google, he said.

Many Chinese buy homes through the U.S. government's EB-5 Immigrant Investor program, which is considered a fast-track to getting a green card. To qualify, foreigners must invest at least $500,000 in a business that provides or preserves 10 jobs. This could be a home that is part of a bigger business project, such as a condo complex. Nearly 80% of all EB-5 visas went to Chinese nationals in 2012, according to the government."
80 percent of the EB-5 visas went to Chinese buyers even though they made up only 12 percent of all non-U.S. buyer purchases.  It should be abundantly clear that the all cash flood of money into real estate is not one homogenous group.
And while we may think that California real estate is manic just take a look at real estate prices in China: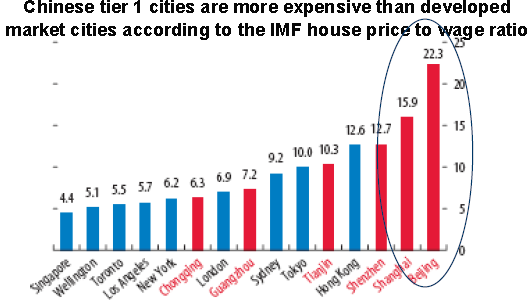 Source:  SoberLook, Credit Suisse
In relative terms, even the insane market in Toronto looks affordable when compared to large Chinese cities.  Beijing and Shanghai are at levels beyond what we even reached during the apex of our own housing bubble.
So what longer term implication can we derive from this?  I think that this will be large pool of all cash buyers that will depend largely on how well China's economy does.  High or low rates in the US might impact domestic buyers but this does very little for this group.  Given the massive growth of the Chinese economy over the last decade, the trend is now being seen dramatically in foreign home purchases.  However, this is very targeted to coastal California regions (little evidence showing buying in the Inland Empire or Central Valley for example).
Do you have any examples or stories of foreign purchases of real estate in California or other parts of the US?

Did You Enjoy The Post? Subscribe to Dr. Housing Bubble's Blog to get updated housing commentary, analysis, and information.