Nationwide the amount of homes available for sale is increasing spurred on by rising home prices and the healthy rise in home values.  Yet many areas in California were still in a severe drought when it came to the amount of inventory available for sale.  The rise in inventory started late last year nationwide but we are now seeing it in certain areas in California.  Even in sought after areas like Irvine the amount of inventory has picked up.  At a certain point the market will return and the current mania is making some reluctant sellers come out of the woodwork to offer their goods to the highest bidder.  Home prices in areas like Irvine have gone up significantly and many are now being enticed to sell.  At the same time, Americans are back to their non-saving ways so the current market seems uniquely familiar.  Let us take a look at some of the inventory coming back into the market.
Irvine sees a surge in inventory
From early 2011 to March of 2013 inventory only went in one direction: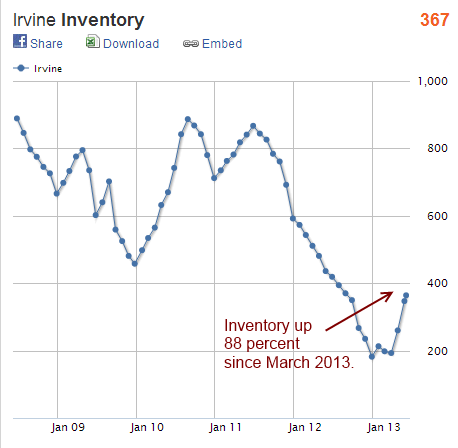 Source:  Movoto
The number of homes available for sale virtually disappeared from the map in many prime areas of Southern California.  Typically, inventory picks up in the spring in anticipation for the upcoming selling season.  But for nearly two years this entire trend was bucked.  That is why the recent surge is worth noting.  Inventory in Irvine is up 88 percent from the low in March nearly doubling the number of homes on the market available for sale.  Is this a turning point for low supply?  Hard to say but what is certain is that more inventory is being added into the market and this was something missing for 1.5 years.
According to Zillow home prices in Irvine are up 22 percent over the last year and are approaching their peak levels from 2006.  The bust of the housing bubble is still fresh in the minds of many.  Could it be that many potential sellers are remembering a little bit of history and are trying to get out while the market is blistering hot?  The Irvine market is manic at the moment with local families, foreign money, and big pocket investors vying for the same properties.  All of this with low interest rates makes the current jump in inventory all the more fascinating.
Americans overall are back to their non-saving ways: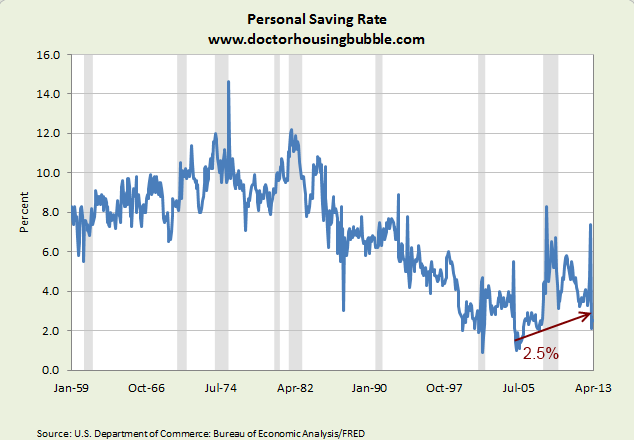 The personal savings rate is 2.5 percent near all-time record lows.  Even in California, higher incomes are spent on more expensive living.  The cost of living eats away the paycheck of many professionals.  Bigger mortgages and bigger leases.  In Irvine the Zillow Home Index prices a regular single family home near $700,000.  That is near the 2006 peak.  The best selling month in Irvine was in 2005 when 629 homes were sold.  Last month, a solid sales month 258 homes were sold.
It is hard to parcel out the investor share in one specific city.  We do know however that last month 33 percent of buyers paid all cash for their home purchase in SoCal.  This is much higher than the typical range of 10 to 15 percent.  Foreign money is a big player in this region.
Is this trend happening in other prime areas like Pasadena?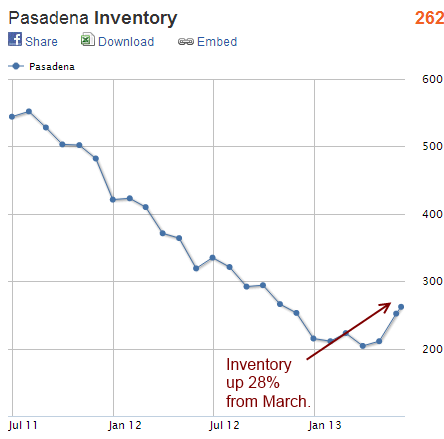 Inventory in Pasadena is up 28 percent from March.  Certainly not at the pace of Irvine but a similar thing might be emerging (certainly nationwide).  It looks like we reached an inventory bottom.  The fact that lower interest rates provide major leverage is not lost on many: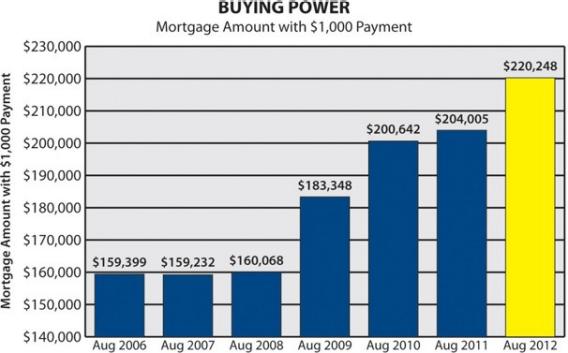 Source:  Slate
So you can understand why the recent rise in interest rates might be troubling for the housing sector especially in very expensive California.  You have to ask yourself why is there a sudden addition of inventory to prime markets like Irvine.  It isn't for the lack of people wanting to live there.  Could it be the 22 percent rise in home prices in one year and that it is nearing record levels?  Or is it the fact that prices are out of reach for many of the local families trying to compete with investor money both locally and abroad?
A more balanced market is better for all concerned.  No one wants to live in a market where housing prices are imploding one minute and sellers are begging for buyers or surging in a manic manner causing people to grovel at open houses.  A feast or famine real estate market is not a healthy environment.  Instead of financial institutions seeking out the next innovative idea or breakthrough in medical science to fund, hot money is trying to crowd out local families for a quick flip or a rental.  Not exactly the best way to create a robust economy.  The silver lining does appear to be that inventory is creeping back into the market and this is very necessary.

Did You Enjoy The Post? Subscribe to Dr. Housing Bubble's Blog to get updated housing commentary, analysis, and information.