Quantitative easing is unlikely to get any airtime on the local press but this is the overarching policy that the Fed has enacted to pull us out of the recession.  What many people do not know is that Japan is ahead of the curve when it comes to enacting quantitative easing to deal with a collapsing real estate bubble.  The Bank of Japan has made news this year by aggressively expanding their monetary base to spark some sort of inflation in their underlying economy and subsequently weakening the Yen.  The Yen has gotten weaker relative to other currencies and the Nikkei is up 30 percent for the year.  One of the bigger questions around quantitative easing and Fed policy is the longer term impact on our economy.  Housing prices have moved up because of three major reasons; investor demand, low supply, and historically low interest rates.  Each one of these reasons can be traced to the Fed either directly or indirectly.  Can an aggressive central bank with a low rate environment re-inflate asset prices?
Japan real estate prices
There is an interesting chart showing land prices in Japan: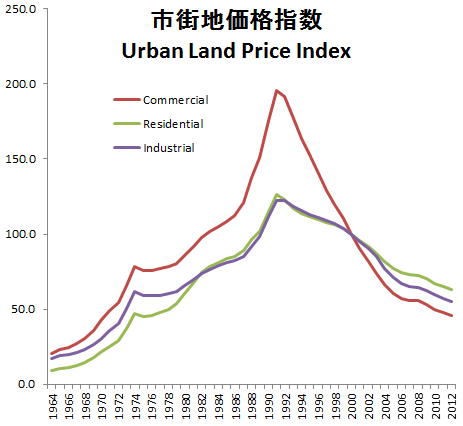 The real estate market popped in Japan back in the late 1980s.  You can see what has occurred over that time.  The Bank of Japan has struggled to revive the real estate market since that time.  This isn't because the Bank of Japan has acted cautiously.  To the contrary, the Bank of Japan has been very extreme when it comes to using their central bank as a means to revive their economy.  Yet the struggle is still with deflation.
Inflation rate in Japan
In spite of what is going on, with the monetary base, Japan still struggles with deflation.  First take a look at the monetary base expansion: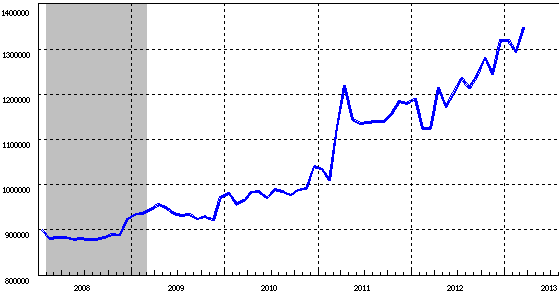 The Bank of Japan has aggressively increased their monetary base since the global recession hit and this is on top of all their other aggressive quantitative easing measures that created zombie banks and other economic sinkholes.  While the Nikkei has gone up strongly this year, deflation is still a major struggle: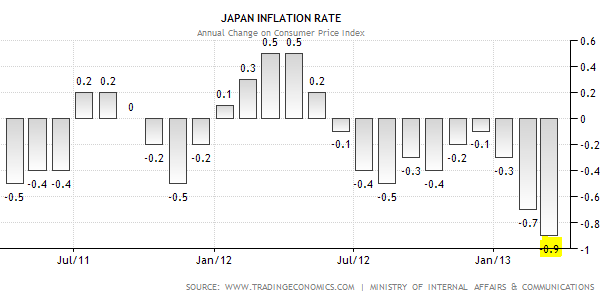 What gives?  Well first, economic growth has been weak and so has household income growth.  This typically goes hand and hand.  Over a longer period of time, incomes do matter.  So real estate can only increase by so much even with mortgage rates that are lower than those we currently have in the US.  Next, Japan's savings rate has been falling for a couple of decades.  So in spite of the Bank of Japan flooding the market with all these measures, prices are falling in many categories.
What was accomplished in Japan?  There has now been multiple lost decades and overall households in Japan are not better off.  The Bank of Japan has had to get more and more aggressive with their monetary policy.  So where do we stand?
Fed Balance Sheet
There is little doubt that the Fed has thrown everything at our own real estate bubble bursting: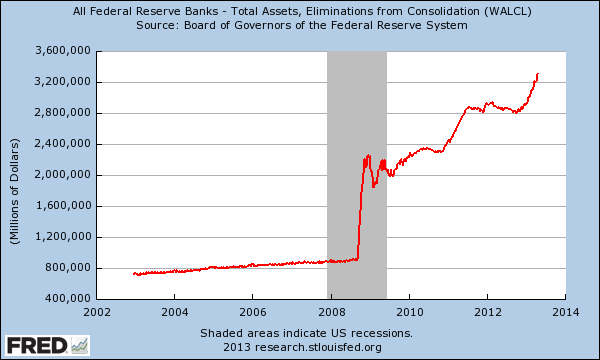 If we are in a solid recovery, why is the Fed balance sheet looking like it was still 2009?  In fact, the Fed balance sheet continues to grow and will continue to grow with QE3.  The balance sheet is now over $3.3 trillion.  A big part of the holdings are mortgage backed securities that no one in the open market will buy.  Is there a consequence for this?  No one can really answer that because we've never gone into this kind of aggressive monetary policy.  But to think this is a clear cut case of reviving the economy, just look at Japan and see that it isn't as easy as using quantitative easing and expecting the economy to jump back up.
Case Shiller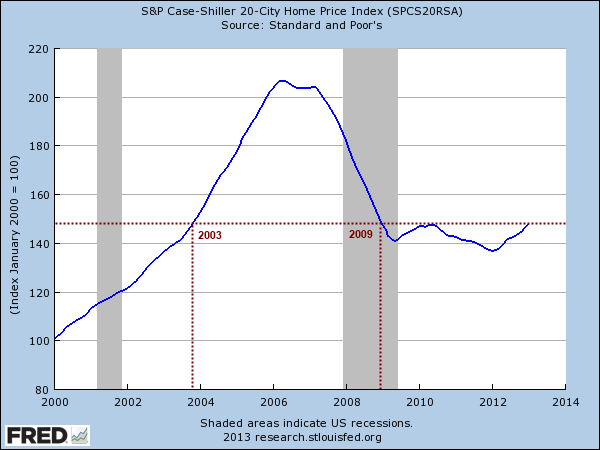 Home prices are essentially where they were in 2003 across the US.  It is clear that in the last year prices have picked up steam.  Low rates, low supply, and massive amounts of investors are definitely having an impact.  Low supply is going to adjust if prices keep moving up spurring more people to sell and more home builders to dive back into the market.  Investors are already pushing cap rates beyond normal levels.
In this area, the US is looking different from Japan already.  It is still too early to tell how much momentum this trend will have.
Equity in real Estate
While home prices are picking up, owners' equity in real estate is still back to levels last seen in the early 2000s: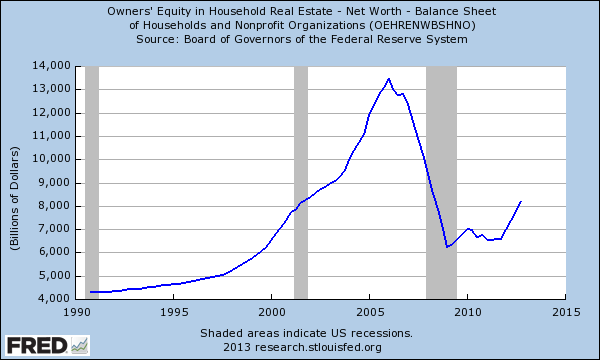 American homeowners are still over $4 trillion short in equity from the peak that was reached.  As home prices rise the equation shifts but much of pressure going forward will depend on economic growth coupled by actual income growth.
Household incomes
Household income growth has been incredibly weak in the 21st Century: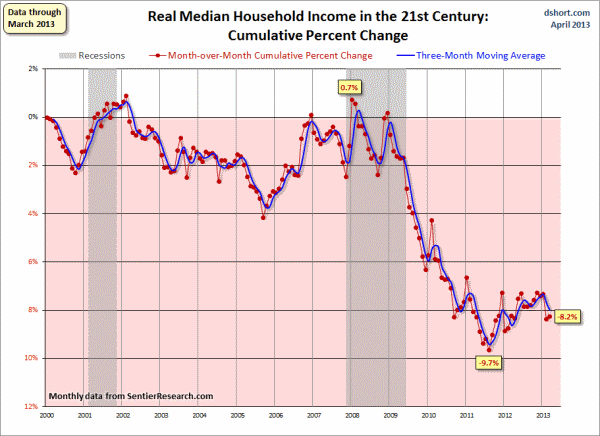 In this regard we are very similar to Japan.  While the stock market is at all-time highs and real estate prices continue to move up, the same cannot be said for overall household income growth.  You can see the big drops above and most came after the recession was over.
It should be obvious that the rise in stocks and housing prices are not coming from household income growth.  Much of it is coming from low rates brought on by the Fed, investor demand, and very low supply.  Japan isn't exactly evidence that we should be going full steam ahead with quantitative easing but that is the path we have taken.  Even with mortgage rates in the 1 percent range Japan's economy is still stuck in the mud.  While there are similarities and differences, one thing is clear and that is both the BoJ and Fed have gone into uncharted central bank territory.

Did You Enjoy The Post? Subscribe to Dr. Housing Bubble's Blog to get updated housing commentary, analysis, and information.