People are back to their bottom calling bunker positions here in California.  Some believe the Alt-A and option ARM wave will be a non-event.  I'm not sure if this has to do with the summer sun or the 50 percent stock market rally since March.  In the last two months, I have gotten e-mails from folks in prime locations like Pasadena, Menlo Park, Culver City, and other areas and many largely believe that the game is now over.  Move along.  There is nothing left to see.  I am fascinated by this not in my back yard view of economics especially when it comes to housing.  They largely see the claim that housing will be in deeper pain for a few more years as some kind of "gloom and doom" call.  I have news for them.  California flew off a cliff with the $26 billion budget deficit.  Gloom is already here for the 11.6 percent who are unemployed (21 percent if we use the U-6 measurement) and in many areas housing prices are off by 50 percent from their peak.  I hate to tell them but the crash already happened for 90 percent of the state.
Many of these people are absolutely disconnected from the reality on the ground.  Did they not hear about the Great Western Forum being filled up with thousands of people, many turned away seeking healthcare?
"INGLEWOOD – Judging by the images being broadcast worldwide, of rows of people waiting to be treated by doctors and nurses dressed in scrubs and working inside a vast arena, the sights looked a bit like a scene from the classic television show "M.A.S.H."
But this was no war zone on the Asian peninsula. It was the floor of the Great Western Forum, where at least 2,000 people had come in the hopes of getting free medical services from a small army of licensed, volunteer health professionals."
It always helps to look back since it can demonstrate how wrong psychology can get in these volatile markets.  Back in March of 2008 we started seeing a flurry of bottom callers.  At that time, the state unemployment rate was 6.2 percent and the median California home came in at $383,000.  All evidence was pointing to a first wave implosion yet this is the sentiment that was permeating through the media:
"Alan Nevin, chief economist for the California Building Industry Association and San Diego-based MarketPointe Realty Advisors, predicted foreclosure sales could account for as many as 15,000 out of 25,000 total sales this year. But at some point, the foreclosures will drop off, he Nevin said.
"Anybody who's going to walk away from a house or condo has already done it," Nevin said. "Now it's just a matter of the pig going through the snake."
That prediction was massively off base.  It turned out that for the second half of the year, foreclosure re-sales in many months made up over half of all sales.  In fact, in September of 2008 only six months from the prediction over 50 percent of all homes sold in the state were foreclosure re-sales.  And foreclosure sales took off at that point: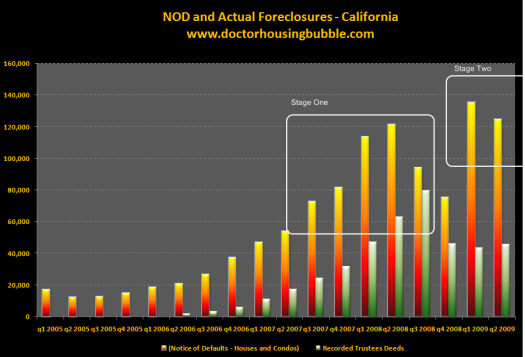 The idea that anyone who was going to walk away had already done so in March of 2008 flew in the face of all the data we were seeing.  He wasn't the only one off base:
"Remember, all of this foreclosure pain we've seen so far has come amid an economic backdrop that, until recently, wasn't that bad outside of real estate," DataQuick analyst Andrew LePage said.
He recommended that buyers and sellers pay attention to areas with unusually low sales counts where post-foreclosures sales dominate.
"The median price could pop back up once we see a more normal level of sales activity across all neighborhoods and home types," LePage said."
The median price completely popped alright but not exactly to the upside.  Using LePage's own data, let us see how well that call played out: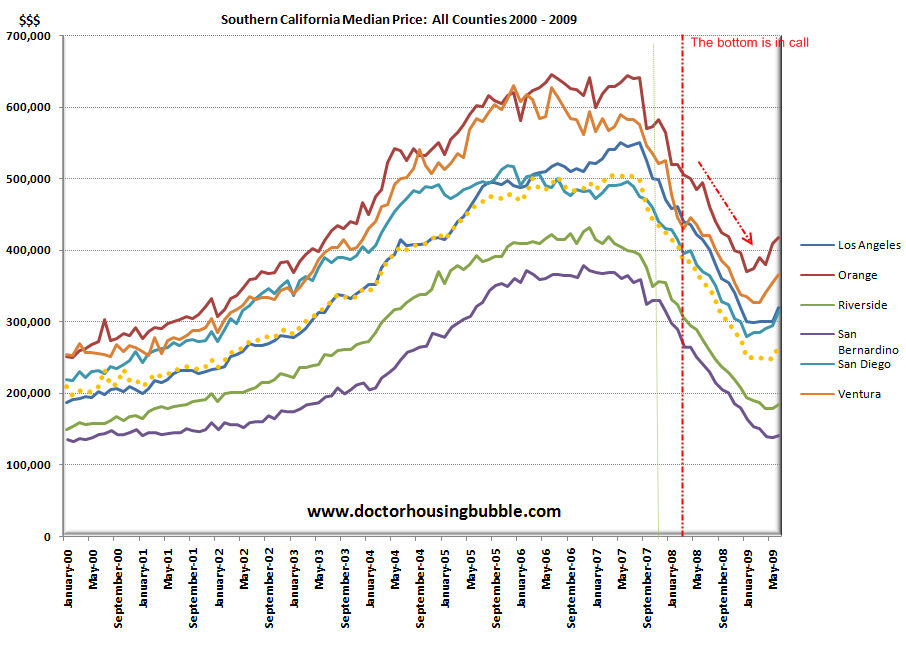 The median SoCal home price was $385,000 in March of 2008.  The bottom hit in April of 2009 at $247,000 for the entire region.  From that bottom call, the entire market fell 35 percent in one year.  And the San Diego market?  The March 2008 median price was $430,000.  The bottom came for San Diego in January of 2009 at $280,000.  These aren't tiny mistakes.  Looking back on this it seems obvious.  But it didn't at that time.  Keep in mind that Lehman Brothers hadn't taken its dirt nap, Fannie Mae and Freddie Mac were still waiting for their nationalization (aka conservatorship), and the stock market didn't face its epic crash.
I want to focus on these types of calls because they fail to back up their arguments with cold hard data.  They use market sentiment that spans a couple of months.  For example, I see some using the slight increase in the median price as the sign of a bottom.  Well, as we have discussed if you have an area with homes that once sold for $600,000 now selling for $400,000 but the county median price is $300,000 then overall, it looks like prices are going up.  Yet just saying prices are going up because people get a warm and fuzzy feeling owning a home is the same bubble logic exploited by housing porn TV shows.  Did you ever notice that there was no detailed balance sheet on those shows except PRICE and EXPENSE plastered on the screen with a gigantic font?  Sure, everyone knew you can buy a home for $200,000 and add $50,000 in cosmetic fixes and then sell it for $500,000.  Even Elmo can't teach math like this!  This mentality still exists in some areas.
I'm simply amazed how people think we are at a bottom especially here in California.  But this time unlike early in 2008, this group is a minority.  Even back in March of 2008, I backed up my assertion with data:
"(March 2008) In the first quarter of 2008, we had 110,392 homes with notice of defaults out. Given the default rates on these we came out with the following estimate:
(110,392 individual homes with NODs for Q1 of 2008) x 68% will not go current = 75,066
Clearly we are nowhere near a bottom and all signs are pointing to more challenging times ahead. But wait! What's that? It's A Bird, It's A Plane, It's Super Wal-Mart Voucher Checks!"
To show you how we predicted this, let us look at the graph carefully: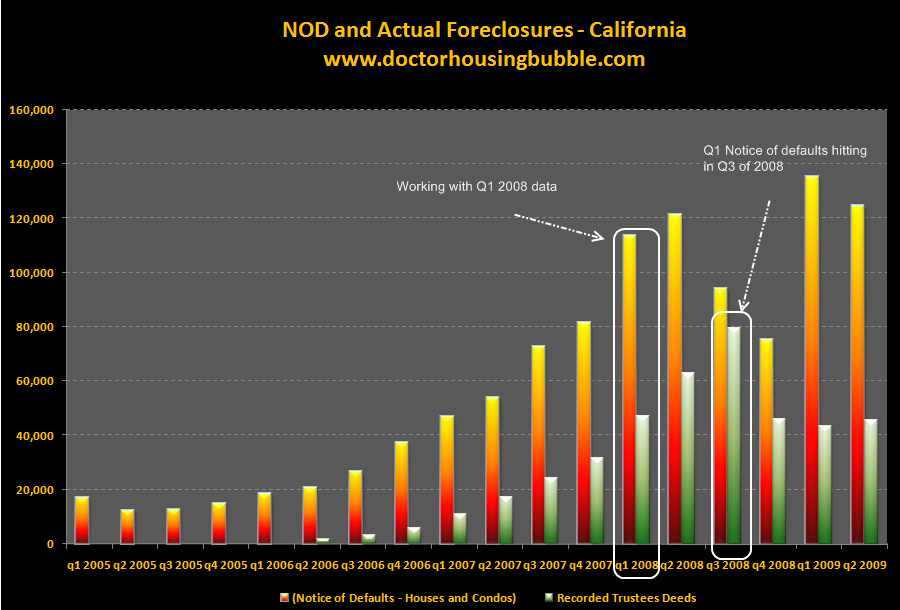 All we had at the time was the Q1 2008 notice of default data.  110,392 homes were sent a NOD in Q1 of 2008.  We predicted that of these homes 75,066 would go into foreclosure.  Since the NOD process is the first step, these homes will enter foreclosure at least one full quarter later (i.e., start of Q3 of 2008).  What happened in Q3 of 2008?  79,511 homes had trustee deeds recorded (only off by 5 percent in our prediction from early in the year).
So referring back to the chart above, Q1 and Q2 of 2009 saw the two highest quarters of notice of defaults.  Why are we to assume the same pattern won't happen again?  Some say loan modifications.  So far, the few loan modifications that are occurring are absolute jokes and re-default rates are through the roof.  If anything, those with Alt-A and option ARM loans are even more likely to walk.  And this argument of a "renting utility" or emotional arguments like keeping your kids in a good school or finding a place to set your roots are irrelevant.  If you are paying $2,000 and your payment is going up after recast to $4,000 the basic math is enough to push you out.  Plus, have you noticed that there are many more cheap rentals on the market?
I think most of us would love to drive around in a Ferrari but most of our household incomes probably can't support it.  Many are debt zombies living in McMansions and driving leased cars with a negative net worth.  All hat and no cattle.  I can tell you as a property owner and someone who leases in California, if you need a home to feel rooted you have bought into the happy housing elixir.  Owning a home at a price you and your family can afford is a good thing but to mortgage yourself with exotic loans for that is financial self destruction.  It is about price and income.  You cannot twist that basic reality.  Some still think you can buy an $800,000 home with a household income of $150,000.  In fact, this homeownership belief is being questioned:
"(WSJ) The New American Dream: Renting
A man is not a whole and complete man," wrote Walt Whitman, "unless he owns a house and the ground it stands on." America's lesser bards sang of "my old Kentucky Home" and "Home Sweet Home," leading no less than that great critic Herbert Hoover to declaim that their ballads "were not written about tenements or apartments…they never sing about a pile of rent receipts." To own a home is to be American. To rent is to be something less."
Some people have decided to look at this scientifically with empirical evidence:
"(Mortgage Media Mag) The new research was led by Paola Sapienza (Kellogg School of Management at Northwestern University) and Luigi Zingales (University of Chicago Booth School of Business) – co-authors of the quarterly Chicago Booth/Kellogg School Financial Trust Index – as well as Luigi Guiso (European University Institute). With data collected from surveys conducted within the last six months as part of the Financial Trust Index, this paper is the first to examine the economic and moral implications of strategic default in the current recession.
Negative Equity
The study of the Massachusetts housing market during the 1990-91 recession found that very few people who could afford their mortgage chose to walk away from their homes. Consistent with the earlier paper, this new research shows that homeowners refrain from defaulting as long as negative equity does not exceed 10 percent of the value of the home.

After that level, however, the researchers found that homeowners start to default at an increasing pace, and walk away massively after decreases of 15 percent and more. In fact, 17 percent of households would default, even if they can afford to pay their mortgage, when the equity shortfall reaches 50 percent of the value of the house."
It appears that being underwater does matter.  And what state is massively underwater?  You got it, California: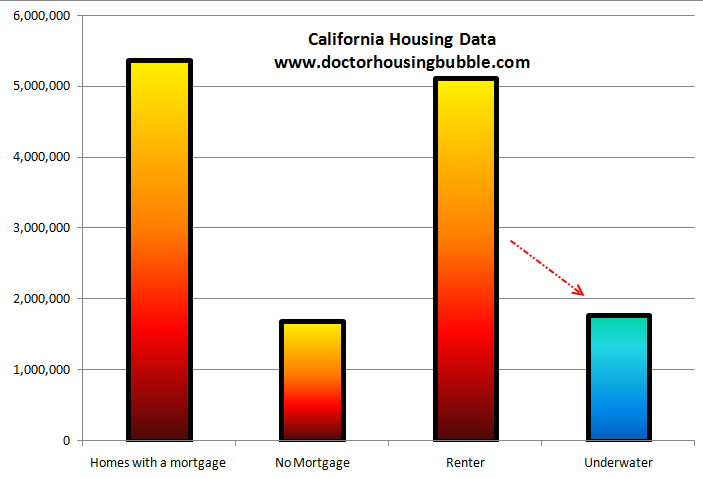 I would argue that the reasons for walking away are even stronger in 2009 than they were in 2008.  First, the unemployment rate is nearly twice as high as the 6.2 percent rate when I made the March 2008 prediction.  The unemployment rate for the state is now at 11.6 percent while the U-6 rate is now up to 21 percent by my estimates: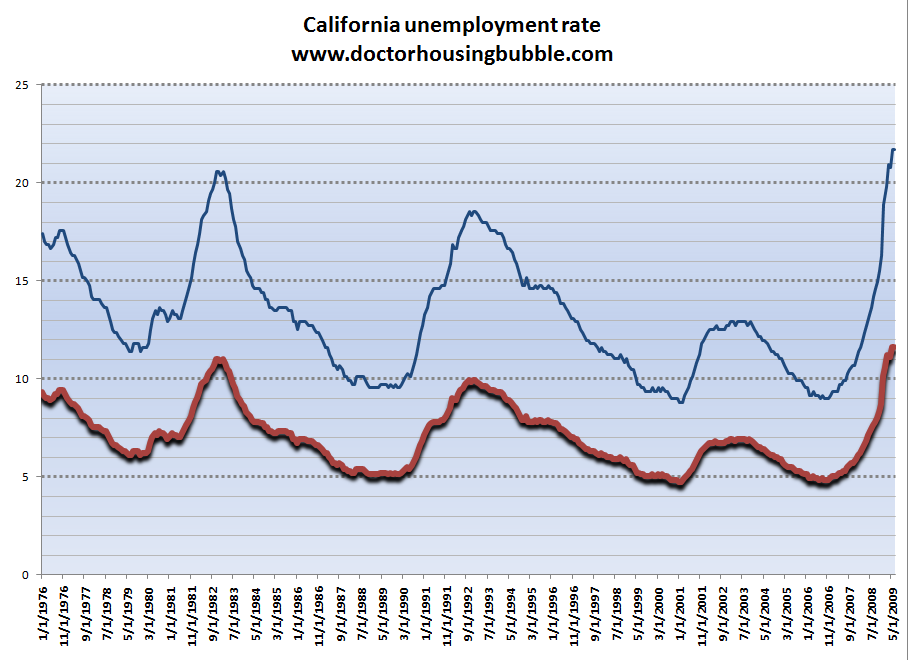 Keep in mind that the U-6 figure doesn't include the thousands of furloughed workers.  And the BLS now offers average figures on U-6:

The above BLS data includes Q3 and Q4 of 2008 for California when the unemployment rate was as low as 7.6% in August, 7.8% in September, and 8% in October.  We didn't get into the double-digits until January of 2009.  So using ratios for the current data and the nationwide figures, we arrive at the 21 percent current U-6 rate for the state.  Is this so hard to believe?  The official data has the unemployment and underemployment rate at 17.7 percent and this is using six months of lower unemployment data averaged out.  Just wait until we do the Q1 through Q4 estimate for 2009.  The BLS U-6 state data will be out in Q1 of 2010 (we'll also have one in Q4 of 2009) and will reflect this 20 percent unemployment and underemployment figure.  Nationwide the unemployment rate is 9.4 percent with the U-6 rate over 16 percent.  California heavily relied on housing and the finance industry for jobs and with that market imploding, it has taken down a lot of jobs with it.
So for those bottom callers, I would ask what big industry is going to make up for the lost jobs?  Assuming job growth increases in the state, why would this justify current prices in mid-tier markets?  The data is rather clear and the Alt-A and option ARM wave will cause problems.  As I detailed in a previous article housing has a treacherous path ahead because prime loans are now defaulting in high numbers as well.  This is obvious like it was back in March of 2008 but some would rather ignore logic and facts.
Did You Enjoy The Post? Subscribe to Dr. Housing Bubble's Blog to get updated housing commentary, analysis, and information.