Making predictions is a tricky business. Just ask any political pundit or economist how easy it is to forecast the future. Yet we have enough current data from multiple sources to give us a solid idea that foreclosures, the ultimate finality to housing distress will continue to be a problem for the upcoming years. California is not immune to this and in fact, will have a much larger problem because of the magnitude of price increases over the past decade.There are multiple factors that will continue to put pressure on the California housing market:
1. Continued job losses from heavy reliance on the real estate industry.
2. Size of California loans much larger than national average.
3. Income growth is stagnant; in fact with more job losses this will put strains on the public.
4. Horrible state budget. This still is something not being dealt with adequately.
5. Perception. Psychology does have an impact but a much smaller one than the above key points.
With that said, let us try to forecast how many foreclosures we'll have in California by the end of 2008. First, let us take a look at the current notice of defaults:
As you can see from the chart above, the increase in lenders sending notices to homeowners has drastically increased over the last few quarters. We are up 143.1% since the first-quarter of 2007. The significance of notice of defaults is that they are a preliminary indicator of how many more foreclosures we will be seeing in the upcoming months. The trend for actual foreclosures is also startling. Take a look at the chart below: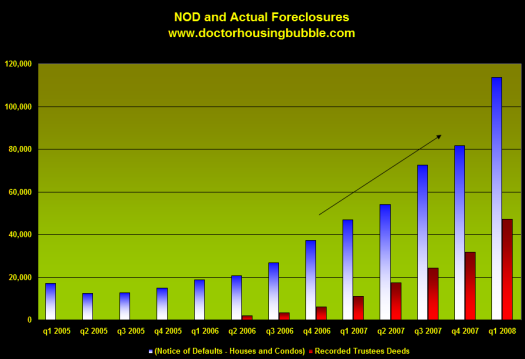 I started keeping track of trustee sales in q2 of 2006. But as you can see, the issue that we are now confronting is that even though NODs were relatively stable for 2006, trustee sales slowly started to increase during this time. Why is that? For one, a property that was having problems in 2006 was still able to back out by selling into a market that was still going strong in California. This was an exit strategy. Now that the price correction is accelerating this option is no longer on the table and that is why we are seeing both NODs and foreclosures simply growing at a large rate. What is more disturbing, is how many of these NODs are now going into foreclosure:
"Of the homeowners in default, an estimated 32 percent emerge from the foreclosure process by bringing their payments current, refinancing, or selling the home and paying off what they owe. A year ago it was about 52 percent. The increased portion of homes lost to foreclosure reflects the slow real estate market, as well as the number of homes bought during the height of the market with multiple-loan financing, which makes 'work-outs' difficult."
What this means of course is that 68 percent will not emerge from this process and will lose their home in foreclosure. Since we know notice of defaults are a good indicator of the future trend with foreclosures, let us apply this number to the current NODs:
(110,392 individual homes with NODs for Q1 of 2008) x 68% will not go current = 75,066
With this said, in the first quarter of 2008 we had 46,760 homes go into foreclosure. Given that many of these NODs are on the verge of foreclosing, we can estimate that the numbers are going to increase substantially in the second quarter of 2008:
"On primary mortgages, California homeowners were a median five months behind on their payments when the lender started the default process. The borrowers owed a median $11,474 on a median $346,750 mortgage."
Frankly the above is rather shocking because of the size of the mortgages and how far behind people are getting. If a borrower is having a hard time making a $2,000 payment do you think they are going to be able to get $11,474 out of thin air given the lack of savings many Americans have? I wouldn't be surprised to see that 68% jump to a much higher number in the second quarter.
Without a doubt, California is going to have record foreclosures by the end of 2008 just given the state of the economy and how over leveraged the state is. Not a pretty forecast.
Did You Enjoy The Post? Subscribe to Dr. Housing Bubble's Blog to get updated housing commentary, analysis, and information