The California Association or Realtors on Friday came out with another press release showing how dismal the market has gotten. Sales have fallen 24.5 percent from a year ago but the more shocking development is the price of a median home in the state is now off by 29 percent. This is shocking in itself but if we are to look at the peak price reached in April of 2007, we get a more stunning picture:
California Median Price
April 2007: $597,640
March 2008: $413,980
That translates to a stunning 30.73 percent drop in less than one year. Is it time for us to throw in the white towel and call the bottom? After all, we had so many folks telling us that the bottom would be reached once prices dropped 20 or 30 percent. Aside from these people smoking peyote and having visions of housing past, we are nowhere close to a bottom. There are more nuggets of information in the release:
"Highlights of C.A.R.'s resale housing figures for March 2008:
* C.A.R.'s Unsold Inventory Index for existing, single-family detached homes in March 2008 was 11.6 months, compared with 7.6 months for the same period a year ago. The index indicates the number of months needed to deplete the supply of homes on the market at the current sales rate.
* · Thirty-year fixed-mortgage interest rates averaged 5.97 percent during March 2008, compared with 6.16 percent in March 2007, according to Freddie Mac. Adjustable-mortgage interest rates averaged 5.12 percent in March 2008, compared with 5.44 percent in March 2007.
* · The median number of days it took to sell a single-family home was 56.7 days in March 2008, compared with 52.9 for the same period a year ago."
Things still look grim and the fact that we've increased inventory by 4 months over the past year will only put additional pressure on prices. You would think that a massive 30 percent drop would humble a few pundits but here come the bottom callers!
"Alan Nevin, chief economist for the California Building Industry Association and San Diego-based MarketPointe Realty Advisors, predicted foreclosure sales could account for as many as 15,000 out of 25,000 total sales this year. But at some point, the foreclosures will drop off, he Nevin said.
"Anybody who's going to walk away from a house or condo has already done it," Nevin said. "Now it's just a matter of the pig going through the snake."
Bwahahaha! Let me catch my breath again. Bwahahaha! Anyone that is planning to walk away has already done so? This is amazing given the fact that California now has the 3rd highest unemployment rate in the entire country: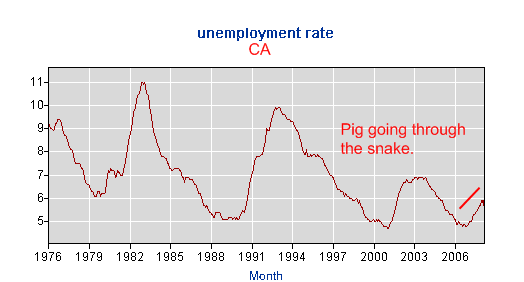 The trend in regard to unemployment is quickly increasing. Given the enormous dependency on housing especially in the state, many jobs are now being shed off like snake skin (if we want to continue with that imagery) and more public sector jobs will be lost as well given the precarious state of our $16 billion budget short fall in the state. We can debate that we are reaching a bottom but how are these phantom buyers going to buy their homes? Also, don't you think that these people would have already bought? I'm simply amazed how people think we are at a bottom especially here in California.
In the first quarter of 2008, we had 110,392 homes with notice of defaults out. Given the default rates on these we came out with the following estimate:
(110,392 individual homes with NODs for Q1 of 2008) x 68% will not go current = 75,066
Clearly we are nowhere near a bottom and all signs are pointing to more challenging times ahead. But wait! What's that? It's A Bird, It's A Plane, It's Super Wal-Mart Voucher Checks!
"Tax rebates are starting to arrive in bank accounts. But many economists doubt that they will keep the economy from recession.
The stimulus package, passed with overwhelming bipartisan support earlier this year, will give rebates to about 130 million Americans, costing the U.S. Treasury more than $110 billion. Married taxpayers earning $150,000 or less will get up to $1200 while single taxpayers earning $75,000 will receive up to $600.
But since the measure passed Congress, there have been growing signs that the U.S. economy has already fallen into recession."
Don't get too excited when you get a notification telling you a nice $600 or $1,200 arrived into your account. This money is being pulled out of thin air and will only put more inflationary pressures into a market where everything is going up. I'm amazed how some folks truly believe that this tiny amount of money is going to help budgets like this $25,000 a year budget or this $100,000 a year budget. I'll leave you with a poster based on those inspirational one's you always see (forgive my poor Microsoft Paint skills):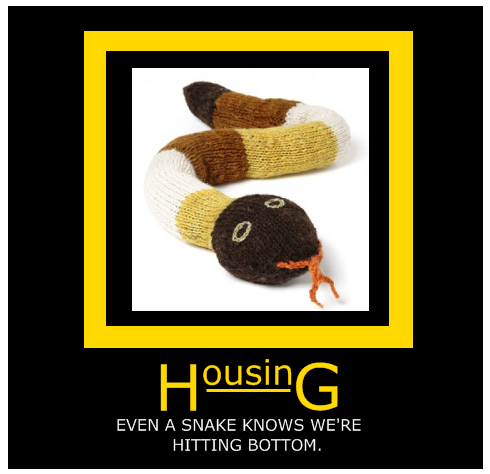 Did You Enjoy The Post? Subscribe to Dr. Housing Bubble's Blog to get updated housing commentary, analysis, and information