$1 trillion in California mortgages are underwater and swimming in the Pacific Ocean.  $3 trillion in U.S. mortgages are in a negative equity position.  What this means is borrowers owe more than their home is worth.  A few research papers have shown that the number one factor in determining potential foreclosure is being upside down on a mortgage (job loss is up there as well).  You can rest assured that all those Alt-A and option ARM mortgages in California are underwater to the point of touching sea bottom.  How bad can it get?  One area in Southern California, the Inland Empire has an estimate total housing property value of $222 billion.  Only problem is there are $238 billion in mortgages attached to these properties.  Two enormous counties with negative equity.
Take for example the larger Los Angeles and Orange County areas.  We have some $1.077 trillion in housing property yet a total of $311 billion of mortgages are underwater.  This does not mean they are currently in foreclosure but the likelihood is extremely high.  Given that the Alt-A and Option ARM loans are more prominent in the so-called "prime" markets, a large number of these loans will implode on first recast.  Many are defaulting prior but once the recast hits, it will be game over.  Banks know this and that is why they are hiding foreclosed properties from the public view.
I'll try to make this a comprehensive review of the nationwide housing market and will also focus on issues specific to California since it makes up one-third of the face value of mortgages underwater.  First, the main cause of this problem is the real estate crash: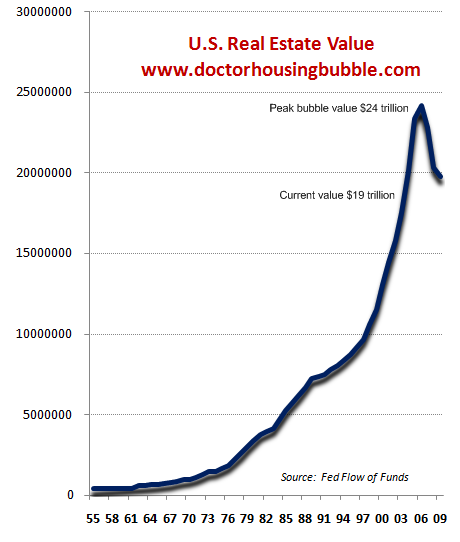 The Federal Flow of Funds report shows that over $5 trillion in real estate value has been wiped off the map since the peak hit.  That is a quick way to put a tremendous number of mortgages underwater.  The incentive to pay on a home that is worth less than you paid for is a psychological jolt.  We are conditioned to believe that a home is the greatest investment ever so when we are then told that a home is underwater, it strikes at the core of an American mantra.  What should have been expressed is housing is a great investment if purchased at the right price and not inflated casino values brought about crony Wall Street and their epic bubble machine.  It is hard to predict the ramifications down the road of this wealth annihilation.  We've never seen so much household wealth disappear.  The stock market crash has also hurt but there is something intrinsic about a home that is going to shatter consumer confidence for a very long time.  Let us look at the overall household balance sheet since the recession started: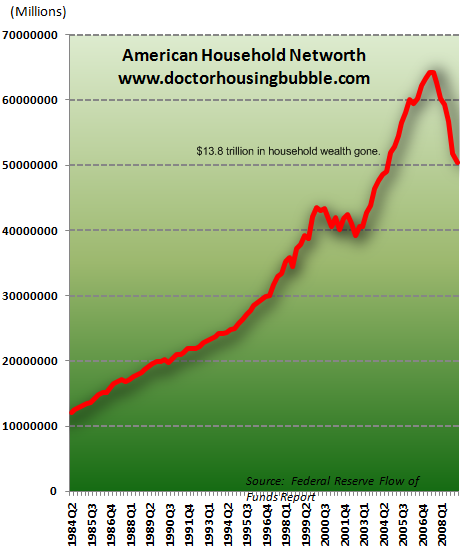 Now think for a second how big $13.8 trillion is.  That is the amount that has evaporated from the American household balance sheet.  Sure, the stock market has rallied since the March lows but we are still 36 percent down from the 2007 peak if we look at the S&P 500.  At the same time, housing values have continued to decline and this makes up a large portion of the American balance sheet so the gains from March will probably be offset by the continued decline in household wealth.  The most recent data released from the Fed for this set only goes up to Q1 of 2009.  A lot has happened in Q2 of 2009.  Let us look at the Case-Shiller Index: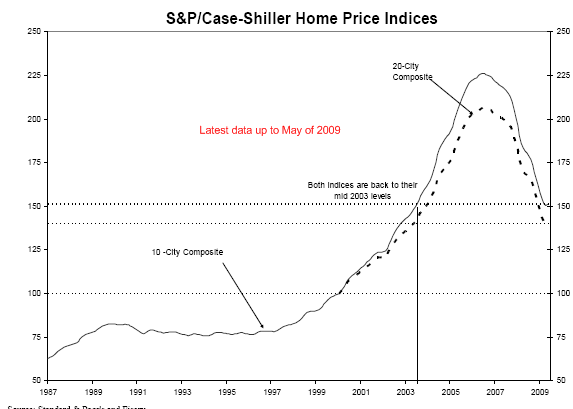 Couple of things regarding the recent stabilization.  A large part of this was seasonal and also, the tax break for clunker homes has worked to entice people back into the market.  Yet how long can these gimmicks hold up $3 trillion in underwater mortgages?  We have yet to see those Alt-A and option ARMs come home to roost and they will.  I've been reading many reports about the raw number of underwater homes.  The three major reports I have seen come from Deutsche Bank, Zillow, and Loan Performance.  I've decided to put all the data in one spot: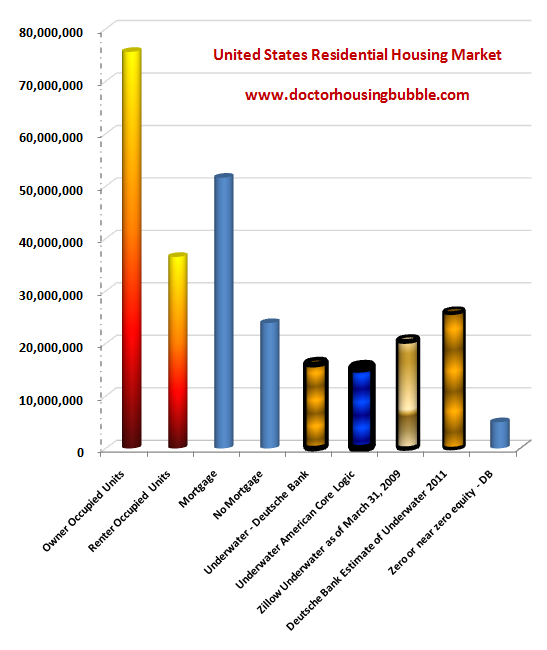 It is a curious find to see nearly all three of the reports coincide with each other.  The reports show that some 15 to 16 million mortgages are underwater (Zillow is a bit higher with a 20 million current estimate) and the Deutsche Bank report predicts that the bottom will come in 2011 and at that point, 25 million mortgages will be underwater in the U.S.  I tend to agree with the Zillow estimate.  Why?  First, as we had initially highlighted $1 trillion of the $3 trillion in U.S. underwater mortgages are here in California.  Given the still delusional world of places like Culver City, Pasadena, Palms, Rancho Park, and other areas prices still have a way to go down.  A Loan Performance report shows that 2.9 million mortgages in California are underwater.  Given the amount of Alt-A loans in the state that number seems about right (we also have prime loans that are now underwater).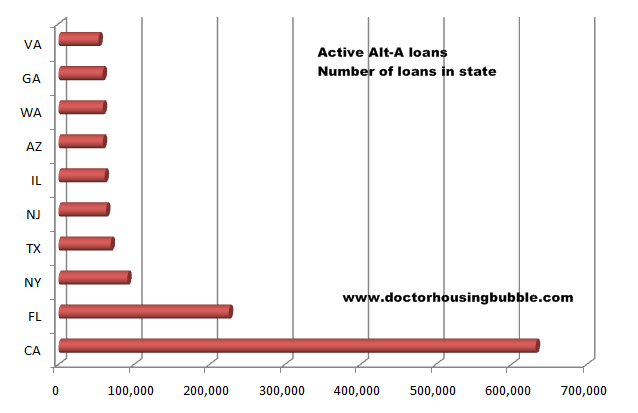 Now you want an example of this insanity in a prime area?  Let us look at a bank owned home in Pasadena: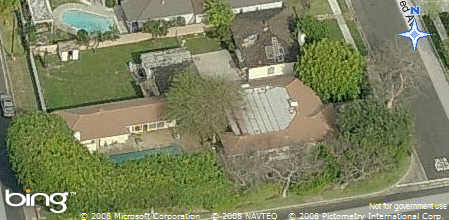 Sale History
8/31/2001:          $558,000
03/07/2003:        $655,000
Not a big deal right?  Pasadena is prime Southern California.  Oh, but this is where it gets interesting.  This home is now bank owned.  This is another example of the home ATM machine.  The initial data I am seeing has this place listed as a 2 bedrooms 2 baths home but on more recent data, I'm seeing it come in at 4 bedrooms.  When we look at the loans you can tell this was a HGTV time here: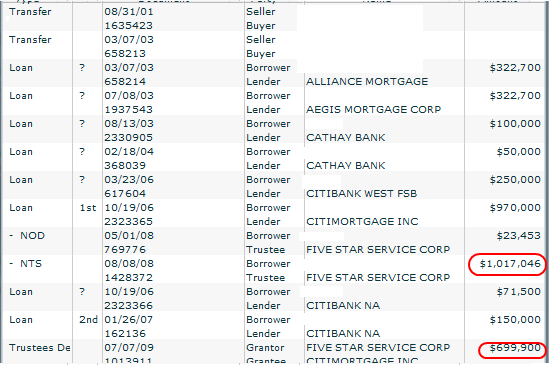 This is the kind of insanity that is going to implode the mid to upper priced market.  Keep in mind, this home isn't listed on the MLS and is part of that hidden inventory.  Seriously, from $655,000 to over a million in loans on a 2 bedrooms 2 bath home (initially) in Pasadena.
Now why am I putting all this data in one spot?  Because this is crucial in understanding where we are heading.  This recession was brought to us by housing but housing will not bring us out of it.  That is a big mistake being made with propping up failed banks and lenders.  The solution does not come from housing or the finance industries.  Alt-A and option ARM loans should fail and they will fail in epic fashion.  I've gotten a few e-mails now that it seems the public-private investment program (PPIP) is set to go but at a more trimmed down version.  My response is this:  Okay, let us assume all the toxic crap mortgages are put off onto the taxpayer.  100 percent.  Let us just say we dump the $3 trillion in underwater mortgages to the U.S. Government.  Now what?  You still have to sell the homes.  You still have to go through price discovery.  Someone still needs to eat that loss.  I'm amazed that some people think that once the toxic assets are shifted to the government that some mysterious Midas touch is going to turn these toxic mortgages into gold. This is the same idiotic logic that allowed Wall Street cronies to create collateralized debt obligations and junk filled mortgage backed securities.  Their idea was "let us mix crap mortgages with mortgages that are less than crap" and somehow it will turn into a glorious triple-A rated security.
And by the way, all those bailouts are doing absolutely zilch in stemming the foreclosure crisis.  Last month we hit an all-time record in foreclosure filings: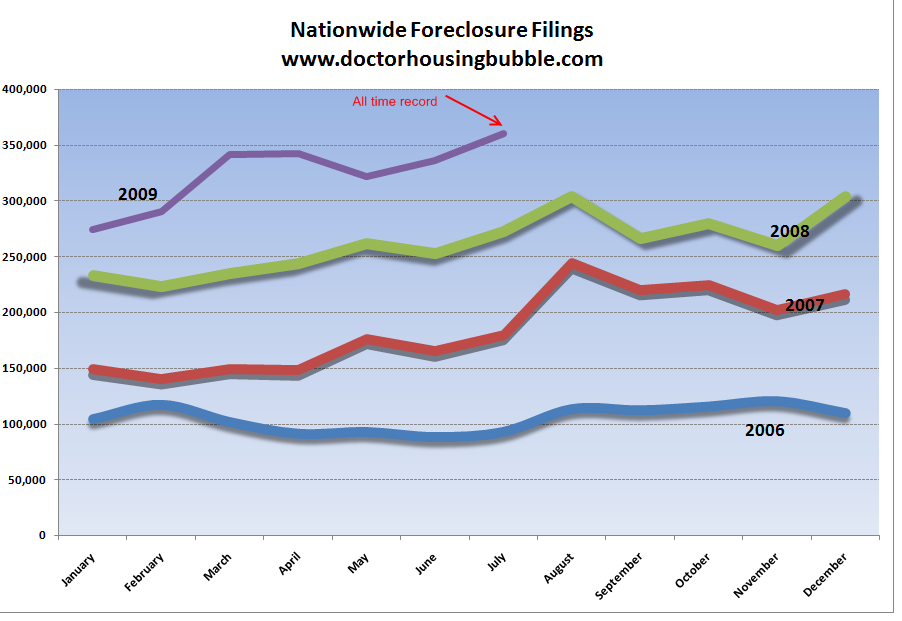 So much for stemming the issue and we are approaching one year since TARP.  We have thrown some $13 trillion in bailouts and commitments to Wall Street and banks and all we get is a 50 percent stock market rally.  Guess who is making out like bandits right now?  It sure isn't the American homeowner and worker.  Talking about jobs, it might be important to get people working because without a job, it might be hard to make the mortgage payment.  California is entering stage two of the housing implosion:
The vast majority of those notice of defaults will turn into REOs that will go into the hidden inventory.  But looking at foreclosure data, there is a record number of homes going to auction in the next few months.  The only question is, will they actually be put on the market or will banks keep on holding them on their books at inflated prices?  At this point they don't have much of a choice.  The cash flow is going to stop in 2010 once the loans recast.  I would venture to guess that many people are paying the artificial teaser rate and many are already mentally prepared to stop paying once the payment recasts.  At that point, banks are going to be struggling for capital and if the stock market rally ends, they are going to need another casino to raise easy equity from suckers chasing P/E ratios in the triple digits.
Now where does this leave housing?  The number one reason for the increase in home sales is lower prices.  It boggles the mind that people then think that rising home values will keep the gig going.  Most of the lower priced homes are coming from foreclosure re-sales.  So as long as foreclosures are running high, there will be pricing pressure on the downside.  This is simply the new reality.  Also, much of the jump in home sales was brought on by gimmicks like the U.S. Treasury and Federal Reserve tag teaming up on the mortgage markets and buying up some $1.25 trillion in mortgage debt.  Okay, now that is coming to an end.  Also, the tax break for buying a home is simply another subsidy to homeowners at the expense of non-homeowners.  That will be coming to an end.  Unemployment will remain high for another 12 to 18 months (at least).  So there goes more potential home buyers.  If you look at this objectively, there is little reason to believe housing will rebound any time soon.  And when we say rebound, we mean prices.  Sales will keep increasing so long as prices keep falling.  We have a poorer country that will look to buy homes that reflect their new net worth.  And a worried consumer is reluctant to buy high priced items: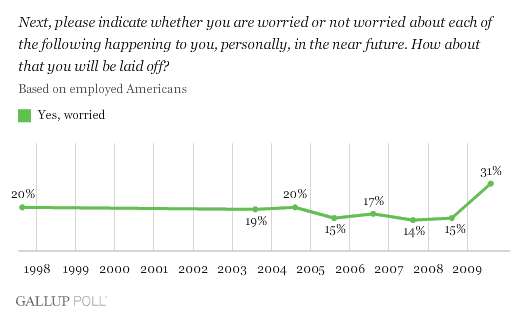 One stat that simply is not quantifiable but I am certain is present, is how many folks are sitting around the dinner table at night and saying, "once this payment recasts we will stop paying."  In California, I am certain many have already had this conversation especially if they have an Alt-A and option ARM.  Attorney General Jerry Brown is cracking down on numerous loan modification operations.  For the most part, any loan modification is going to benefit the bank, not the homeowner.  Most people are strategically defaulting and this is the right business move.  Some shills in the industry will start arguing morality but they were largely silent with duct tape over their mouth when the housing bubble kept going up.  All of a sudden banks want to enforce standards and tighten up credit and those in the industry suddenly went from bank robber to reformed officer.  Wasn't the point of the bailouts to increase credit?  Please, it was to mend the balance sheet of banks under a larger pretense.
The solution is simple.  Housing prices must come down further.  People must put 10 to 20 percent down on a home purchase.  There is a reason for this.  If you are buying  a $500,000 home it will pain you to see $100,000 of your own cash evaporate if you walk away.  Going with a zero down Alt-A loan you will simply walk away if that home is now valued at $300,000.
The math on this is simple.  When you put the entire housing situation into perspective you realize that there will be no long term recovery and we are still in for another tough round.
Did You Enjoy The Post? Subscribe to Dr. Housing Bubble's Blog to get updated housing commentary, analysis, and information.