Making money during the first housing bubble was virtually fool proof. And even if you were a fool, you had plenty of do-it-yourself television shows to hand hold your way into real estate riches. You were dumb not to participate. If the working stiffs in America live in households were $50,000 is the typical income, having your California home "appreciate" by $50,000 or more per year simply by the magic of house lusting, then owning a home seemed like a no-brainer. Flipping was so rampant that it became comical and in many cases work was shoddy since it was done in haste and the quality was slightly better than your first grader's Popsicle house. In many hipster markets it is safe to say that every other house has some influence from the cable television home beautification shows. Over the last few years, flippers have been capturing some nice gains as glassy eyed home buyers are willing to pay any price for a drywall shack with one pooper just to say that they got a piece of the American Dream. There was some good money to be had selling into the herd mentality in 2013. The average San Francisco flip in 2013 brought in a gross profit of $194,000. Sure beats working a 9-to-5. Apparently working is once again delegated to the realm of the suckers.
Flipping is so easy, even you can do it!
Flipping a house is a rather easy process. You buy an ugly house in a good neighborhood, slap on some paint, granite countertops, throw in some stainless steel appliances, tear out the carpet, put in some recessed lighting, and add in some plantation shutters and you are good to go. See, I did learn something from watching those house flipping shows. Oh, and make sure you sell into a market experiencing a mania. Oh, and make sure you time it right. In other words, you better have some luck and timing on your side. 2013 brought on a different sort of mania. A mania brought on by a lack of supply and investor demand.
Redfin pulled up some interesting figures on average gains from flipping in 2013. When you are making more on one flip than the typical family makes in one year combined, you know something else is going on. Take a look at average gains on flips in various markets: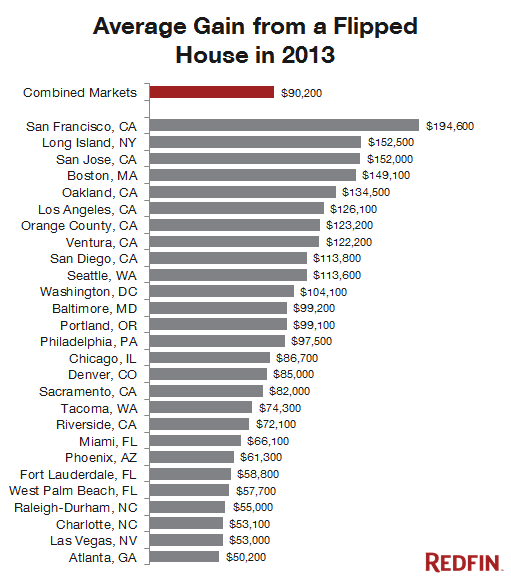 Source: Redfin
Of course the public is always late to the show and this market is already facing an inflection point. Your regular average buyer will have a hard time finding a fixer upper in San Francisco and then turning it into a worthy flip without having some solid working capital. This game is largely left for the big players. Word on the street however is barely reaching the plebs and many want a piece of the action. This is why we see crap shacks going for absurd prices and sellers not giving buyers the time of day in some markets.
Of course looking at the chart above, you'll notice that most of the top markets are in manic California where people flush logic down the one working toilet in their future drywall sarcophagus. The average California flip in 2013 grossed over $100,000. No wonder the market went bananas and those cable shows are back with a vengeance.
You have to wonder how much wealth is running from the stock market into the real estate market: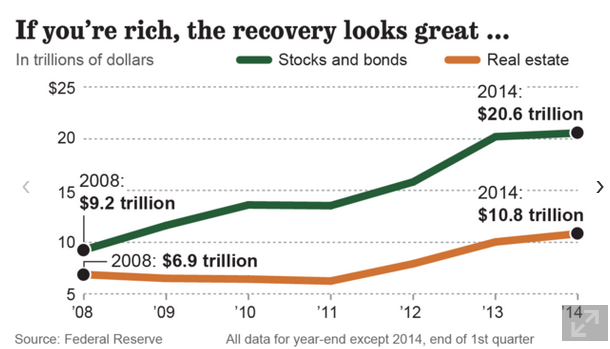 Source: LA Times, Fed
I'm always surprised how out of touch some in the real estate industry are when it comes to true wealth. Most of the wealth in this country is in stocks and bonds. Stocks and bonds account for over $20 trillion in household wealth while real estate accounts for $10 trillion. What is more telling with the chart above is that stocks and bonds produced more net worth gains than real estate did. Of course this has to do with the impressive bull run we have had since the lows in 2009. How much of this money is flooding into real estate? In places like Northern California the impact cannot be denied. But it also makes you wonder what will happen when the inevitable correction hits.
We are now seeing flips languish on the market. The days of having infinite numbers of buyers coming to your open house with novels about how much they will love your home are slowly starting to wane. I assure you when markets turn, you can save your poetic juices and simply right your offer on a napkin and have their real estate agent draw up the paperwork. No happy faces required. Many working and middle class families have been fully priced out of the market and many have left to other neighboring states including Texas. The power to own a home is strong enough for people to uproot their lives and go elsewhere. You also have peanut butter and jelly eating baby boomers holding onto rundown million dollar shacks in prime areas trying to keep up the pretense that they are balling courtesy of their zip code. The problem with the mindset of sinking every penny into real estate is that it usually shuts off any other planning for retirement or income streams when you actually do enter old age. This is when you see those folks in their 50s trying to act like they are in their 20s and loading up on taco Tuesdays. They are largely trying to recapture something they never had like buying a tiny beat up place in a pricey zip code and thinking you are going to have a Leave it to Beaver lifestyle. Those people didn't have life altering technology to contend with or ravenous hoards of investors chasing yields. In the end, they are taking on a mortgage albatross for a fantasy but hey, this is the land of Hollywood so it is rather fitting I suppose.
Flippers are also like a canary in a coalmine. They are usually the first to taste the cold shoulder of a turn in the housing market. You see this when days-on-market (DOM) start increasing with no bites. You also see the monthly, then weekly price reductions setting in. Flipping is a tough job but someone has to do it, right?
Any noticeable flips on your radar?

Did You Enjoy The Post? Subscribe to Dr. Housing Bubble's Blog to get updated housing commentary, analysis, and information.