Things are going so well for California, that the state now facing a $1 billion deficit after just patching up $60 billion in deficits, is now looking to withhold more taxes from your paycheck.  Of course this isn't a tax hike (so we are told and technically, they are correct).  This is just a way for the state to patch up more revenue gaps because after all, the economy is booming supposedly.  It boggles the mind that people seem to forget these facts.  Ask yourself if the state were doing so well, why would they be running so many gimmicks?  Not only are they going after withholdings earlier, but they just finished another round of selling bonds (aka borrowing).  Either way, the V-shaped recovery crowd is ready to overpay for housing once again.  Forget the fact that Alt-A and option ARM loans are still as toxic as they ever were and start hitting in full force in 2010.
It is always good to put things into context.  We can all admit that in 2009, sales did jump up in Southern California.  Over half the state lives here, so this is a good overall barometer of how things are playing out.  How significant is the sales jump this year in relation to other years during the decade?  Let us find out: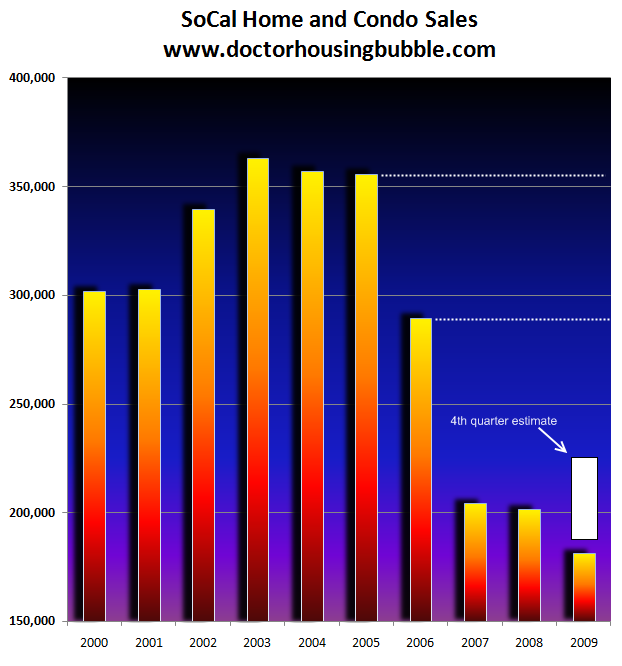 At the peak over 362,000 homes and condos sold in Southern California in 2003.  Assuming the "torrid" pace of 2009, we are on track for 230,000 to 240,000 sales this year.  That doesn't even come close to any of the boom years.  Also, 45 to 50 percent of all home sales in 2009 have been foreclosure resales.  So this is another factor to keep in mind.  The bottom line is even with massive price drops, the market is nowhere close to the bubble days.  Let us break down the data further: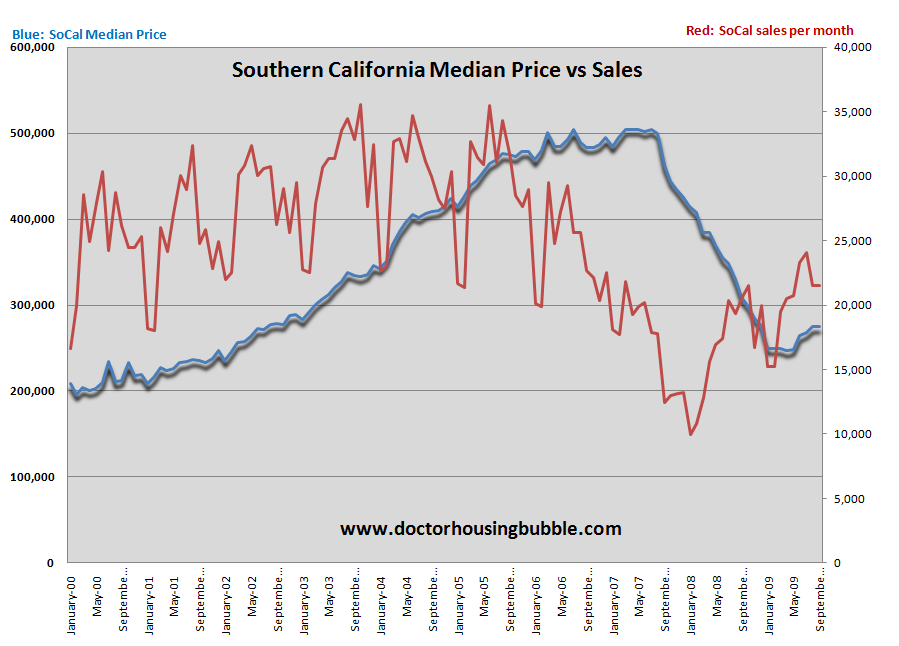 What this chart tells us is that home sales increased because of massive price drops.  That is, if half the market is distressed sales and these are sold at markedly lower prices by default (otherwise they wouldn't be distressed) then we are to reason that the movement has occurred because of lower price points.  In other words, wouldn't you think an increase in price would stifle this trend?  Absolutely.  The Alt-A and option ARM issues will start resonating stronger in 2010 and this will begin to add pressure on the mid to upper tier markets.  Yes, delusional folks who can't see outside their tiny niche market don't look at charts like the above that show the median price falling by 50% and still being near the bottom for the entire region.  After all, their area is special.
And easy lending has allowed another surge in mini bubbles.  People are once again jumping into over priced homes in California.  Yet I believe this is merely a false bottom.  Why?  First, the state is still in a fiscal mess that really seems to go on for a few years.  People should gear up for more cuts and tax hikes.  Those that believe Prop 13 is sacred should ask Texas and New Jersey how their property tax rates look like.  California is a tax happy state.  High personal income tax, sales tax, and other taxes so why are we to believe that anything is off the table?  I'm not saying this is good or bad but when you box a big tiger like this in a corner, don't be shocked if you get bitten.  And for better or worse, property tax revenues are a much more stable source of income than say, personal income taxes and sales taxes that directly fluctuate with recessions.
Setting that aside, the Alt-A and option ARM problem is still there.  Getting a loan is not as easy as you once thought.  Take this for an example.  Notice how much fewer credit card offers you are getting in the mail?  Well this is because in Q3 of 2006 credit card companies sent out a stunning 2.1 billion in direct mail solicitations.  For Q3 of 2009 389 million were sent out.  What do credit card companies know that the recovery cheerleaders don't know?  Could it be that defaults are through the roof?  Possibly.  It could be that 22 percent of California is unemployed or underemployed: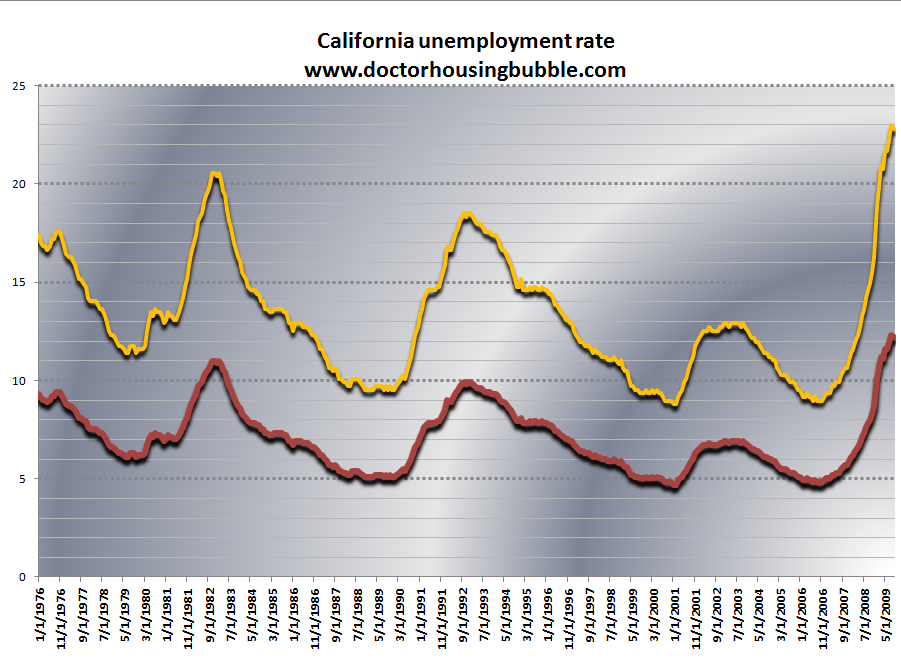 This above rate is unprecedented.  So why is it good news that we are lending big mortgages through FHA insured loans in many cases, to people that are stretching their dollar much too thin?  Isn't this what got us into this crisis?  Yes.  Are we to expect a different outcome?  No.  And riddle me this.  If this economy recovery is legit why are we now talking about a second stimulus and needing to extend the home buyer tax credit welfare voucher?  Go by actions, not by words.
California Insurance Fund
As you would expect, our unemployment insurance fund is bleeding money:
"(OC Register) California's unemployment insurance trust fund is bleeding money with state officials estimating it will be $27.3 billion in the hole by the end of 2011, according to a new state forecast.
Officials already were projecting major deficits in the fund a year ago, before the full impact of the banking crisis hit in late 2008.  The fund's losses accelerated this year as the country plunged into its deepest recession in 70 years with California's unemployment rate hitting a modern-day high of 12.3% in August.
Employers, who support the fund through a tax on each worker, are expected to contribute $4.3 billion  this year but that is nowhere near the $12.5 billion that is projected to be paid out in benefits. After eking out a $326.2 million surplus in 2008, the trust fund is expected to be $7.4 billion in the red by the end of this year."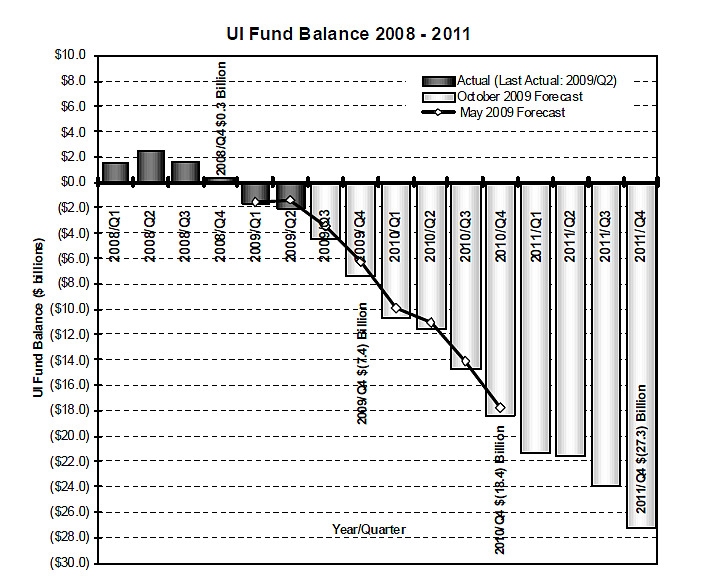 The federal government will forgive the interest for this year and next but the clock starts ticking in 2011.  As if we needed any additional future burdens.  Again, data like this shows us that the housing market is now at risk for a bigger risk factor.  The actual reality based economy.  This is more typical in previous recessions where housing would start declining after unemployment hit.  This time, so many toxic mortgages were floating out there that all it took was for home prices to level and the entire Ponzi scheme came crashing down.  With home prices declining as they have, it is revealing massive budget deficits.  This is to be expected when you plan revenues from nefarious and transient sources.  Those are not coming back.  Just ask Bernard Madoff how well that works in the long-run.
We also have to remember that in terms of prices, Alt-A and option ARMs helped boost housing prices and the ridiculous leverage buyers had in California.  Home buyers in California had maximum leverage of OPM (other people's money) even though incomes did not reflect absurd valuations: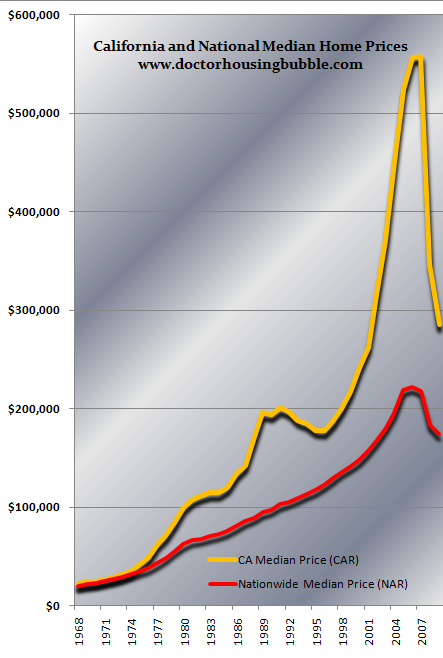 You look at the above and then you throw in the state income and it all becomes too apparent: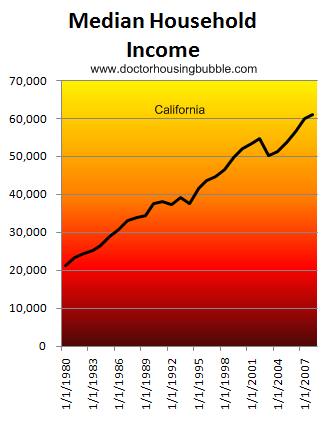 How in the world is a $60,000 median income going to support a $500,000 home?  At the maximum end, it would prudently be able to afford a $200,000 home (and that is stretching it).  The current state median home price is $251,000 but keep in mind, much of this is because of foreclosure resale homes.  The next ballgame to look at is the mid to upper tier markets that largely have not corrected based on their own bubbles.  Their dynamics reflect more esoteric loans such as the Alt-A and option ARMs.
The Path Ahead?
There will be many odd movements in the market next year.  You may see the median price move up because of lower priced mid to upper tier homes moving in larger amounts of volume.  That is, someone that bought a Culver City home in 1998 for $200,000 and at the peak in 2007 would have sold for $750,000, is now selling for $500,000.  This is actually a significant price increase from the first sale and will show up in the median price but also, the Case-Shiller repeat sale index.  So watch for things like this.  The Alt-A and option ARM recasts that will happen, will add higher priced distressed inventory on the market.  Much of the subprime problems are behind us now.  That is why you see homes in say the Inland Empire now selling for $100,000 to $150,000 that only a few years ago seemed impossible.
We can expect the state to have another major budget deficit.  Expectations range from $7 billion to $20 billion.  But the stock market is up and rich people pay most of the taxes right?  Yes.  But keep in mind they pay estimated taxes and these are significantly down even after the casino has gone up.  Why?  Many of the wealthy have accountants unlike the working stiffs that can carry over losses from 2008 over to many additional years.  In other words, don't expect the state to get a 60 percent jump in revenues just because the stock market is up by this much.
So what should you look for in a bottom?  Well first, we need to see job growth.  Enough of this "job less" recovery non-sense.  People pay for bills from wages.  Also, if you buy that home today, your future buyer may not have your same incentives.  That is, the tax credit can't go on forever.  FHA is now looking at a government bailout and will probably have to become more stringent because they are bleeding money thanks to their near toxic underwriting.  Plus, if you haven't notice, the US dollar is getting hammered because what a stunner, we are simply spending money we don't have.  If even a tiny currency crisis happens and the Federal Reserve is forced to raise rates (can't go much lower than 0), you can kiss goodbye to those cheap 30 year mortgages (which are at 40 year historical lows – can't get any lower).  In other words, a future buyer may not even be able to afford your home so get comfortable because you might be staying there for a very long time.
Did You Enjoy The Post? Subscribe to Dr. Housing Bubble's Blog to get updated housing commentary, analysis, and information.