California is still unable to find the key to job growth.  Last Friday new data showed that the California unemployment rate broke through another record coming in at 12.2 percent.  Data for August was revised upward to 12.3 percent.  Good news right?  Well the reason the unemployment rate fell in September was because thousands of Californians gave up looking for work.  In fact, employers ended up cutting 39,300 jobs in September alone.  The California budget situation is still in a fragile situation.  The state has had to contend with $60 billion in budget short falls and already preliminary data shows the state is $1.1 billion behind on recent estimates.  These estimates were done with pessimistic expectations and even then, they over estimated the amount of tax revenues they would be collecting.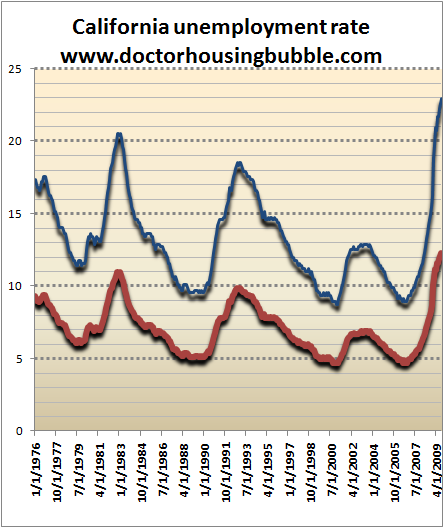 Source: BLS, EDD
I've compiled the U-6 rate for the state and it is over 23 percent.  That is why most people either know of someone that has been let go, has seen their hours cut back, or is one of the over 2 million unemployed in the state.  With the state hiking taxes, this impact has been felt by all.  Yet California isn't alone.  Many other states have seen their tax revenues decline.  Unlike the federal government with access to the U.S. Treasury and Federal Reserve printing presses, most states have balanced budget requirements.  A recent study shows the massive decline in state tax revenue: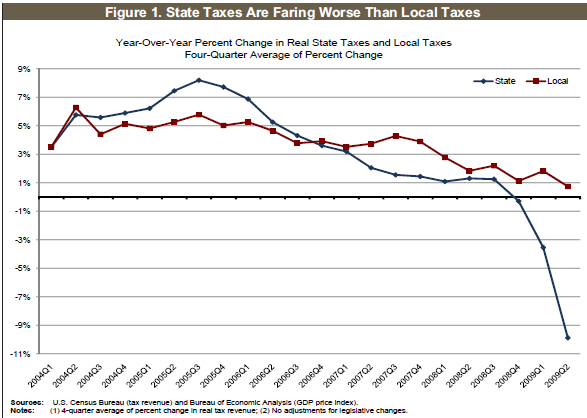 Source:  Rockefeller Institute of Government
The reason overall state taxes are falling much harder and faster than local taxes is many states take in a big chunk of money from personal income and sales taxes.  California in fact brings in over 50 percent of their revenue from personal income tax.  In recessions, the amount collected falls.  Combine this with another fluctuating revenue source like sales tax that also declines in recessions and you can understand why the state has had to deal with $60 billion in budget gaps.  We are already expecting a budget deficit of $5 to $8 billion depending on what analysis we look at.
Local taxes have faired better simply because of more stable income streams.  But even this hasn't protected them completely.  Here in California the state has gone to battle with local municipalities in terms of paying on obligations.  This is not the way to handle major budget deficits.
For the second quarter of 2009, state tax revenues across all states saw a 16.6 percent revenue decline.  This is the largest decline on record dating back to the early 1960s.  This is not a typical recession.  This is the deepest protraction since the Great Depression.  This only adds fuel and a reason to be cautious and suspect of the California housing rebound.  The state is going to be left with two options to balance future deficits.  Either raise taxes further or cut spending (more job layoffs).  Both cases do not bode well for housing.
Let us now shift gears to the Home Affordable Mortgage Program (HAMP).  Much is now being made about the "success" of the HAMP program with nearly 500,000 mortgages now in the trial modification period.  We have major reasons to doubt this premature success.  Let us go into detail why the HAMP program is largely a smoke and mirrors exercise in trying to stem foreclosures.
Let us Smoke some HAMP
On the surface the HAMP seems like a good initiative.  Let us try to keep borrowers in distress in their homes.  After all, a major reason for our current problems are due to housing so why not work with borrowers?  Yet the problem is in the way the program is structured.  The way HAMP has been carried out is largely a big extend and pretend program.  In fact, HAMP is another reason adding to shadow inventory.  Instead of going to another source for data, let us go directly to the HAMP website and get some documents: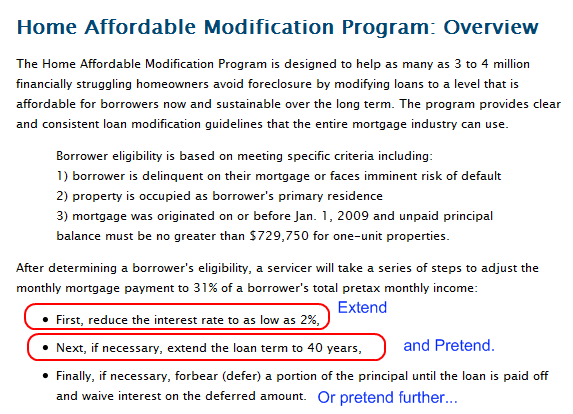 Source:  HAMP
I always took issue how the program was structured.  The essence of the program is the belief that the problem is the interest rate and terms of the mortgage.  Yet the real issue is something we all know.  The banking industry is the main culprit in setting up this housing bubble and gave loans to people it shouldn't have.  Wall Street and banks made billions in profits and when things went bad, they took the taxpayer for trillions.  HAMP is actually designed to help the banks, not the borrower.
Look at the guidelines from the site above.  First, the borrower needs to be delinquent or face imminent risk of default.  That is easy to establish.  So what is the solution?  Look at the three steps given to us above.  Drop rates to as low as 2% and if necessary, extend the term of the note to 40 years.  They even give us the option of capitalizing principal to the note.  In other words, these are option ARM-lites.  This is straight from the program's site.  We are even given a document that resembles option ARM terms: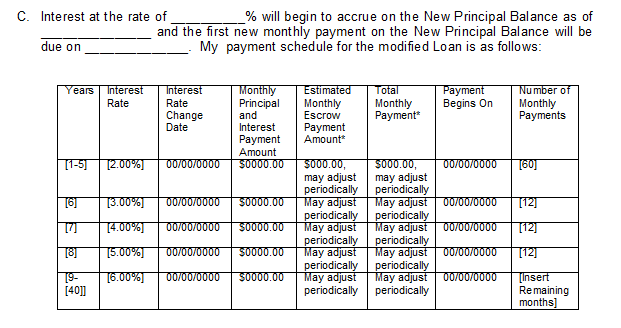 This is provided to us as a sample modification agreement boilerplate.  Let us go back to those 500,000 trial modifications.  Keep in mind these are trials, the program is too early to show whether this is permanent.  JP Morgan announced a $3.6 billion profit last week based on their investment banking and private equity divisions.  Losses are still growing in their mortgage holdings and also with their credit cards.  In other words, JP Morgan is basically using taxpayer money to play the stock market casino.  Forget about traditional commercial banking profits.  It is now operating like an investment bank.
It is important to look at JP Morgan because they swallowed up toxic mortgage All-Star Washington Mutual who by the way, made billions in toxic option ARMs here in California.  JP Morgan by sheer size has entered into the most HAMP trials by any bank in the country: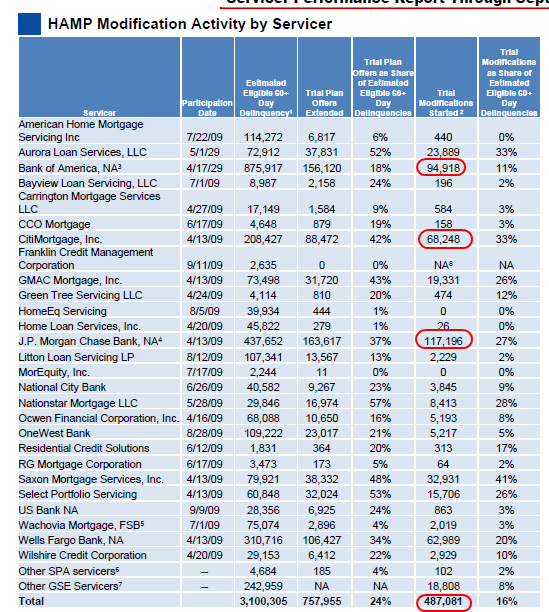 This data goes up to the end of September.  So 3 million mortgages are estimated to be eligible for HAMP and nearly 500,000 are now in the trial phase.  Keep in mind 757,955 offers were sent out.  Another brainy move by the U.S. Treasury was allowing servicers to use stated income in allowing for the trial program.  That is correct, the same style underwriting for Alt-A and option ARMs is being allowed for entrance into the trial period.
Initially the trial period went for 3 months but is now up to 5 months.  I am not making this up: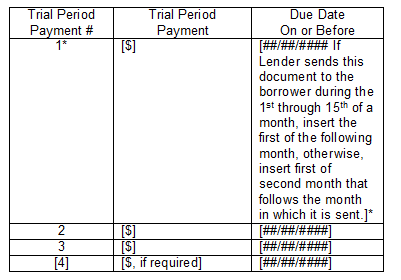 The announcement of 5 months was recent so it may not show up in some of these boilerplate documents.  So what does this mean?  We will know success in mid to late Q4 or early 2010.  Most of the trial modifications have occurred in the last few months: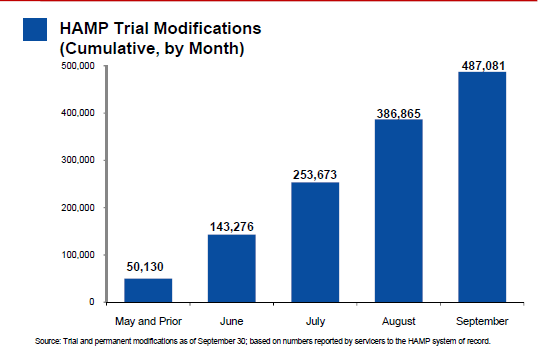 So I would imagine that once we move from trial to permanent, many of these will re-default or will not qualify.  To move from trial to full mod there is a requirement to vet income.  Why not do that now?  Good question.  It is always good to put quick gimmicks in front of good public policy.  A good example of horrible public policy is the $8,000 tax credit.  A waste of time brought on by the lobbying arm of the housing industry and politicians with no backbone.
There is also interesting data out on the first trial modifications.  Look at the chart above again.  50,130 trial modification were entered into in May of 2009.  Even with the 5 month extension, we can now see how many entered the full modification phase.  How many went into a permanent modification?  1,711 or roughly 3 percent.  Some interesting data on this:
"(HuffPo) Here's why: Permanent modifications under Obama's Home Affordable Modification Program (HAMP) first go through a three-month trial period. Since the COP and Ocwen figures are as of Sept. 1, that means that those permanent modifications entered the trial phase back in April and May. As of the end of May, 50,130 borrowers were in trial plans (there are now 500,000). The low number of permanent modifications is partly due to the fact that "the initial volume of HAMP trial modifications was quite low," the COP noted in its report.
Even at this preliminary stage, the low number of permanent modifications is still shockingly low. Warren's panel said it is "concerned about the low rate of conversion from trial to permanent modifications." Unless the rate increases "substantially… HAMP will come nowhere close to keeping up with foreclosures."
The panel's report discusses possible reasons behind the low conversion rate, including data reporting issues and the failure of borrowers to comply with the program, like making timely payments. One issue stands out: "the difficulties servicers have in assembling completed documentation on modifications commenced on a 'verbal' or 'no-doc' basis."
Yes, not making a payment would somehow be a problem.  So let us assume a rate that is nearly twice (5%) that of the early trial modifications dating back to May.  This would mean that out of the 500,000 trial modifications some 25,000 mortgages will be helped!  $75 billion to help 25,000 mortgages?  This is insane!  This is like the $40,000 per house that taxpayers ended up footing because of the $8,000 tax credit.  In fact, let us be generous here.  Let us assume all the 3 million loans in the target range get a trial modification and 5 percent go into the permanent phase at the higher rate.  We are talking about 150,000 mortgages.  So do the math:
$75 billion / 25,000      =          $3,000,000 / for each fix
$75 billion / 150,000    =          $500,000   / for each fix
Dr. HB back of the napkin solution
$75 billion / 500,000 =             $150,000 / for each fix
This is nuts.  I even ran a back of the napkin scenario that does better.  It is simple.  The median home price in the U.S. is $170,000.  How about we pick all loans that fall under this number, see if they are delinquent, and then flat out pay off 500,000 of these mortgages via a lottery system.  I'm not even sure where all this money is going.  If we only have 1,711 loan mods and basically all they are doing is lowering the interest rate and extending the terms, something has to give.  Oh yes my friends!  It is another crony handout to the banks.  Let us look at some documentation provided to banks/investors to entice them to enter this program:
What an absolute waste to basically extend and pretend.  Keep in mind that principal reduction is basically absent in any of these loan modifications.  Yet right off the bat, even when a borrower can "make things up" to enter the trial period the servicer is paid!  Paid for what?  We already know the current success rate is only 3 percent.  Are we to expect a sudden jump over the months?  Even at 10 percent we are wasting money at the front end.  We would have better success just doing a lottery of delinquent loans and paying off 500,000.  I assure you we are not going to have 500,000 permanent loan mods given these current measures unless something drastically changes.  Also, you can modify all you want but unless we start seeing some job growth, what are people going to pay their mortgage with?
Now keep in mind I'm not advocating for the lottery option.  This is an extreme example to show where the money is being wasted.  But also, big banks love this.  Why?  Because these loans are still held on the books at full face value.  That is right, banks can extend and pretend and buy some time, another 5 months by simply extending the trial period to a large number of loans – they don't even have to check for income.  Think that JP Morgan profit would be so huge if it had to deal with those 437,000 mortgages that are 60+ days late?  You can bet that with WaMu and California lending, they probably have a ton of $500,000+ mortgages that are going to go bad when the option ARMs recast next year.
Either way, HAMP is simply another handout to banks.  So far we only have 1,711 permanent modifications.  Banks are laughing at Washington D.C.  They did with the last administration and the current one.  Why not just go in and claw back those profits and clean house?  Why not tax bonuses on Wall Street up to 90 percent?  After all, they should be thankful because they would be gone without the taxpayer.  And who really knows if the loan mods won't re-default since we don't have that data.  But data from the OCC and OTS shows re-default rates of 50, 60, or even 70 percent depending on the loan category.  Even if all these mods go permanent, all you are doing is extending the problem.  The rate eventually will go up.  But they are betting on what, another housing bubble?
Policy has gotten so bad that we might as well do a lottery.  Seriously.  A random Vegas style lottery would have better results.  What a joke.  Banks are controlling this country and policy.  HAMP is $75 billion in the scheme of trillion dollar bailouts but the amount of loans that are now being shelved for another 5 months is a lot larger.  In other words, it is another way for banks to hide losses.
After seeing things like this you might need to role one and smoke some HAMP.
Did You Enjoy The Post? Subscribe to Dr. Housing Bubble's Blog to get updated housing commentary, analysis, and information.