From 2010 to 2020 we are going to have a large number of baby boomers entering into their retirement years.  Many will look to downsize and the projections have been, that this would add a steady supply of housing.  Issues like negative equity have kept many potential homeowners from actually listing their homes on the market for sale.  It is also the case that a younger and less affluent generation is going to struggle to pay top dollar for many of the properties hitting the market.  Many are resorting to using loans that are insured by the FHA that allow 30x leverage just to get their foot in the door.  It is interesting to see this trend unfold because there is nothing that can be done to stop the momentum of age.  Banks can alter accounting rules and hold off inventory to create artificially low supply but there is nothing that can stop our inherent biological aging process.  Some interesting data is coming to the surface regarding baby boomers and the demographic changes that will impact housing.  Will baby boomers add a significant number of homes to the market in this decade?
Baby boomers and impact on housing demographics
Some interesting research on the demographic shifts in housing:
"(The Atlantic) In the coming years, baby boomers will be moving on (inching further through the python, if you will). "They will want to sell their homes, and they're hoping there are people behind them to buy their homes," says Nelson, director of the Metropolitan Research Center at the University of Utah. He expects that in growing metros like Atlanta and Dallas, those buyers will be waiting. But elsewhere, in shrinking and stagnant cities across the country, the story will be quite different. Nelson calls what's coming the "great senior sell-off." It'll start sometime later this decade (Nelson is defining baby boomers as those people born between 1946 and 1964). And he predicts that it could cause our next real housing crisis."
The big challenge will be at what price will future buyers purchase these homes for.  For the moment, about 30 percent of the market is being sopped up with gusto by Wall Street and investors.  However yields are now being squeezed.  There is no way investor demand will stay this hot.  So what other group is going to step in?  We've also had the FHA insured buyer making up another 20 to 25 percent of buying for the last few years but the FHA is having financial issues.  The assumption of course is that we'll somehow have another baby boomer wave that will have the same buying habits as prior generations:
"Ok, if there's 1.5 to 2 million homes coming on the market every year at the end of this decade from senior households selling off," Nelson asks, "who's behind them to buy? My guess is not enough."
This is a key point.  First, let us look at homeownership by age: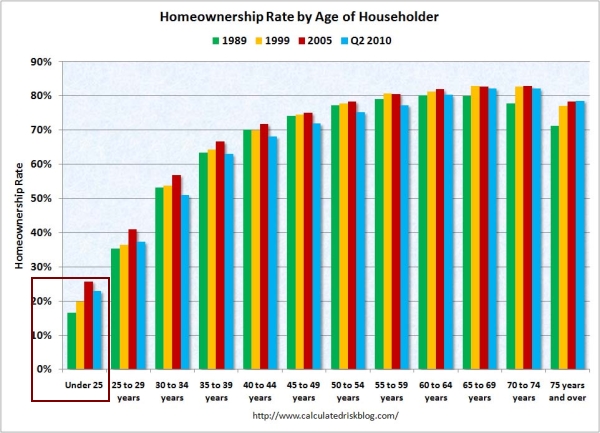 What you'll notice is that you will have to hit the 35 to 39 age range before you have a 50 percent homeownership rate.  This means you "own" a home and not that you have it free and clear.  It is more likely that those with free and clear properties are those 55 and above.  We know that about 29.3 percent of American homeowners actually own their home without a mortgage.  This group obviously can sell at any price point and make a profit.  But Americans have very little equity in general when it comes to housing: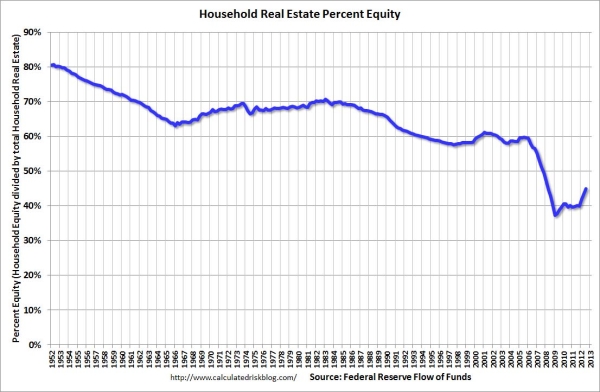 How big will this demographic change be?  Housing markets as we all know are made at the margins.  At any given point only a tiny portion of inventory is available for sale and at any given point, only a small part of the population is looking to buy.  Historically, a 6 month supply/sale ratio has indicated a normal housing market.  Today in California we are in the 2 month range.  This low rate isn't being driven because of record sales but because of historically low inventory out in the market.
The best way to figure out how much potential supply will come from this group is to first look at all the data regarding baby boomers (and older Americans) that do own a home.  This data is hard to come by but I dug this out of recent Census data breaking down the percentage of all homeowners by age range: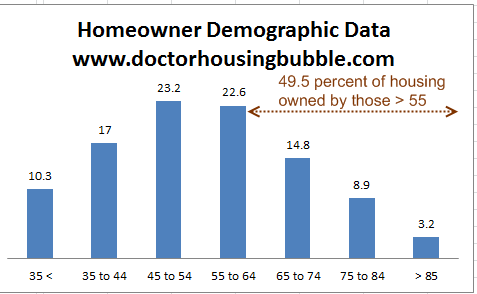 Source:  Census
So essentially 50 percent of all owner-occupied homes are owned by those 55 and older.  This means that 37 million homes are in a rapidly aging population.  More important, is that you have roughly 27 percent of all owned homes in the hands of those 65 and older.  Now considering that inventory is so low, this is a potential pipeline: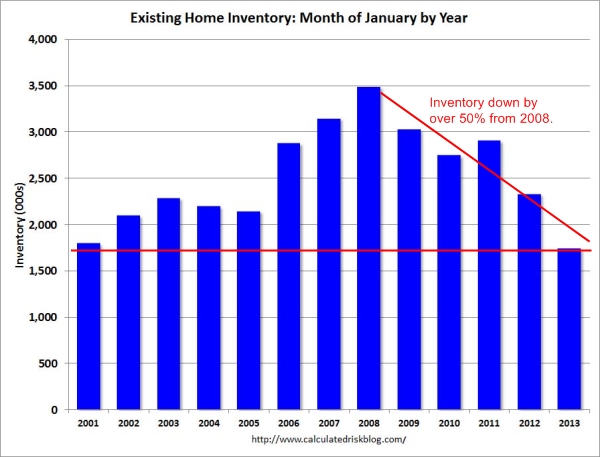 Obviously the older the homeowner, the more likely a home transaction will take place either to transfer over to family members or to actually sell for medical treatments or retirement living.  Some baby boomers seem to underestimate how expensive old age is in the United States. And yes, as people age they do tend to move for a variety or reasons.  Some of the research on this does point to some challenges ahead:
"Roughly 7 percent of over-65 households move each year, and as people get older, their likelihood of moving from owning to renting gets higher and higher (it's about 79 percent for households over 85). By 2020, there were will be around 35 million over-65 households in the U.S. That year, Nelson calculates, seniors who would like to become renters will be trying to sell about 200,000 more owner-occupied homes than there will be new households entering the market to buy them. By 2030, that figure could rise to half a million housing units a year."
Home equity won't pay the hospital bill or feed you for the month.  You need to sell and unlock that cash.  Of course the market is always focused on the short-term.  People have forgotten the days of 2003 to 2007 and the mania induced buying followed by the bust of 2007 to 2010.  We are having bidding wars, ridiculous offers over list prices, large investor demand, and flipping is back in fashion.  The fact that so few people are paying attention to this is troubling.  We do know that people will age and need to sell to a less affluent and younger generation at some point and this new generation of buyer has different housing tastes (i.e., close to metro areas, smaller square footage, etc) right?

Did You Enjoy The Post? Subscribe to Dr. Housing Bubble's Blog to get updated housing commentary, analysis, and information.