One of the oddest pieces hitting my e-mail box in the last few days is regarding an analysis of homeownership and the number of Americans that supposedly own their homes free and clear.  The slant is odd because Americans are massively in debt with mortgages and more have gone into deep debt with FHA insured loans that require only 3.5 percent down.  These loans went from a tiny portion of the market to a dominant force over the last five years.  The research starts out by pointing out that nearly 30 percent of Americans own their homes free and clear.  Okay.  But that isn't something new.  In fact, in 2000 the rate was 30 percent and in 1990 and 1980 it was at 35 percent, in 1970 it was 39 percent, and in 1960 it was up to 42 percent.  Of course none of this is listed in the analysis because hey, everyone owns their home free and clear right?  In fact, the official figure is 29.3 percent so it actually is at the lowest on record when looking at data going back to 1960.  The numbers are what they are but it is interesting how people viewed this as some kind of dynamic shift.  Let us dig into the actual figures.
Owned free and clear
First, let us examine the actual figures from Census data.  How many people really own their homes free and clear?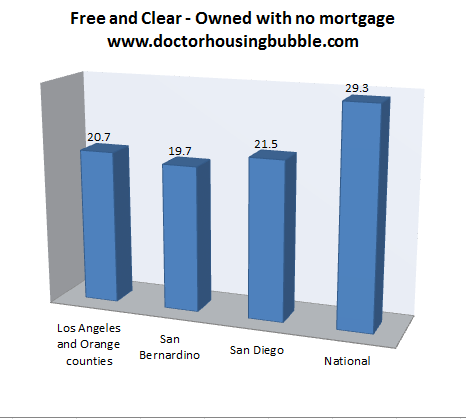 Source:  Census
Sure doesn't look like most people own their homes outright especially in contrast to where we were in previous decades.  To the contrary, the vast majority of Americans have been going deeper and deeper into debt to own homes: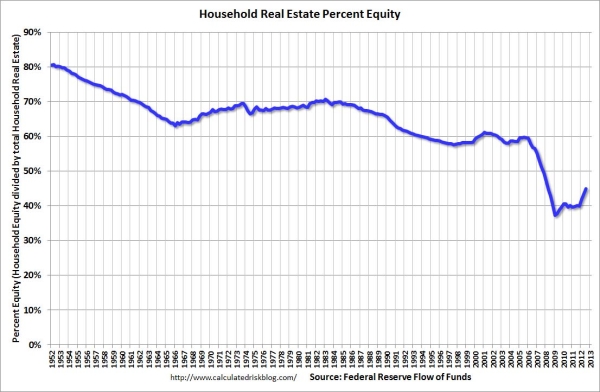 Households have very little equity because that has been the trend.  Think of FHA insured loans that provide a stunning 30x leverage and will put homeowners in an immediate LTV position above 95 percent.  Yet I've noticed that most of the recent headlines fail to acknowledge the massive push coming from investors and low supply. If you look at the above chart you will find that actually, Americans are mortgaged to the hilt (at least your typical home buyer).  In the next few years, we may see a push up in the free and clear figure thanks to the large number of all cash investors.  However, the articles on this try to make it appear that suddenly a new wave of upper-middle income people are buying properties thanks to a sudden turn in the economy.  The biggest stretch comes from pointing out the number of young homeowners who own a home free and clear.
Homeownership by age
The research concludes that 34.5 percent of those 20 to 24 own their home with no mortgage.  My goodness!  Where did all these rich young adults come from?  Reading something like that, you would think that the homeownership rate for the young actually zoomed up because of a shift of young buyers.  Forget about all the data showing a younger and less affluent generation.  When we dig deeper, we actually do not see a positive shift of ownership for the young: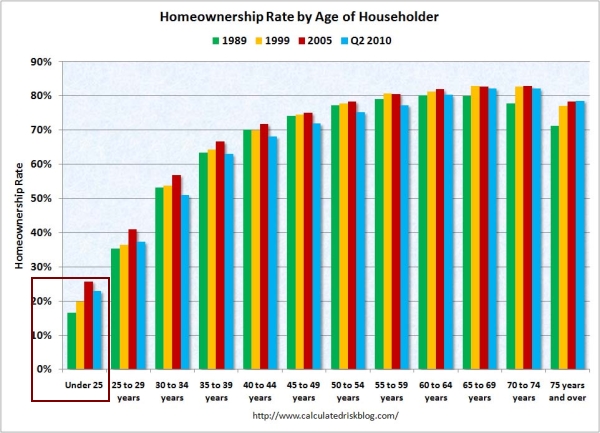 Over the last 20 years, the homeownership rate has fallen for virtually all groups except for older Americans.  It has fallen particularly harder for younger Americans because many are entering a weak workforce and many are deeply in debt.  For those under 25, slightly above 20 percent even own a home, forget about going free and clear.
So what the data is telling us is something different.  Only those young and wealthy, either by their own efforts or because of parents passing on wealth, can own a home free and clear.  However, the notion and implication is that somehow, younger Americans are suddenly buying more homes when the overall data is far from that as you can see above.
In fact, the homeownership rate overall has moved much lower since the bust: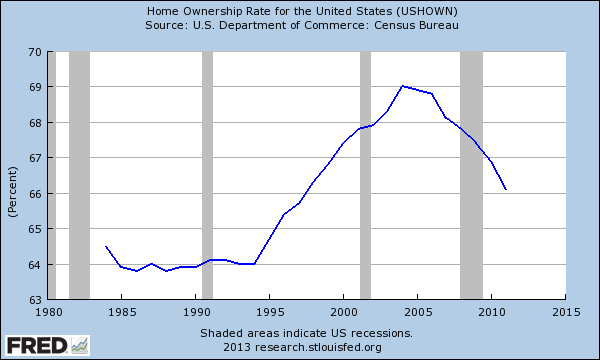 Free and clear?  Sure, for all those investors buying with cash.  But to think that somehow some hidden money is creeping out because of better jobs and higher incomes goes against the overall data.  That is the main reason why FHA insured loans are such a big deal and low interest rates are aggressively being pushed.  Americans have very little savings overall and need all the leverage they can to squeeze into a home.

Did You Enjoy The Post? Subscribe to Dr. Housing Bubble's Blog to get updated housing commentary, analysis, and information.