The story in the housing market continues to center around inventory.  More to the point, the lack of inventory.  This is a nationwide trend but in many parts of California inventory has fallen by 50, 60, and 70 percent in the last couple of years.  A good part of this is driven by sales but the modest increase in sales does not reflect the significant drop.  Historically, in normal markets, you would have a steady stream of buying and selling.  This was embedded in the process.  Someone selling a home would typically move to another place causing a dual reaction (a buy and sell).  Stable prices also created a market where virtually every homeowner was above water on their mortgage.  So selling was a matter of life decisions versus economic considerations in many cases.  That seems to be lost today in many markets.  A big part of the market right now is being driven by investor money and low down payment buyers.  The little inventory on the market is being fought after like a group of hyenas trying to wrestle away a carcass from a lion.  In essence, that is our market today.  Historically low inventory being fought after by big Wall Street funds and those seeking to buy.  Where does inventory stand?
Current inventory figures
It helps to put the current inventory numbers in perspective: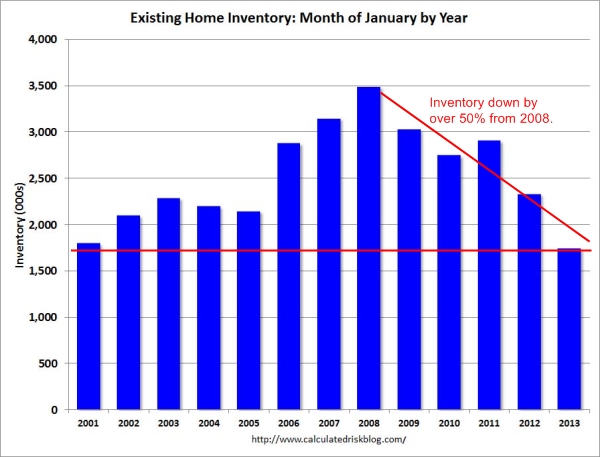 This is the lowest number of homes for sale on the market in well over a decade.  Keep in mind that we have added 34 million more Americans since 2000 and we have virtually the same number of homes available for sale.  In more targeted markets the drop in inventory is more startling.  Let us take a look at three areas in SoCal.
Los Angeles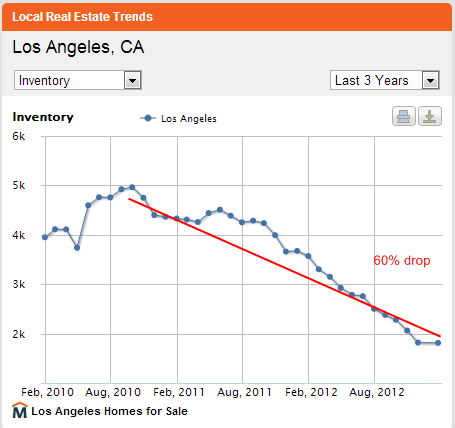 The city of Los Angeles has seen inventory drop by a stunning 60 percent since 2010.  The decline accelerated dramatically in 2012.  Take a look at a couple of other niche areas:
Culver City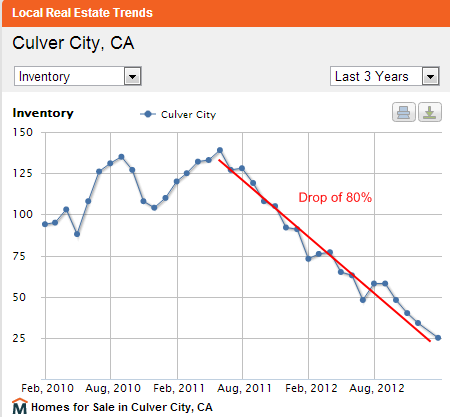 Inventory in Culver City has fallen by a whopping 80 percent.  This is a dramatic decline but also highlights why it is so difficult to purchase a home in today's market if you are a normal family looking to get in.  There are limited numbers of properties available and you are competing with big funds that have heavy target numbers.  That is, some are told to buy a certain number of properties in certain areas and given the limited number of places available, many of these funds choose to bid generously and push prices higher.  There is a preference in the market for all cash buyers given how clean these close through escrow.  A few agents have e-mailed me discussing this trend.
Take a look at a larger city in Orange County: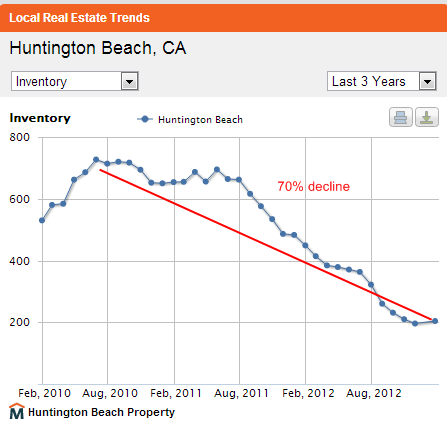 Huntington Beach has seen their inventory fall by 70 percent in the last couple of years.  This is a fascinating trend because it is clearly unsustainable.  It seems that we are in a perpetual boom and bust cycle here with California real estate.  This trend is very much likely to continue this year but how long can it go?  At a certain point, the regular home buyer will dive back in.  It is no coincidence that where easy money is targeted by the Fed (i.e., QE3) there is all of a sudden a surge in activity from big money.
Middle class in California is six-figures and up.  How many households make more than $100,000 a year?  26 percent.  So it should come as no surprise why so many households feel pinched when they are looking to buy.  It also helps to explain why only 54 percent of households in California actually own their home.  With all the current investor buying, it will be interesting to see if this pushes the renter percentage up as single family homes are pulled off the market as income producing assets.  As we discussed in the opening of this article, the buy-sell reaction of a typical sale is muted with these all cash buys.  You have one action (buy) and then the property is locked up either as a rental for years or as a flip in less than a year.  This part of the calculus is a big reason why we don't see a net add for each home that is sold given the giant number of investor buying over the last few years.

Did You Enjoy The Post? Subscribe to Dr. Housing Bubble's Blog to get updated housing commentary, analysis, and information.