Desirable areas in Los Angeles County are finding bidding wars and many places are selling for prices last seen during the peak of the bubble.  A fierce competition between flippers, foreign money, and households with healthy incomes leveraging low mortgage rates are pushing prices higher.  A few readers were sending over some of the recent action taking place in Culver City.  A few recounted their tales of open houses and the sense of urgency to purchase a property.  The flood of easy money has certainly had an impact on mid-tier and prime locations.  Only a two hour drive up north, in California City you can find homes selling for rock bottom prices.  This is a trend bearing out in income statistics.  It is becoming harder for the middle class to find affordable housing in California. Some have mentioned in zombie like fashion that some areas are becoming fortresses while other areas are left struggling.  Let us take a look at some recent data.
Culver City – Bubble Prices Back
The median price of a Culver City home is $635,000 for the 90230 zip code and $703,000 for the 90232 zip code.  One recent sale caught my attention because it is fresh and the current sale price is very near to what it sold during the previous mania: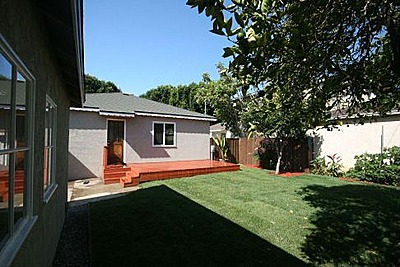 4348 Globe Ave Culver City, CA 90230
Beds:                     2
Baths:                   1
Square feet:       1,036
Year Built:            1950
This home looks to have the HGTV upgrades that seem to be very popular in SoCal: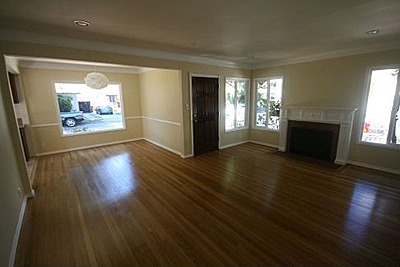 The listing history however shows us the impact flippers are having on the market.  This home sold in 2006 for $600,000: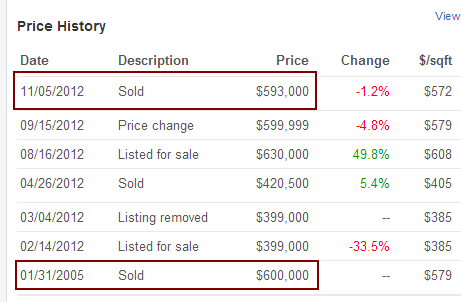 It was listed on the market earlier this year for $399,000.  It sold for $420,500 in April meaning some eager flippers were fighting for this place in Culver City.  A good deal was to be had here.  After some HGTV remodeling the home was listed back on the market in August for $630,000.  No action.  Then in September, they dropped it down to $599,999 to show up on the radar for those that have alerts set up to go off when a "$500k" home shows up.  It looks like it worked because early this month, a measly $6,999 reduction was all it took to get this place sold.  So run the numbers:
Sale price:                           $593,000
Bought for:                         $420,500
Gain of $172,500.  In a matter of a few months a remodel made this home go up in value by the median price of a US home.  These flippers even accounting for the cost of the remodel and sales commission likely made out nicely.
Another example of a home shows the overall environment in places like Culver City: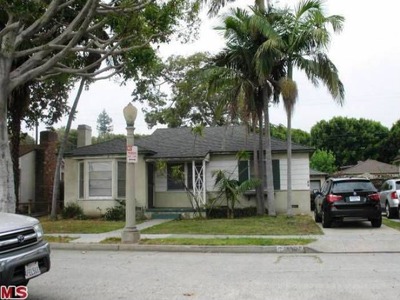 4367 Tuller Ave Culver City, CA 90230
Beds:                     3
Baths:                   1
Square feet:       1,124
Year Built:            1946
This is a recent sale as well.  Here is the history on this place:
Listed for sale:   August, 20 2012 at $529,000
Sold:                      October, 10 2012 for $565,000
When you see pricing like this it signifies that there was plenty of interest on the list price and likely caused the price to be pushed up.  This is the kind of action that is occurring in Culver City.  Are incomes higher?  No.  But what you have is flippers, foreign money, and maximum leverage via low interest rates creating a scenario where homes are reaching peak prices.  Yet only a few hours away in California City, the busted housing bubble is still very much alive.
California City
California City has a population of 14,120 and is located in Kern County.  People in some areas of LA and Orange County clearly do not look too far inland when they ask "but where are the cheap California homes?"  Not too far away.  In fact, you can find some areas where the popped housing bubble is clearly in action: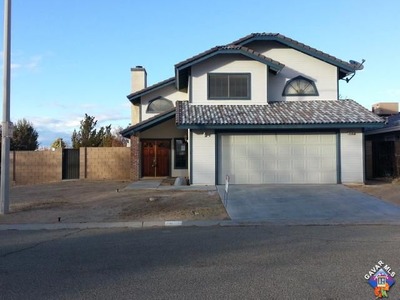 9901 Pebble Beach Dr UNIT R California City, CA 93505
Beds:                     3
Baths:                   2
Type:                     Condo
Year Built:            1989
So how much is this condo selling for?  How about $77,900.  Maybe you want an actual single family home?  How about this?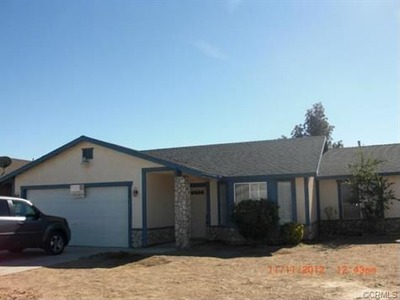 7354 Catalpa Ave California City, CA 93505
Beds:                     3
Baths:                   2
Square feet:       1,616
Year Built:            1990
The price on this home?  This place is selling for $76,900.  The price on this home is back to the early 1990s: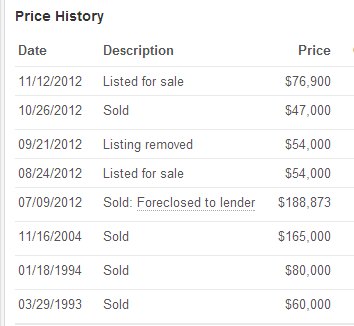 Those that think the bubble popping did not impact California real estate are simply not looking hard enough.  The Central Valley and Inland Empire for example have been hit hard and prices are still at affordable levels.  Yet looking at more select areas you see that the bubble never popped.  Flippers are back.  Prices are back near peak levels.  And bidding wars are back.  For those buying in these high activity locations be prepared for the familiar smell of mania.

Did You Enjoy The Post? Subscribe to Dr. Housing Bubble's Blog to get updated housing commentary, analysis, and information.