The amount of investor buying hit a record in 2012.  Last year for California over 32 percent of all homes sold for all cash based on property records where no mortgage was recorded with the sale.  Some of these homes went to owner occupied sales but the vast majority based on "absentee buyers" signifies that the majority went to investors.  The sustainability of investor demand is contingent on the perception of future prices gains.  The trend from 2007 has been unmistakable and this is a countrywide phenomenon.  Talking to various investors, some are pulling out of certain markets given that yields are weak.  Some are still buying into momentum with the intention of selling the place shortly given that rental yields are lower.  Keep in mind these are all cash buyers, not mortgaged buyers so lower interest rates only incentivize their actions if there are lesser investment options in the market.  I would imagine the rising stock market would pull some investment money back into Wall Street.  The all cash buying trend is significant but after five years, will this continue into the next few years?
All cash buyers across the US
Below highlights a dramatic shift in the makeup of home buyers across many markets.  The perception in the press is that all this home buying is somehow occurring with regular buyers diving back in.  That is part of the story but not the critical component of what is occurring.  Keep in mind that you also have a large portion of purchases going to FHA insured buyers that can hardly muster a down payment.  In California, mixing in the all cash buyers with FHA insured buyers makes up well over half the market.  Never in the history of California has this been the case.  So let us take a look at what happened after 2007: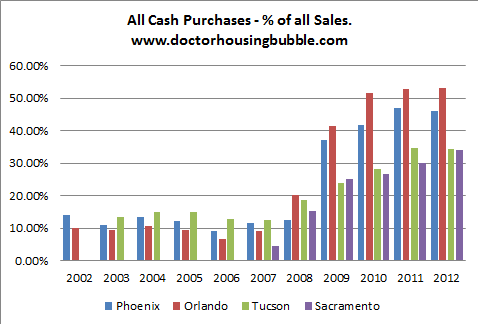 In 2002 and 2003 all cash buying in places like Phoenix and Orlando hovered around 10 percent.  In 2012 over 50 percent of all purchases went to all cash buyers while in Phoenix it was closer to 45 percent.  Sacramento hit a record with 34 percent of purchases going to all cash buyers.  This figure almost aligns with the 32 percent for California overall.
What is more telling with the chart above, is how limited your regular home buyer has become.  For example, from 2002 to 2007 this segment made up about 90 percent of all purchases.  But given the lack of real income growth, many bought homes with maximum leverage mortgages.  After 5,000,000 completed foreclosures and a few million more in the next couple of years, the game has shifted.  After 2007 a big part of the market was driven by investor demand and has only grown since then.  In some markets, investor demand is the dominant force.
It also seems that with the large number of foreclosures, a slow transition from the over leveraged buyers to investors has happened.  That is, like trading cards, these foreclosed homes have slowly ended up in the hands of investors from owner-occupied buyers.  How so?  Housing starts completely collapsed in 2007 so most sales were for existing properties.  Only now are we seeing housing starts pick up: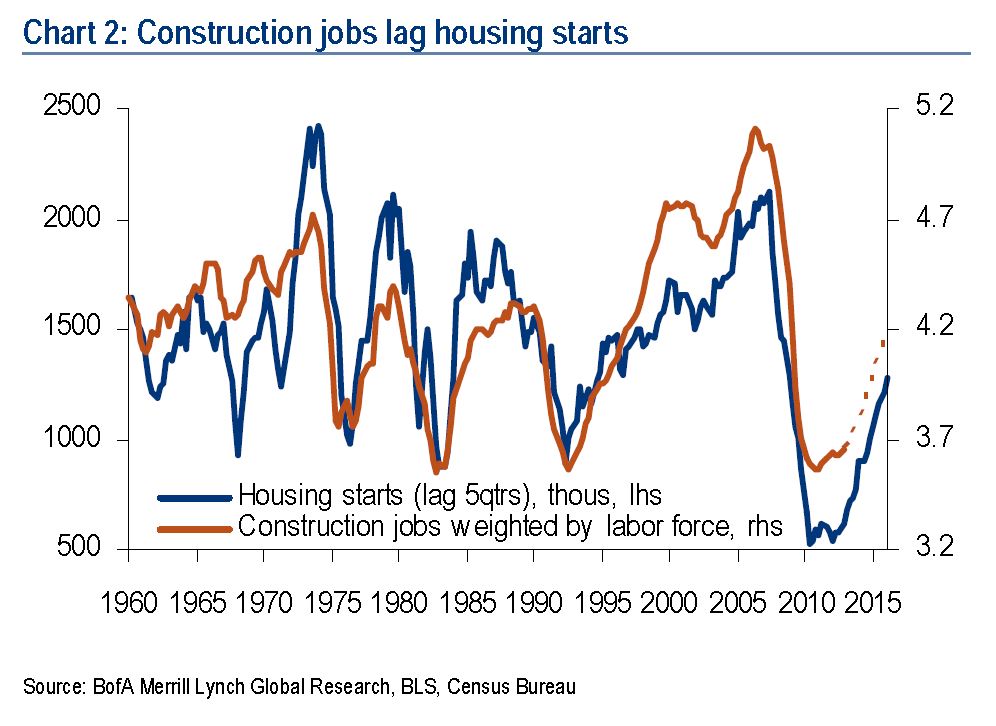 Today, to qualify for a mortgage you need to document income.  However, if 30 to 50 percent of the market is buying with all cash there is no need for verification.  Next, you have another 25 to 30 percent of purchases going to low down payment FHA insured buyers that can only afford a very minimal down payment.  The FHA to make up for this gap has increased mortgage insurance premiums dramatically.
Take a look at certain areas in Florida: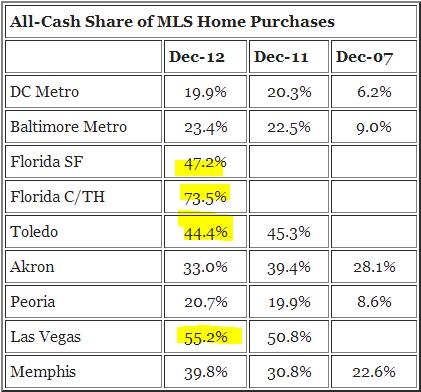 Source:  Calculated Risk
In parts of Florida over 70 percent of purchases are going to all cash buyers.  In Las Vegas it was 55 percent.  This is an incredible amount of volume but also speaks to the unintended consequences of artificially low interest rates.  Most investment property owners that are in it for the long-haul understand that overtime, your ROI is not as high as you would expect when you first purchase a property.  Many over time come to realize that anywhere between 40 to 50 percent of your gross rents will go to other items besides the PI in your payment.  But for the all cash buyers, this amounts to 40 to 50 percent of the gross rents which will severely alter the return on investment.
For example, say you buy a place for $200,000 that rents for $1,500.  After one year, gross rents would be $18,000.  A simple calculation would find:
$18,000 / $200,000           =             9% return
This is not bad but the S&P 500 returned over 13 percent last year merely by holding onto a index traded ETF.  Now run the numbers after we account for NOI:
$9,000 / $200,000             =             4.5% return
That is a big difference.  Keep in mind that a big part of this money is coming from large investment funds so they are capped out on how much tax benefits they can claim on their rental properties.  For anyone that has owned rental properties you know that you will have expenses from property management, vacancies, repairs, taxes, occasional bad tenants, legal fees, and other items like replacing a roof or blown out water heater so over time this does cut into your profits.  And this is not a passive activity.  So many of these all cash buyers appear to be new to the game and time will tell how those yields will look in a longer term perspective.
Some of the much bigger income (i.e., hedge funds) are looking to put these rental payments into some form of security.  This is where those added costs will show up over time:
"(Fool) Private-equity firms have been buying up distressed single-family homes for several months now, using pots of money to grab large lots of foreclosed properties which they can fix up and rent, sometimes to the very people who used to own them. Obviously, this venture is turning a profit: Not only are more companies getting involved in the landlord business, but Wall Street is working on a way to turn the income from these rental homes into a new investment vehicle: the rental-backed security."
Given how high the volume is from investors, you have to wonder what will happen once yields begin to drop down to Earth.  Will investors fight over each other for a 4.5 percent return?  For markets where investor buying is over 30 percent, will the organic buyer make up for the gap once investor money slows down?  That is something that we are going to find out over the next few years.  If you are wondering why you are losing out on bidding on certain homes, there is a good chance that you are contending with all cash purchases.

Did You Enjoy The Post? Subscribe to Dr. Housing Bubble's Blog to get updated housing commentary, analysis, and information.