In order to have a healthy housing market you need to have a steady employment base and also a low level of distressed properties.  Both of these prerequisites unfortunately are not applicable to the current economy.  One albatross of future buyers is the now increasing burden of student loan debt.  While virtually every other debt sector has contracted since the recession hit student loan debt is the only segment that has increased dramatically.  It is understandable since many unemployed and the steady stream of high school graduates are still demanding a college education.  What is incredible is the amount of debt students are taking on.  Most are coming out with the debt of a brand new car while many others, are exiting school with what amounts to a mortgage with no home.  Just look at the data; in 2000 student loan debt was roughly 2 percent of all household debt.  Today student loan debt makes up over 7 percent of total household debt.  Many future buyers are going to have their purchasing power curtailed by the amount of debt they are carrying with student loans.
What long-term impact will rising tuition have on other sectors like housing?
We've covered the housing bubble extensively on this site and the underlying argument has always been that home prices increased because of a mania produced by an economic bubble.  Incomes never justified housing values and so we are here with the repercussions of a bubble bursting and with 6 million distressed properties still waiting on the sidelines five years after the music stopped playing.  Yet as out of touch with reality that home prices became with household incomes student tuition saw an even more astronomical bubble: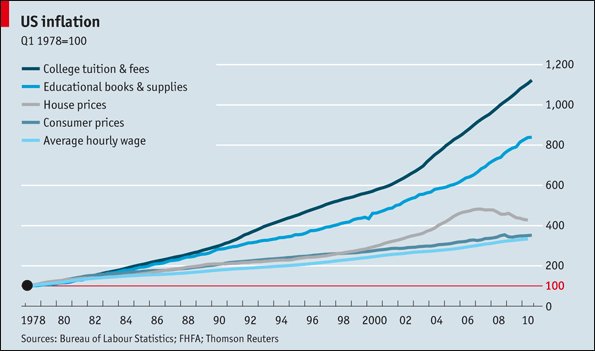 Since 1978 home prices tracked the general rate of inflation until the late 1990s.  At that point you can see the housing bubble emerge.  But look at fees associated with college.  This is where the next bubble exists and with nearly $1 trillion in outstanding student loans, this will put a clamp on how much future buyers can afford when purchasing other items like automobiles and more importantly homes.
The Federal Reserve now publishes data for student debt from Sallie Mae.  This is only one component of the student debt market but nonetheless the chart is incredible: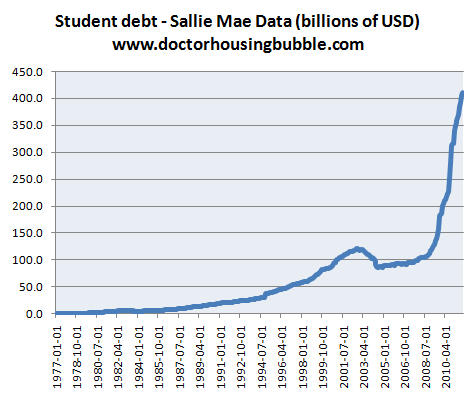 Source:  Federal Reserve
This is not a healthy trend.  More importantly the long-term impacts of student debt are only now starting to filter down into the overall economy.  You think a recent graduate with an entry level job and $100,000 in debt is going to buy a home?  A decade ago this scenario was rare with 2 percent of all household debt being in the form of student loans.  Today it is over 7 percent and this debt is largely held by a group of potential future home buyers, not current owners.
Recent data shows that many graduates are working in fields that don't even require their college degree: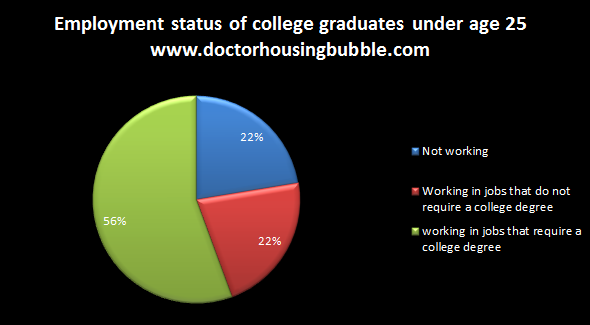 Source:  John J. Heldrich Center for Workforce Development at Rutgers University
The good news for recent graduates is that 56 percent are working in fields that require a college degree.  The bad news is that 22 percent are not working while another 22 percent are working in fields that don't require a college degree.  With this group, you probably have many that simply accepted whatever job they were able to find in this ongoing recession.  The above data is for the class of 2010 and I'm sure we are going to get more information soon on the class of 2011.
Home prices versus college costs
In relation to a public education even here in California, the cost of higher education has become more expensive in relation to home prices: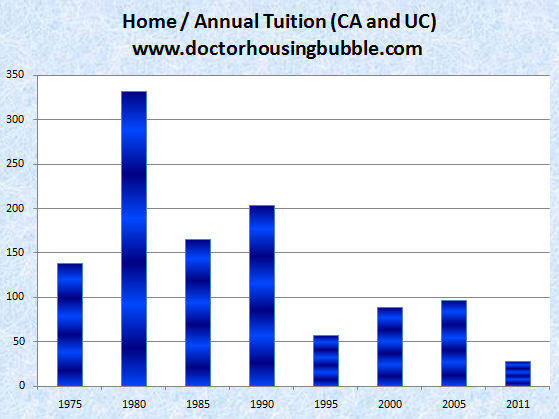 "The cost of an UC degree was cheapest in 1980 in relation to housing prices.  For example, for the cost of the median home in California in 1980 you would have been able to purchase over 330 years of education at the UC.  Today the cost of a median priced California home will only get you 22 years of college education."
In other words, even measured against another bubble asset category in housing the cost of higher education is in a deeper bubble.  None of this has kept people from enrolling and much of the growth has occurred with for-profit institutions but public and private institutions have also been increasing their fees: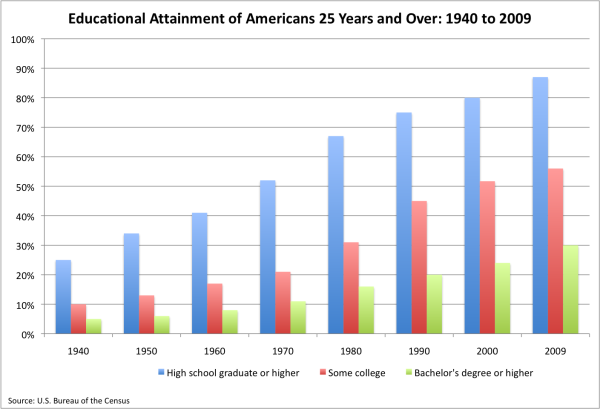 Source:  Pope Center
The patterns seem extremely similar to the housing bubble with certain segments taking up the roll of subprime lenders and the entire industry getting excited by easy finance and an unrelenting line of demand.  The only problem of courses is the debt is being backed by the U.S. government (i.e., taxpayers) and we all know what happens when the bubble pops.
You then have many thinking that graduate school is the answer and going deeper into debt:
"(Bloomberg) Gerrald Ellis, 28, took about $160,000 in federal loans to attend Fordham Law School, and then spent a year searching for a job. He eventually found work at a four-lawyer firm in White Plains, New York, doing consumer protection work.

Because his student debt is so high compared to his salary, Ellis said he expects to qualify for a plan that would let him pay 15 percent of his salary for 25 years, and whatever debt is left after that is forgiven.

"I'm trapped for at least two decades," said Ellis, who lives in Harlem with a classmate who also borrowed more than $100,000. "The debt has an impact on everything, where I decide to live, what job I take. I can't even imagine having kids with this kind of debt burden. Multiply that by a whole generation."
Or what about this case:
"Laura Sayer, unsure of what she wanted to do after graduating from college in 2006, figured a master's degree was "a safe bet."

With $5,000 in undergraduate loans from her time at the University of Cincinnati, Sayer was set back $50,000 more after completing the Interdisciplinary Master's Program in Humanities and Social Thought at New York University. The 27-year-old now makes about $45,000 a year as an administrative assistant for a nonprofit group, a job that didn't require her advanced degree."
A large part of this growth has come from the government working with banks to back up these loans:
"After a change in federal law in 2006, graduate students became eligible to borrow federally backed loans that covered the full cost to complete their degrees, while undergraduates are limited to $27,000 over four years, according to Kantrowitz.

The number of students enrolled in graduate schools, excluding law and medicine, totaled 1.7 million last year, a 33 percent jump from 2000, according to data from the Council of Graduate Schools, which represents more than 500 universities."
Do you notice a pattern here?  The combination of banks and our government seems to produce bubbles that sprout up like weeds in a garden.  Only difference is there will be no investors to purchase distressed college degrees.
Tying it together with housing
Today more of the high paying jobs however do require a college degree.  Growth industries like engineering, health care, computer science, and applied sciences require four year degrees.  The problem comes when you have many entering for-profits and coming out with tremendous debt but very little job prospects.  With student debt not being discharged in bankruptcy, you lock in millions of potential future buyers from buying a home.  First, the debt burden is high and second you have a more reluctant group of people that may develop risk aversion.
Banks are no longer lending money out like candy during Halloween so income is important and debt-to-income ratios are now part of the lending lexicon.  Given that the student debt bubble keeps on growing and good paying jobs are yet to be found in mass, the justification for higher home prices seems to be a wishful fantasy.  The shadow inventory is still immense and the reality that home prices are making post-bubble lows is a reflection of this confluence of forces.  People are doubling up, don't qualify even for FHA insured loans, demand is muted even with artificially low rates, and are simply burdened by weak household wage growth.  Certainly the millions who have moved back home because of the recession are putting a plug into the future buying pool and hierarchy of the old buying process:
-Go off to school

-Rent once you graduate

-Find a partner and purchase a home

-Build equity and move up
This has been the pattern for decades but this entire ecosystem of buying is no longer applicable.  Not at least in this current climate with distressed properties being the bulk of sales and home prices moving lower.
With every incentive in the world being thrown at home buying little can be done without a healthy economic jobs machine.  Those that understood this were able to see through the housing bubble rhetoric.  I wonder how many can understand this argument with the student debt machine going at full speed today and the future implications on other segments of the economy including housing.
Have any stories about student debt and housing?

Did You Enjoy The Post? Subscribe to Dr. Housing Bubble's Blog to get updated housing commentary, analysis, and information.