California has one of the most volatile and wobbly budgets in the nation.  Part of this comes from the inherent structure of the tax system where a large portion of revenues come from fluctuating items like sales tax, corporate tax, and personal income tax that swing wildly like a vine in the wind during recessions.  You also have an intricate system that was built on sunny day projections and that is clearly no longer the case with gaping budget deficits from San Diego up the Pacific Coast to San Francisco.  The State Controller announced this week that last month state revenues were off by a stunning $810 million.  This is hard to fathom even for a state as large as California.  I think it is important to analyze the condition and vital signs of the state to fully understand the future trends of the real estate market.  It is clear that the upcoming years will look nothing like the past.
The volatile nature of the state budget
I've been tracking incoming revenues to the state and measuring them against stated projections.  For the first half of the year things did look rosier.  That has changed dramatically in the last few months: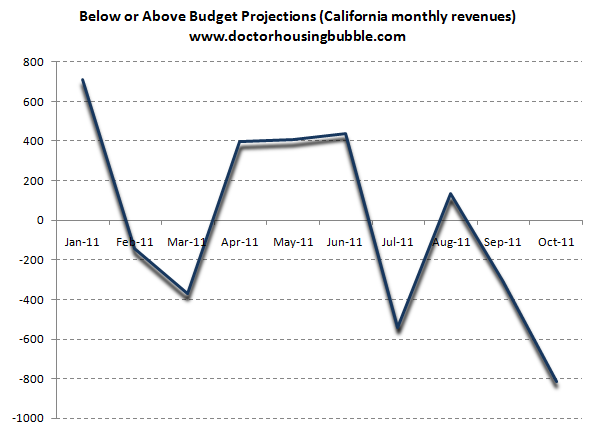 Source:  State Controller
"(Bloomberg) California tax collections since the start of the fiscal year have fallen $1.5 billion behind projections, raising concern that the most-populous U.S. state will face automatic spending cuts.

Revenue was $810.5 million less than budgeted in October, bringing the total to 6.2 percent below expectations for July 1 through Oct. 31, according to figures released today by Controller John Chiang. Since the start of the fiscal year, the state has spent $1.7 billion more than it budgeted."
Needless to say a $1.5 billion lag from already adjusted projections is not good.  Take a look at the chart above and examine how quickly revenues adjusted lower starting in July.  So far the last four months have been brutal on the state budget with the last month blasting a gap to the downside.  The ideal option would be to grow the economy faster and create more revenues but that is clearly not happening.  So you are left with European like solutions to either raise taxes, cut services, or a combination of both.  Both of these seem like negatives for the housing market.
The big lag is coming from corporate and sales taxes: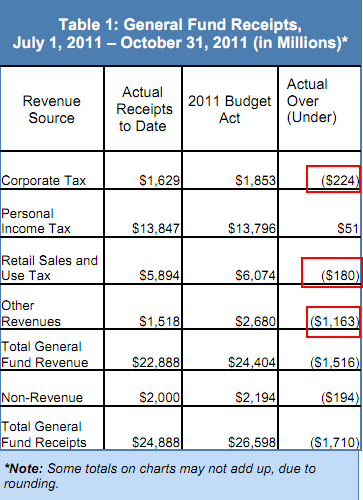 As mentioned the state has now fallen behind by $1.5 billion from recent projections.  Keep in mind this is only the lag in projections.  I'm not sure if people are simply getting bailout fatigue or are psychologically tuning some of this information out but California's budget situation is still in a precarious situation:
"(State Controller) The State ended last fiscal year with a cash deficit of $8.2 billion. The combined current year cash deficit stands at $20.3 billion.  Those deficits are being covered with $14.9 billion of internal borrowing (temporary loans from special funds) and $5.4 billion of external borrowing."
In other words gear up for more contentious budget battles ahead for the largest state in the nation.
The demographic trend for California
The nationwide trend of baby boomers entering into retirement does not escape California.  In fact a large segment of growth will come from this cohort: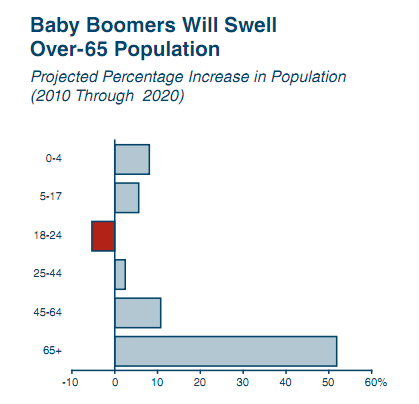 Source:  LAO
This development is likely to have a negative impact on housing because baby boomers if anything will stay put or will look to downsize.  The starter home buying group of 25 to 44 shows relatively low growth in relation to other age groups.  We've never had such a large and older population in the state.  How will the market deal with this?  Keep in mind that the first baby boomer was born in 1946 with the last in 1964.  A large part of growth came from this group having strong buying power in an era where the economy was booming hand in hand.  Those favorable demographic trends are no longer present.
Older Americans will need smaller homes as children move out and will demand more healthcare services.  You also have many younger Americans moving back home because of the weak economy.  So it is hard to see how this trend will somehow be a large push on home values upward.  To the contrary this may keep a lid on prices especially with many younger Americans earning less and carrying much larger amounts of student loan debt.
Californians have traded the cigarette for a Starbucks double latte
One good piece of news is that overall there are fewer Californians that now smoke compared to 1989.  In 1989 over 22 percent of Californians smoked (aged 18 and older).  That figure is now solidly below 15 percent.  However, obesity now seems to be an epidemic with 25 percent of those 18 and older being labeled as obese versus 10 percent in 1989: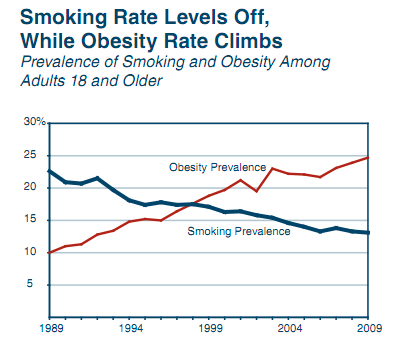 Obviously obesity and smoking are both large health concerns so the money saved from not smoking will probably be canceled out by the other health issues brought on by being overweight.  Part of being productive also comes from being healthy.  You have to wonder what impact this will have on the future of California.
Demand for homes
While the population keeps increasing the demand for lower priced housing options grows.  The need for more expensive homes is largely not in the cards for California: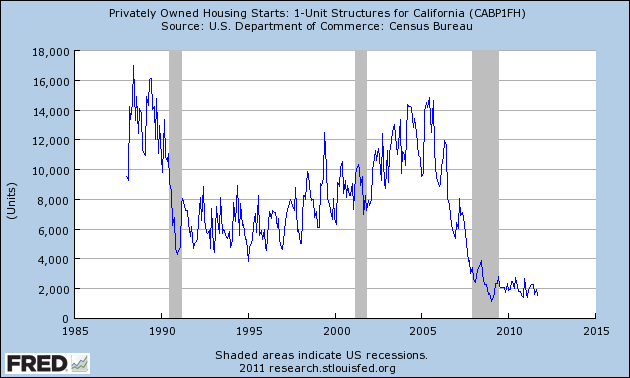 Housing starts collapsed in 2005 and have not recovered since.  Parts of the previous trends reflect this new market for the state economy:
-Older downsizing population

-Younger less affluent population

-Demand for affordable housing

-State budget will push more cuts, taxes, or combination of both
Add into the mix the large shadow inventory in the state and you can understand why it is hard to be bullish on California real estate.  Show me growing households wages and an employment sector adding good paying jobs and then we can have the debate why high home prices makes economic sense.  The current data is showing us more reasons to cautious when it comes to California real estate.

Did You Enjoy The Post? Subscribe to Dr. Housing Bubble's Blog to get updated housing commentary, analysis, and information.