Housing values in the U.S. have reached a new peak.  In total, U.S. homes are valued around $31.8 trillion according to Zillow.  That is 1.5 times the GDP of the U.S. and close to three times the GDP of China.  Crap shacks in Los Angeles are now worth $2.7 trillion, which is more than the United Kingdom's GDP. What is very telling is that real estate values across the country in virtually every large metro area are near peak values.  In places like San Francisco, they are in a new stratosphere.  The allure of real estate is now fully engulfing the nation and flipping rates are at decade highs.  People want to get a piece of the action.  You also have many ex-pats now taking their money abroad and retiring in more affordable countries where they can stretch those Taco Tuesday dollars while money from China is flowing the other way and boosting prices in some areas dramatically.
The housing market is peaking again
Money from China is rushing back into the U.S. via real estate purchases, businesses being bought out, and overall investment.  So it is no surprise that hints of trade war will send the stock market into a dive.
Here is the growth of real estate values in the U.S.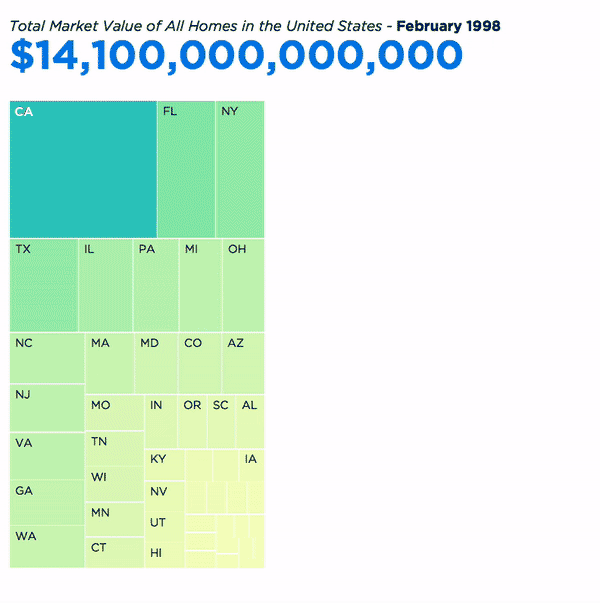 Source:  Zillow
Home values are once again near a peak.  And this growth has occurred in nearly all metro areas.  Yet money from abroad is flooding the market: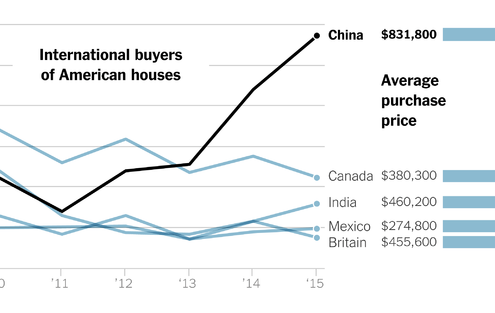 Those that live in places like San Francisco or even parts of SoCal understand the power of this money on local real estate values.  It is very clear that buyers from China are buying in prime areas.  Taco Tuesday baby boomers like to believe their crap shack in a marginal area is suddenly going to be worth $1 million but alas, that is not the case.  In some areas however $1 million will get you a tiny box as zip code chasers are out in mass in this market.
The question becomes, are prices inflated?  Bubbles are hard to spot but it is clear that real estate is now a boom and bust industry.  There was a time when real estate was a boring hedge that barely kept pace with inflation.  Now, the amount of house horny euphoria courtesy of HGTV shows and infomercial math is making the public delusional on home prices yet again.
25 percent of homes in SoCal are still being bought with all cash: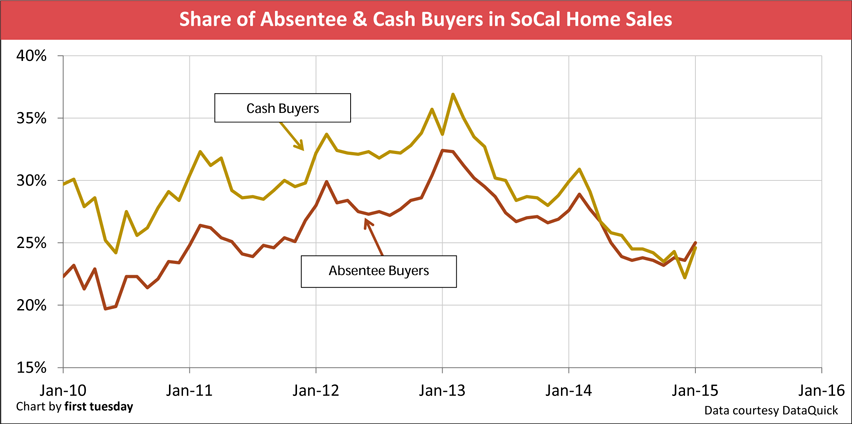 Compare this to nearly 10 to 15 percent in more "calm" times but of course this is anything but calm.
Sales volume continues to be low because home builders are not building new homes since they know that broke Millennials are looking for rentals, not single family homes.  High income households and foreign money in some markets is all that is needed to keep prices inflated on low inventory.  But that doesn't really explain why places in marginal areas are priced so high.  These are the markets to monitor when the inevitable correction arrives because there is always a price to pay for a party (the hangover).
While real estate values nationwide hit a peak, sales volume continues to be weak.  The homeownership rate continues to trend near generational lows.  And foreign money flooding into the market is at record levels.  But at least we have social media to distract us and once again people are flocking to housing cheerleaders like moths to a light.  This always ends well.

Did You Enjoy The Post? Subscribe to Dr. Housing Bubble's Blog to get updated housing commentary, analysis, and information.