There is a great book called Willpower that examines the ability of people to actually exercise self-control and how these character traits impact life. Those that can delay gratification typically end up doing better in life throughout marriages, work, and their financial decisions. Why this matters for housing especially here in California is most people look at their left and right and are trying to keep up with their neighbors. It is fascinating to see many people trying to cash in on their current equity so they can leverage up to a bigger home because they can. Forget about paying down the mortgage for retirement. Time to press reset and leverage into a bigger home. Since home ownership in California is largely in the domain of older home owners many are simply diving into this property ladder game once again. Retirement figures show that many older Americans are horribly underprepared for retirement. Yet the advice is always to buy as much house as you can get your hands on. Think about the $700,000 starter crap shack here in SoCal. For a 20 percent down payment, a household will need to save up $140,000. Most are into instant gratification and that is why car leases reign supreme in the land of all hat and no cattle. This is the land of Purnia Dog Chow eating baby boomers living in million dollar homes and welcoming back their heavily indebted offspring. The Southwest once again is paving the way to this new recent housing mania. If we look at California, Nevada, and Arizona we find that home values have quickly outpaced underlying economic activity.
Where you least can afford to live
People fail to underestimate how much it costs to own a home. Beyond the mortgage and interest, there is a litany of other costs associated to buying a property including: taxes, insurance, maintenance, and other costs including utilities that may be higher from owning. This isn't to say that buying a home is a bad decision. In fact, in many parts of the country it is a wise decision. It is also dramatically clear that many people use housing as the panacea for all financial success. They might view stocks as overvalued but find real estate reasonably priced just because they know of a neighbor that did well. It should be abundantly clear that it doesn't take a Phi Beta Kappa mindset to do well in real estate. You have some that can barely string together two words yet did well in the industry. I remember during the last bust former waiters and tellers that suddenly were raking in six-figures. Did they invest it wisely and stash it away for a rainy day? No. It was squandered on bigger homes, cars, and a lifestyle that is now gone. Willpower is more than simply keeping up with the Joneses and paying $700,000 for a piece of crap stucco box built during FDRs first term.
No one operates in a vacuum however. We do live in a society after all. The Southwest has something in the air that simply makes people go into mania every so often. I think delayed gratification is a rare trait and plays into the boom and bust culture. For example, take a look at this chart: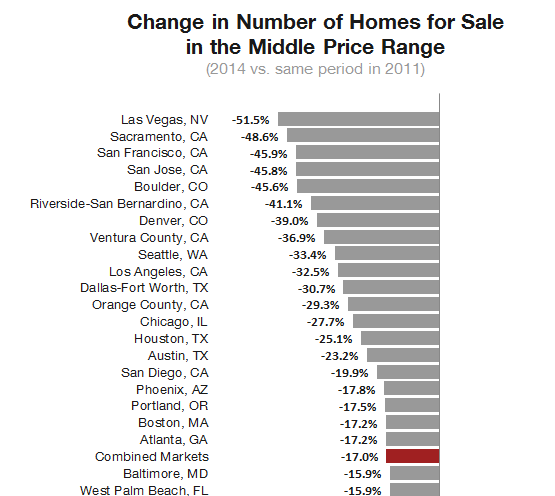 Source: Redfin
This is a very telling chart. In essence, there is little affordable property out in the market compared to what was available in 2011. So you have two choices today and one includes simply puckering up and buying or renting. What I find more interesting is that people are unable to buy today not because of lack of desire but because they are financially strapped. The market is forcing willpower on them. If idiot mortgages were out again, they would be running to their nearest charlatan for a giant mortgage. You have 2.3 million adults living with their parents in California. These people can't even afford a rental let alone a home. And the numbers get reflected in a continuing drop in the home ownership rate: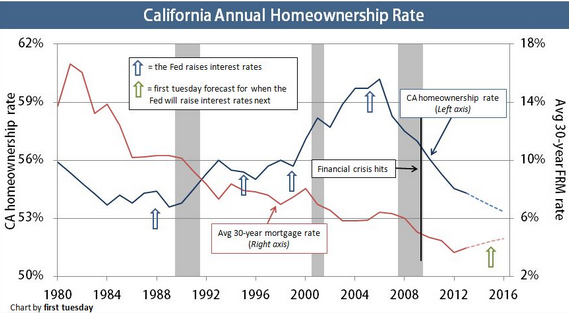 You'll also notice that Colorado, Seattle, and parts of Texas make the list. But it is clear the Southwest dominates the club. Why is that? There is something to be said about the sunshine tax. The weather is great but if you look at the Inland Empire, you are basically living in Arizona or Nevada when it comes to the weather but paying twice the price. We've analyzed the area and found that over 40 percent of those living in the Inland Empire actually leave their counties for work. This is the land of the epic commuter.
You see the same nonsense from hipster neighborhoods and how some are trying to justify current prices. Yet ironically, some of these same people are not willing to make the purchase. If this is such a stellar deal, why not buy the place to rent, flip, or sell at a later date? Their assumption of course is that more suckers are lining up to buy these places. Well as we've noted, the summer selling season was a dud and sales volume is pathetic. It was interesting to see Nevada boom in the last bubble too because of California equity run-off. The toxic mortgage pushers with their headquarters in L.A. or Orange County allowed their mentality to permeate the Southwest. Sell the easy money sizzle throughout the nation. Why wait to save for a down payment when you can own TODAY! Forget about delayed gratification or willpower, time to buy right now.
Today, you have a different sort of acceleration in prices. In Nevada and Arizona, the massive push was from big money investors. They are now pulling back. When you hear people say things like "you missed the boat" it sounds as if they are speaking about missing a critical time to buy Google, Twitter, Facebook, or Microsoft stock. If you are truly buying for the long-run and prices make sense in the context of many factors including opportunity costs, then missing one or two years doesn't matter. In other words, whether they acknowledge it or not, they are speculators just like a day trader. Nothing more. And many are itching to buy but they are flat broke or unable to pay current prices. Since 2000, housing has become a speculative arena. Just look at the booms and busts since then: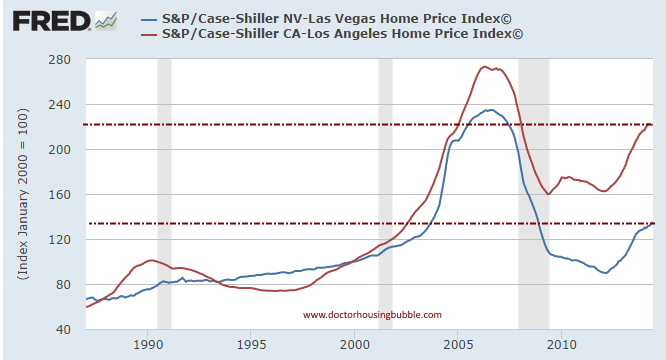 Now we enter into the typically slower fall and winter seasons. Buying a home is no longer a simple decision. Just like you have analyst, brokers, and Wall Street firms to analyze stocks you now have an entire industry built around investing in housing (hence the big firms eating up single family homes since 2008). We love our sun, manias, and housing here in the Southwest.

Did You Enjoy The Post? Subscribe to Dr. Housing Bubble's Blog to get updated housing commentary, analysis, and information.