The summer selling season has now come to an official close. Not that it had much substance behind it. The sales volume has been wickedly low for all the hoopla being bandied about how great the housing market is doing. Much of the momentum from investor demand has started to wane significantly. At a certain point, the well does run dry and many investors were buying to turn units into rentals so local area incomes absolutely matter especially when prices increase so quickly that they put a damper on cap rates. Many flippers are looking for the next lemming to purchase their pig with lipstick. Crap shacks are selling for $700,000 and we are starting to see that some sellers are hitting a brick wall. Stepping back and looking at the bigger picture however, we find that we have slowly become a nation of renters since the housing bubble first popped back in 2007. Wild financing glossed over the fact that the middle class in the US has been steadily declining. Now that you have to actually show some real income, the numbers don't look so great especially when you look at mortgage application volume. Census figures also show that we are definitely in a trend of adding more rental households versus people owning their homes. Until the trend reverses, we are seeing many areas become renter hubs.
Middle class shrinking
Probably the most obvious reason for the lack of demand on the home buying front from regular families stems from the shrinking of the middle class. This trend isn't new. What is new however is that the easy financing years are long gone and this has taken a direct hit to regular family demand when it comes to buying homes, even with ultra-low interest rates.
Take a look at the trend here: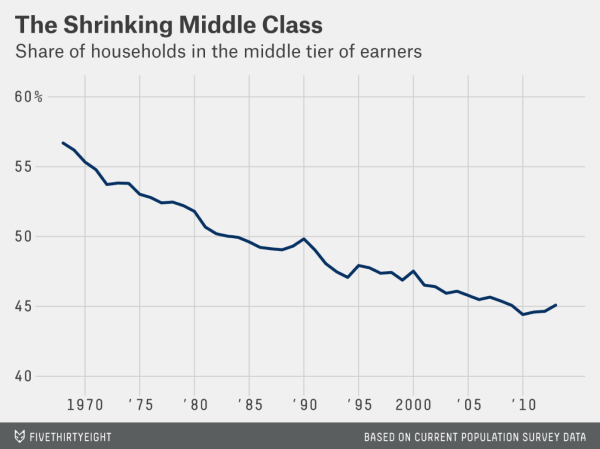 Yet when households have access to debt, it peppers over the reality that many are actually running backwards when it comes to their future buying potential. Take a look at the cost of tuition or even buying a new car. Easy financing allows for larger price-tags with lower monthly payments. In the end however, you are still paying the underlying cost over many years.
It might be useful to look at the housing math first: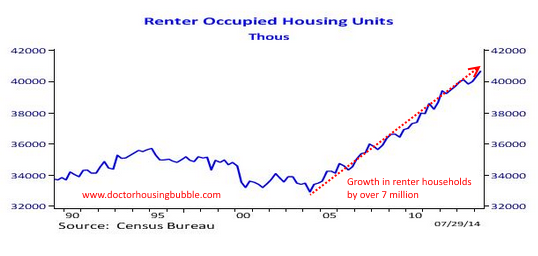 Since the crisis hit, we have added 7 million renter households. Not a coincidence that we have witnessed 7 million foreclosures over this time as well. Then, you will find that the home ownership rate has gone stagnant over this period: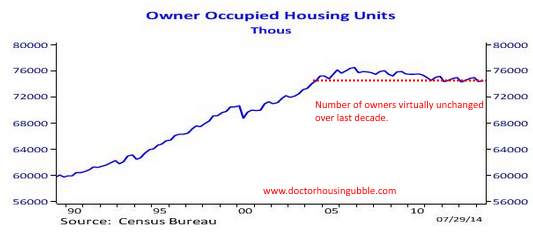 Most Americans derive their net worth from their equity in their home. It gets tricky to use your residential property as a source of retirement funds because first, you have to sell to unlock that equity. If you slap on a HELOC, you are merely taking on more debt secured by your asset. Not exactly wise financial planning. And you also have running costs associated with owning including taxes, insurance, and maintenance and these costs usually rise with the general rate of inflation (i.e. a roof today will cost more than a roof installed in the 1970s). In essence, the only true way to unlock the wealth is by actually selling the property. In many cases in California, people are sitting on goldmines yet find it hard to move. This is your Purina Dog Chow eating home owner that has a property valued at $1 million but is scrimping by with their Social Security check at the 99 Cents store.
Younger Americans are also well aware of this trend. They are taking on larger debt via student loans and have lower incomes overall. This is why in California for example, you have 2.3 million young adults living at home with their parents. Most are at home because they are too broke to even branch out into a rental. Even highly paid workers in San Francisco rent and typically rent with other people to curb the costs of high rents.
Owning a home is not a right. I think that goes without saying. So it is troubling to see so much intervention in the housing market in terms of special tax treatment, bailouts, and special programs for financial institutions that essentially hide a true market value (if you even believe in a true market). After all these years of program what is the end result? A push to renting households, more single family homes in the hands of investors, and higher prices with stagnant incomes. Special tax treatments are simply added on to the base cost of the home.
The Fed has turned everyone into a speculator on housing. If you rent, you are basically short on housing. If you own, either a primary home or rental, you are long housing. The fact that so many investors bought property in the last few years changes the game from one where housing was a stale purchase largely driven by growing households to one that is heavily treated as a part of a larger portfolio. The fact that demand is so low after investors pulled back signifies that many people simply cannot afford to venture out and buy (that shrinking middle class figure). It is interesting to see some people plow every penny they have into a down payment for a home (and home payment) yet neglect putting money away in the stock market because it appears "risky" in the scheme of things. 7 million people lost their homes in the last few years and 1 million of those here in California. That sure doesn't sound like a risk free bet. And when you buy and are leveraged, try missing one payment to the bank and find out who really owns the property. Or better yet, pay off the bank and miss your tax bills.
Housing used to be a safe bet practically in all corners of the US. The fact that housing has become a highly leveraged and speculated upon segment of our economy has caused many more people to carefully calculate buying versus renting. Plus, in cases like San Francisco, many people realize they will only work for said company for a short number of years (certainly not 30). So the trend of corporatism after World War II where people started and ended their careers in one company is long gone. Some companies have already picked up and left. And for many of the high tech companies, some will burn brightly but for only a short period of time.
When all of these larger trends are combined, it is hard to see a sudden reversal of this renting momentum.

Did You Enjoy The Post? Subscribe to Dr. Housing Bubble's Blog to get updated housing commentary, analysis, and information.