There is a fine line between using debt wisely and being a slave to crippling loans. Unfortunately most Americans have used debt as a meal replacement for actually saving and are now entering their older years with very little saved. Liquid asset anorexia. It should be telling that purchasing a car, an item that depreciates the instant you set your rear in the leather seat, has some of the easiest financing the world has ever seen. Zero percent loans are common but when you look at the underlying price tag, the cost is actually very high. College loans are given to students with zero income on the future prospect they will generate enough income to carry their loans. Not a big deal when you take on $5,000 a year but what about $40,000 a year? As we are seeing, many young adults are having to move back home with mom and dad as grown adults merely to pay their bills, many times in car loans and student debt. A similar phenomenon has occurred in housing where base cost is very high thanks to cheap financing. Low rate mortgages still cannot force demand if people are unable to service the debt. That is the problem we now confront today. It isn't a question of the raw number in population growth. If for every doctor or engineer we create 10 to 20 McJobs, then where will the housing growth be? Homes are unaffordable even in the face of record low mortgage rates.
Nationwide affordability in housing is not good
Nationwide data on household incomes is out and it is not a pretty picture. Rents and housing values completely outpaced any nominal gains in income. The end result? More money is going to housing instead of other sectors of the economy. The trend towards a feudal landlord nation continues and the number of renters continues to grow at a faster pace than those buying houses.
Take a look at affordability today:
As a nation, household incomes absolutely matter. Go to your local bank and apply for a mortgage and see how far you get with telling them that incomes don't matter. Most regular families need a mortgage to purchase a home. Even if mom and dad assist with the 20 percent down payment, you still have a mortgage for 80 percent of the value of the home. In California, if you purchase a crap shack for $700,000 that means you will have a down payment of $140,000 plus a mortgage of $560,000 for 30 years. In other words, you are going to need monthly cash to cover the monthly nut (i.e., W-2 work, 1099 income, selling weed, etc).
The chart above shows that affordability is not good today. Where do we stand at the moment? Back to where things were in 2008 according to the NAR. 2008 wasn't exactly a good year if you recall. Even though affordability was horrible in the 2000s, we had no income, no job, and no pulse loans floating around. Basically a student loan financing model. Incomes did not matter and desire to sign was the only requirement. Today, you still have to show you have adequate income to cover the monthly nut since the entire mortgage market is now flooded with government backed loans. In other words, you have to demonstrate income to carry the note.
Which leads us to the next chart. People continue to lust after housing and are itching just to put their lives into debt turmoil. The WSJ had a story about a women in Chicago with a $200,000 income and went deep into credit card debt of $300,000. The article then gives a comical look at a $400,000 annual income and how "quickly" it can go. Unfortunately this is the kind of debt religion we live under. The more you make, the more you should spend. The more income you have, the more sophisticated your debt should become. If you are making $400,000 a year you are in top 1 percent of the country and if you can't manage your budget, you have deeper issues at hand. The budget is a complete joke and of course, housing eats up a massive portion of after tax income.
So clearly people are in love with debt and house horny. So you would expect mortgage applications to surge: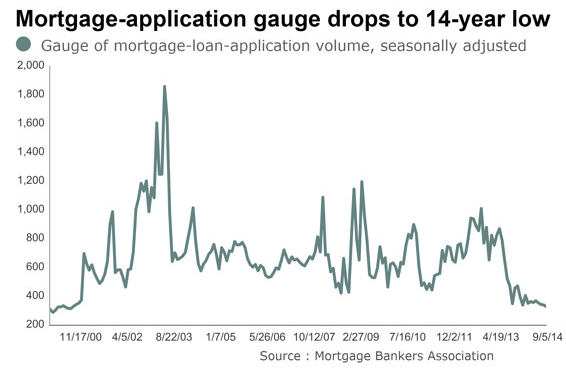 Mortgage applications hits a 14 year low. Why? First, investors have dominated the market going back to 2008. Only until late in 2013 have they started to pullback in earnest. Next, you have low inventory combined with stagnant incomes. Since virtually all originated mortgages have to meet minimum qualifications, many people are locked out. Not because rates are horrible (they are great) but because households simply do not have the income to cover the payment. This is more pronounced in areas like California where a one-year run basically locked out most families. Now, inventory is up, prices are being adjusted, and sentiment is clearly changing.
The destruction of traditional mortgage demand has come because of current policies that occurred over the last bust. It is no surprise that investors connected with big banks have been the big winners here. Mortgage rates are still in the 4 percent range and this is great considering inflation is running between 2 and 3 percent per year. Low mortgage demand tells us one thing that is very obvious and that is the middle class is being hollowed out and this was the primary source for new household demand. Welcome to feudal America were you now have the ability to become a leasing serf to a hedge fund or Wall Street.

Did You Enjoy The Post? Subscribe to Dr. Housing Bubble's Blog to get updated housing commentary, analysis, and information.