While the weather is hot in Southern California, unseasonably so, the housing market has gone lukewarm. People forget that in California, housing needs to be booming or busting in epic fashion. Yet inflection points are harder to detect. People will say "well look at current prices!" Sure, let us look at them. Are you going to buy that crap shack for $700,000? Most of the justification usually revolves around other suckers paying current prices and 2013 as some kind of barometer for years to come but there is no evidence that the trend will continue. For those that enjoy looking at quality homes and I mean this in terms of construction, many have no idea what awaits them when they purchase their glorious little shipping container. And without a doubt, those buying these tiny "starter" homes are simply rubbing their hands just counting the days until they can unload with equity check in hand and start on their property ladder adventure. Some are so narrowly focused that they are missing the macro picture in the state and that is, we have largely become a state of renters. Not because people don't want to buy, but because most families simply cannot afford to buy. Most households in L.A. County rent. What I am noticing though is quicker turnaround sales hitting the market. And these aren't necessarily your flipper variety. These are people turning around rather quick. Take a look at these two examples in Pasadena.
Pasadena turnaround
Typically when you see a home hit the market in a short amount of time, meaning less than 12 months, you are looking at some sort of flip. These homes don't have any indication of upgrades made since the last sale. I also found the first example to be funny since it is subtly targeting Asian buyers. Take a look at this home: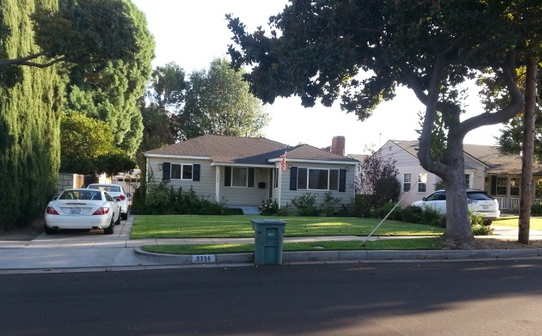 2756 Morningside St, Pasadena, CA 91107
2 beds, 1 bath, 976 square feet
"Most desirable area in Pasadena ! In the middle of two life styles, drive to south, you could enjoy the Asian entertainment and food, drive to north, the classical and modern cultures are welcome you. Minutes access to I-210 and I-10, very convenient to almost everywhere. This is a cozy house, the professional landscape will attract your eyes at the first sight. Two bedrooms and one bathroom with double sinks are been well maintained. Hardwood floor throughout all living room, dinning area and…"
I'm fairly familiar with the area and most of SoCal but what "Asian entertainment" are they speaking of here? Maybe folks closer to this market can fill me in. 976 square feet is tiny and the price tag of $610,000 isn't exactly a bargain. And again, what is going on with garbage can photography? Can you at least pull the bin in? We are talking $610,000 here. Look at the sales history here: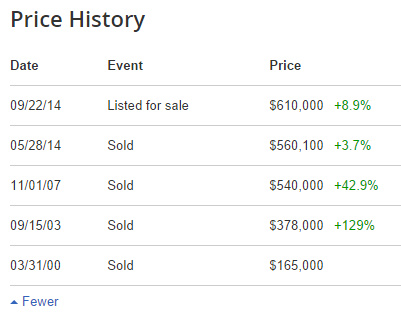 After the sales commission, you are looking at a tiny gain so someone here isn't trying to make big bucks. But what happened from May of this year to September that justifies a $50,000 increase? The 2017 Tesla Model 3 will have a starting price tag of $50,000. Are they throwing one of those in with this purchase? What we are seeing is fewer lemmings itching to buy just because momentum is moving forward.
Let us look at our next home.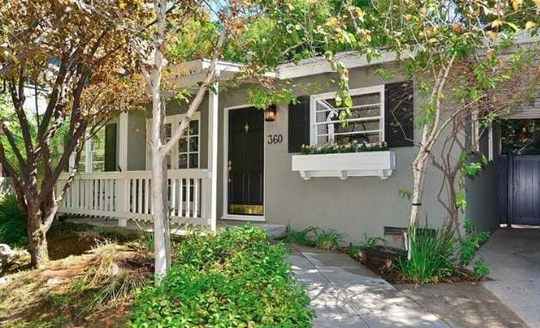 360 Sycamore Gln, Pasadena, CA 91105
2 beds, 1 bath, 1,101 square feet
This is another interesting listing. It last sold in July for $650,000 but now is quickly back on the market: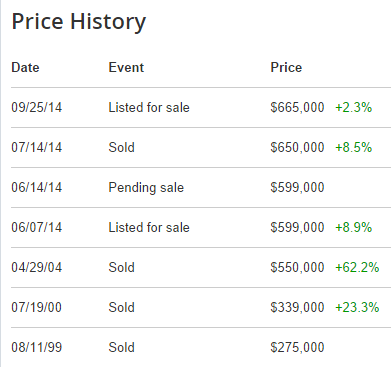 A $15,000 increase will not cover the commission on this place. Why the quick turn around? The place only has 2 bedrooms and 1,101 square feet is not a big place for the current price tag of $665,000. I'm seeing more of these kind of listings where it doesn't appear to be a flip but people are trying to get out in a rather short timeframe. So much for the notion that you buy to stay put. And look at the history here. Since 1999 this home has sold 4 times and is now back on the market. The biggest winner was the person that bought in 2000 and sold in 2004. Yet all of this was merely part of the housing market becoming one giant speculative game. You are a speculator in housing in California regardless of you being an owner or renter.
Are you seeing this kind of short-term sales in your market that don't appear to be flips?

Did You Enjoy The Post? Subscribe to Dr. Housing Bubble's Blog to get updated housing commentary, analysis, and information.