You can smell the end of the summer real estate season as some drunk sellers are pulling properties off the market since they are unable to obtain their ridiculous prices. Funny how expectations work. Some sellers drink the Kool-Aid and suddenly think their home is worth some optimistic appraisal or what a manic market will pay. You even see this in the real estate ads where sellers try to throw in their best curveball on what otherwise is a glorified closet. But hey, prices will only go up so buy with all the confidence in the world and never mind the carrying costs, opportunity costs, or other factors that make buying a more intricate process. The fall housing market always slows down. Now, with foreclosures making a smaller portion of sales, we should expect to see a bit more seasonal changes. However, I just love seeing some of the old neighborhoods where old properties are being sold as if they were newly built quality homes. We are seeing this in places like Pasadena for example. Let us go shopping in Santa Monica and see what we can get with $900,000.
The Republic of Santa Monica and L.A. County
L.A. County is the most populated county in the state of California. More than 10,000,000 people call this area home. The majority of households rent. Yes, that other four letter word. And this trend has only grown since the housing bubble popped. If you want to buy in today's market, expect to find tight inventory and sellers high on believing that real estate is somehow some golden ticket to prosperity. Even with inventory rising and prices stalling out, people are still on the real estate meth of 2013. The 1,000,000 foreclosures since the crisis hit in the state seem to now be a distant memory. Flippers are out in fashion and cable producers are trying each and every way to figure out how they can repackage the idea of selling a piece of shelter. These aren't people creating ground breaking companies, scientific breakthroughs, or reshaping our economy. No, basically handing over a home which is essentially shelter to another person and skimming cash off in the process. That is probably why the allure remains for real estate. Everyone can understand it. Everyone can understand the process of prices going up. It doesn't take a genius to understand a house has a roof, bathrooms, rooms, kitchen, and living room. With a few cable shows under your belt, you suddenly are an expert on recessed lighting, hardwood floors, granite countertops, and stainless steel appliances. You learn about staging, the plastic surgery of home sales. In other words, real estate is the bread and circus for the public. Good luck trying to get the public to understand derivatives, options, high frequency trading, or how the bond market works. For a public that doesn't know Ben Bernanke from Ben Hur, it is understandable how people can get swept up in the winds of mania. Real estate is tangible and not complicated. Yet to make it seem like a no brainer (which it was for a couple of generations) is now out the window especially in high priced markets.
L.A. County continues to grow but at a much slower pace: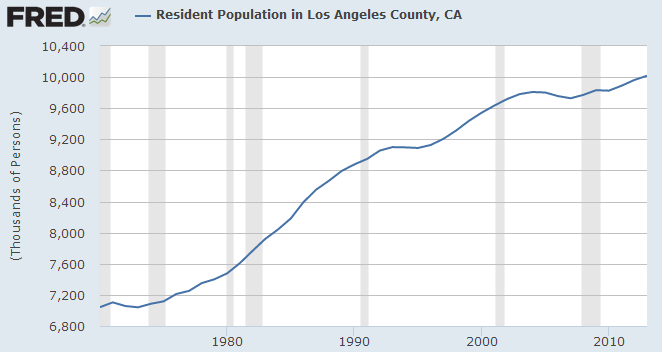 Things are slowing down and most of the recent household growth has been in the form of renters. You also have adult kids moving in with their Taco Tuesday loving baby boomer parents since they don't have the money to pay higher rents, let alone venture out to purchase a home. Mom and dad brought you up in Santa Monica so now you want to live there. You want something modest and something that allows you to be as "successful" as your parents since they bought in Santa Monica as well. Take a look at this beauty: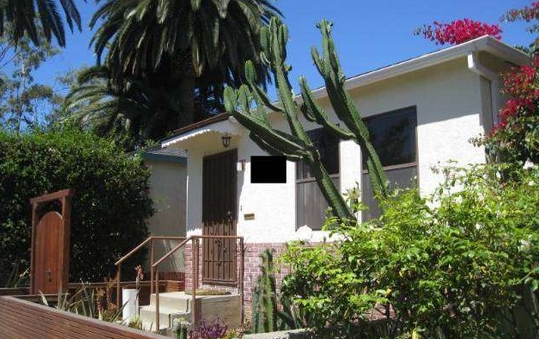 727 Marine St, Santa Monica, CA 90405
2 beds, 1 bath, 730 square feet
730 square feet with 2 beds, and 1 bath. Sure, it might be a bit cramped but you'll be living in Santa Monica! Let us look at the ad:
"Adorable Santa Monica Bungalow located south of Lincoln Blvd offers a comfortable charming desert scape garden and wooden patio/deck. The home has wooden floors throughout, some new appliances and original detailed cabinets, Perfect for a professional or couple. Home also features a 1 car detached Garage with Laundry area. Recent extensive Sewer Main to the Street repairs with 15 year Warranty with RotoRooter, receipt upon request for successful bidder. Limited showings, Tenant Occupied. Please do not disturb occupant."
First, this place is currently rented. Hey! A renter in a prime area, what a stunner. The Zestimate rent on this place is $3,427. What is the current selling price?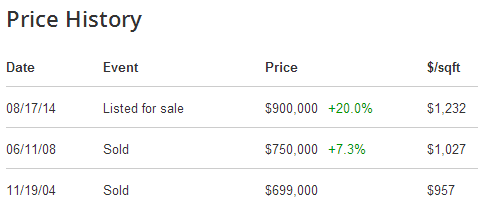 $900,000. Yup, $900,000 for 730 square feet. Feel free to make your bid and commit yourself to 30 years of mortgage payments for this place. The cap rate on this place makes no sense as an investment property. Do you see a professional or couple living in this place for a long time? That is another problem people make because they run the numbers over 30 years. Well in house lusting California people are lucky to last 10 years in a home before they want to "upgrade" into a larger and more expensive home keeping you forever on the property ladder treadmill. Mortgage burning parties are a relic of the past. People love being in debt in SoCal. That is why you have a flood of Purina Dog Chow living baby boomers complaining about Prop 13 or other things as if they were poor yet sit in a million dollar sarcophagus. House rich, cash poor. Yet a home doesn't throw off cash until you sell! Yet people have a hard time giving up the California lifestyle. It is interesting to get e-mails form young professionals that are happy renting in areas with good school districts versus buying in a potentially upcoming neighborhood with crappy schools.
Also, many don't have kids or plan on having kids so who cares about schools. This current first time home buyer demographic has different wants and needs than real estate horny older generations. I'm sure many kids are seeing their parents in prime homes yet living on a tight budget because they failed to plan outside of housing. All money is funneled into real estate via mortgage payments, taxes, insurance, and upgrades at the expense of other financial goals. This is why economist love housing for GDP growth because people buying homes causes a whirlwind of spending in other areas. You have 2.3 million young adults living at home getting a front row seat of the action. You even get advice to save giant sums of money just for the down payment at the expense of saving for retirement. Take this Santa Monica home of 730 square feet and built in 1953. A 20 percent down payment comes to $180,000. And you will still have a $720,000 mortgage for 30 years. Even when this place is paid off, you still have taxes and insurance (and it would be wise to get earthquake insurance as well since many in California seem to forget that we get these).
Los Angeles County is an interesting place. A world with a tinge of Hollywood, good weather, and diverse foods and culture. I view this as a great positive. But you also have many of the new jobs hitting the market coming in with lower wages and less financial security. To pay $900,000 for 730 square feet is crazy but those in the Bay Area might find this a bargain.
If you think this is a good deal, how would you run the numbers? Are you being too optimistic on price appreciation for this place and being negative on the stock market? Compare the rise in prices of real estate and stocks since the Great Recession hit. This place certainly is not a good deal as a rental. So that leaves you with someone buying it for a flip or actually moving in. Good times in SoCal real estate!

Did You Enjoy The Post? Subscribe to Dr. Housing Bubble's Blog to get updated housing commentary, analysis, and information.