Short sales have played a big part in the current housing market.  In the first quarter of 2012 there were over 133,000 short sales, the highest number in three years.  This is an important alternative to foreclosure and a good portion of the distressed inventory pipeline is being washed out via this mechanism.  Short sales in California are making up roughly 20 percent of the sales pool.  An interesting point though is that 39 percent of homes that enter foreclosure have a second lien yet only 4 percent of short sales completed in the second quarter had a second mortgage according to RealtyTrac.  Part of this has to do with the legal barriers of selling a home if there are two or more liens placed on the property.  Short sales also contribute to the fall in foreclosure sales since many properties are exiting the market via the short sale mechanism.
How deep are underwater homes with second mortgage?
Most of the 11 million underwater homeowners continue to pay their mortgage as agreed.  Yet there is a big difference between someone that bought a home for $100,000 and is now valued at $90,000 and someone that bought a $500,000 home now valued at $200,000.  Markets like Las Vegas include homeowners that are incredibly underwater.
Let us take a look at the data on underwater homes between single-mortgage homes and those with second-liens: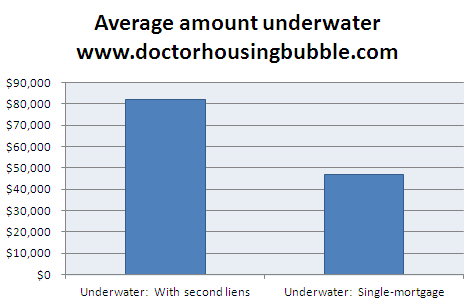 The average negative equity for single-mortgage homes is $47,000 while that of homes with second-mortgages is up to $82,000.  This is a significant figure.  So what has occurred as the distressed pipeline moves lower, short sales with single-mortgages have been making up the bulk of the short sale action which as previously noted, is no small figure.  Yet action on homes with second-liens continues to drag out.  The more likely event for many of these homes is going to be through the foreclosure process which is roughly 15 percent more costly than via the short sale route.
Short sales in prime areas
Short sales are occurring in many areas including mid-tier locations like Irvine: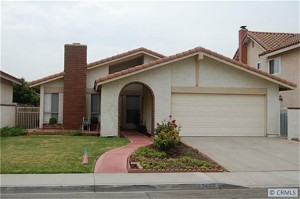 4 bedroom, 2 bathroom, 1,644 square feet, Single Family
This is a good example of what is going on with the mid-tier market.  Here you have a home in a desirable mid-tier area but it is listed as a short sale.  The ad reads:
"**Short Sale Subject to Lender Approval.** Single Story 4 Bedroom/2 Bath in the coveted area of College Park in Irvine. This is a fabulous location with a low HOA. This is a great opportunity to invest or live in Irvine. On quiet street within walking distance to Community Pool/Spa and Elementary School."
Yet if we look at sales history, we realize that some second lien activity is likely to have taken place: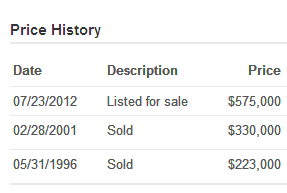 The last recorded sale occurred in 2001 for $330,000 and it is currently listed at $575,000 as a short sale?  Since tacking on second liens doesn't pop up in sales data we don't know how much debt is tagged onto this home but we can guess it is around $575,000 or higher since even at this current sales price it is listed as a short sale.
What is interesting is this home doesn't seem to have a foreclosure filing.  So you can probably see that banks are now more willing for homes to be sold via short sale even before the foreclosure process takes place.  The interesting thing is just a few houses away you have a scheduled auction yet no where does the home appear outside of the foreclosure filing data.
Short sales are a much more common route to sell homes in this hot spring and summer:
Irvine:  638 MLS listings with 139 listed as short sales
Since JP Morgan, BofA, Citi-group, and Wells Fargo hold 48 percent of the $849 billion in second mortgages I'm sure we'll continue to see short sales as a very popular method of selling underwater homes.

Did You Enjoy The Post? Subscribe to Dr. Housing Bubble's Blog to get updated housing commentary, analysis, and information.