The housing bubble is alive and well in certain Westside cities.  Even as the state in other areas like the Inland Empire has found a more reasonable price level, some areas seem to remain in a state of denial.  Prices remain elevated in some markets even though the overall trend is pushing to lower prices.  Santa Monica is one of those locations.  Definitely a prime Southern California niche but current prices are disconnected from market fundamentals.  In all this talk about the bubble and finding a bottom, never do we hear the mainstream media give any actual method for home buyers to measure a reasonable price for a home.  Basically a good price is whatever your mortgage lender will allow you to borrow.  This is actually one of the reasons we got into this housing mess in the first place.  Buyers were empowered with unbelievable amounts of debt and many had no idea how to value a real estate deal besides a few inflated appraisals which somehow conveyed accurate values.
Today I want to provide you with some tangible methods of valuing real estate in your own area.  This should give you some tools to cut through the propaganda and help you arrive at a more fair assessment of home prices.  Today we salute you Santa Monica with our Real Homes of Genius Award.       
Santa Monica home and rental comparison

Santa Monica is a highly desirable city in the Westside of Los Angeles.  As of 2008 87,000 residents call Santa Monica home.  The median income for a household is $71,796.  A large reason for this lower income level is that out of 45,000 households 32,000+ are renters (70%).  The median housing payment for homeowners is $3,744 per month.
That should put the city into context.  If we want to arrive at a reasonable price, we should look at a rental and home for sale that closely resemble one another.  Let us look at our home for sale: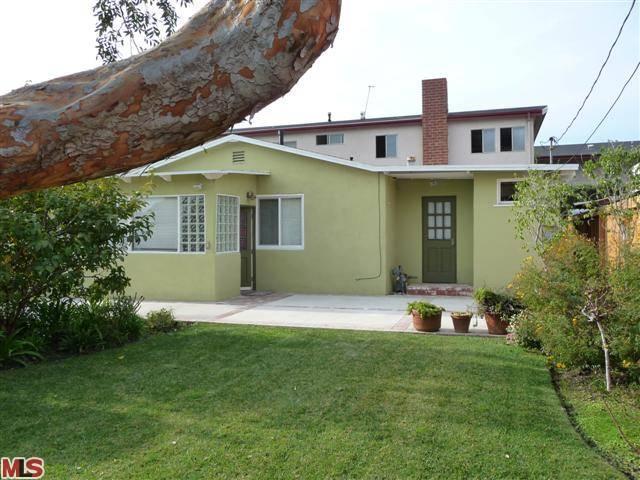 Details
Beds:                     2
Baths:                   1
Square feet:       735
Built:                      1947
On MLS for 86 days
Zestimate:          $574,500
List Price:             $649,000
Believe it or not, this is one of the cheaper homes for sale in Santa Monica.  The home is listed at 735 square feet and with the current list price, will cost you $883 per square foot.  Let us examine the listing details:
"2 bedroom + den/1 bath home with a warm heart and wood burning fireplace. Great starter or condo alternative. Numerous possibilities or move right in. Completely gated, lush landscaping as well as the santa monica schools. A value packed, comfortable home you should see right now!"
$649,000 for a "starter" home.  This is Southern California for you.  I dug deeper to find some sales history on this home:
3/17/1995:                          $190,000
6/19/2002:                          $433,000
If you believe in the current list price, this would mean the home increased in value by $216,000 over 8 years while the majority of Californians saw stagnant wages.  Let us look at a comparable rental in Santa Monica: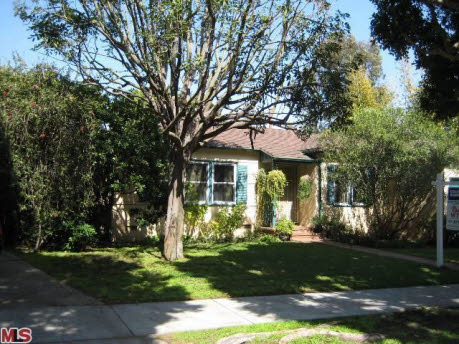 Details
Beds:                     2
Baths:                   1
Square feet:       939
Built:                      1940
On MLS for 86 days
Zestimate:                          $764,500
Believe it or not, the rental has a Zestimate that is $200,000+ higher than the same comparable home.  What is the current lease price for this bigger home with a higher estimated value?  $2,900 per month.
Let us run the numbers of the home for sale assuming we are putting a 10% down payment:
Purchase price:                 $649,000
Down payment:                               $64,900
PITI @ 5.5%:                       $3,992
That is a big payment for a 735 square foot home.  Before running an analysis, let us look at 3 income scenarios: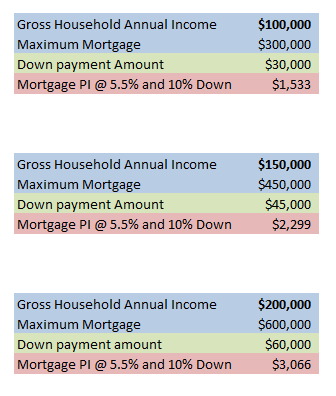 For this home, a household will need to bring in at least $200,000 per year.  I find it hard to believe that a family making $200,000 will want to live in a 735 square foot home but I could be wrong.  The above rules apply to any location.  You should not take on a mortgage that is 3 times larger than your annual household income.  I know in California with Alt-A and option ARMs this might seem ultra conservative.  The first thing anyone should ask before buying a home is how much they can afford.  The above should give you a quick guideline.
Next, we should run an analysis between the rental and home sale.  I purposely selected a bigger rental with a higher estimated value to drive this point home.  Someone buying this home will be paying $4,000 out of their net income each month.  Let us forget about tax deductions for the moment because you are on the hook for $4,000 each month here.
In terms of the rental property, we can run a few investment property scenarios to see whether it is a "good buy":
$2,900 x 12 = $34,800
$34,800 x 12 =                    $417,600
$34,800 x 15 =                    $522,000
When we value rental properties, we can use a 12 to 15 time annual rent figure to arrive at an estimated value.  So for the rental property with a much higher estimate, we get a range between $417,000 and $522,000.  The $649,000 for a much smaller place is much too high by this valuation method.
And let us be generous here.  Imagine you are buying this home not to live in, but to rent out as an investor.  Let us be generous and say that this place will also rent for $2,900:
Annual rents:                                     $34,800
Property management:                                $2,784  (8% rate)
Vacancy:                                              $1,740
Maintenance:                                    $2,610
Insurance:                                           $3,000
Taxes:                                                   $6,000
Net operating income:                  $18,666
Once we get the net operating income, we can try and arrive at our capitalization rate:
$18,666 / (price of home $649,000) = 2%
This is a horrible rate by the way.  The average cap rate for rentals is roughly 6 to 8 percent.  And if you think the above expenses are high, think again.  Anyone that has owned investment property will go with the more cautious side because expensive things have a way of coming up.  A roof replacement in California can eat up $10,000.
If you want to get a value by the cap rate you can solve for the price:
($18,666) / (x) = 6%
X             =             $311,000
Now this is a much lower price obviously.  But this is why when you talk to real estate investors, they will always have fast rules for valuing places like multiplying 10 to the annual rent (i.e., $12,000 x 10 = $120,000) for the price of the home.
But this is Southern California and the Westside is still using bubble metrics for home prices.  Today we salute you Santa Monica with our Real Homes of Genius Award.
Did You Enjoy The Post? Subscribe to Dr. Housing Bubble's Blog to get updated housing commentary, analysis, and information.