Back in May of 2008, the city of Vallejo California filed for Chapter 9 bankruptcy in what became the largest city in California to actually go bust.  Most of California missed this because it was enthralled with the toxic mortgage cookie monster eating away from every city from Anaheim to Yuba City.  Yet this bankruptcy was foreshadowing what was to come for the entire state.  For the entire decade, large salaries and mega pension commitments really were hidden because tax revenues were looking fabulous.  The FIRE economy was spitting so much money that the embezzlement behind the scenes was being hidden in the shower of ill gotten cash.  Sales were raging, unemployment was low, and even if you had no job you could get massive cash advances on credit cards and get by for a few years.  But of course all of this was one giant bubble.  And this Monday a little city know as Los Angeles announced that it'll be running short on cash by May 5th.
"(LA Times) Los Angeles Controller Wendy Greuel on Monday said she expects the city's general fund "will be out of money" by May 5 and that L.A. will likely deplete its reserve funds and be in the red by June 30.
Greuel alerted Mayor Antonio Villaraigosa and the City Council of the city's dire financial situation after the head of the Department of Water and Power stated he would oppose sending $73.5 million in utility revenue to the city treasury. Interim General Manager S. David Freeman said the council's vote to block a proposed electricity rate hike last week threatens to put the utility in a deficit.
Greuel urged the council and mayor to immediately tap the city's reserve funds so that city has enough cash to cover payroll.
"This is the most urgent fiscal crisis that the city has faced in recent history, and it is imperative that you act now. That is why I am asking you to immediately transfer $90 million from the city's reserve fund to the general fund so I can continue to pay the city's bills, and to ensure the fiscal solvency of the city," Greuel said."
Now when Vallejo went into bankruptcy, many commentators were stating that this was an isolated event.  But what isn't isolated is the implosion of tax revenues, the lifeblood of state government.  I went ahead and updated the below chart with the latest data: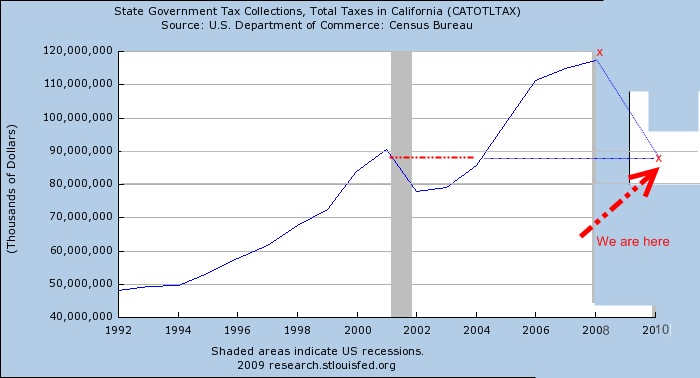 The above has led to a California state budget disaster.  I spent time over the weekend reading about various issues in the current economy.  One issue that is probably going to hit many from left field is the municipal debt markets.  Unlike the federal government states (and certainly cities) don't have the liberty of using the Federal Reserve and U.S. Treasury to print their problems away.  Many states including California are required through their constitution to balance their budget.  The above chart with collapsing tax revenues does not help in reaching the goal of balance especially when expenses are still surpassing revenues.  The equation is simple; you either cut further or you raise taxes.
And those pension fund liabilities are coming due as well:
"(LA Times) The state of California's real unfunded pension debt clocks in at more than $500 billion, nearly eight times greater than officially reported.
That's the finding from a study released Monday by Stanford University's public policy program, confirming a recent report with similar, stunning findings from Northwestern University and the University of Chicago.
To put that number in perspective, it's almost seven times greater than all the outstanding voter-approved state general obligation bonds in California.
Why should Californians care? Because this year's unfunded pension liability is next year's budget cut to important programs. For a glimpse of California's budgetary future, look no further than the $5.5 billion diverted this year from higher education, transit, parks and other programs in order to pay just a tiny bit toward current unfunded pension and healthcare promises. That figure is set to triple within 10 years and — absent reform — to continue to grow, crowding out funding for many programs vital to the overwhelming majority of Californians."
And all this ties into more pressure for the housing market.  Heck, the housing market is a footnote with some of these bigger issues on the horizon.  Let us however focus on the housing market with this as our backdrop.
California Housing Years of Problems
The first and obvious problem is our 12.5 percent unemployment rate (underemployment over 23 percent).  What this means is we have a smaller pool of qualified buyers and sellers out in the market.  We already know that one-third of all mortgage holders in California are underwater.  So the market has some serious issues.  But let us look at the overall MLS data.  First, Southern California: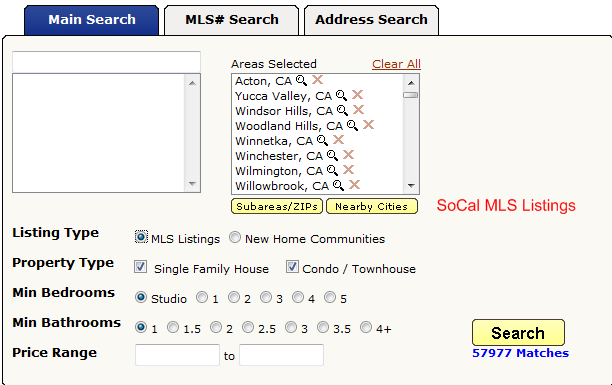 Then we add in Northern California: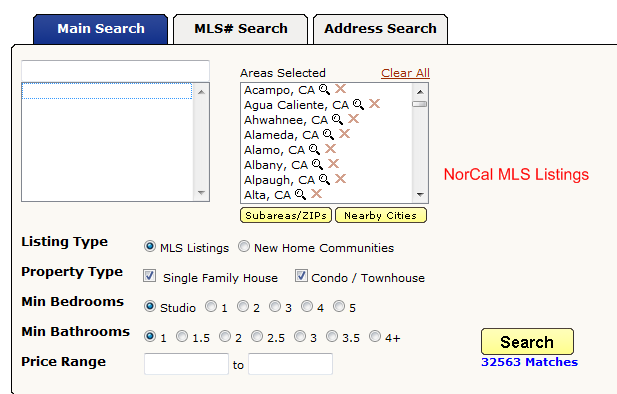 Through this search we find 90,540 homes on the MLS.  But I wanted to expand the search: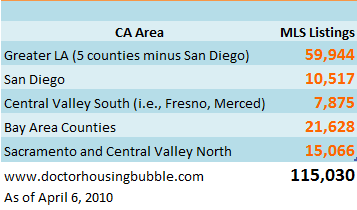 With a wider search we find 115,000 properties (this includes condos).  So let us say that California has 120,000 to 125,000 homes listed on the MLS for public view just to be conservative.  Now this certainly doesn't seem like a large number for a state with some 38 million people.  In any given time, (this will come off as captain obvious) you should not have more distress property than healthy property on the market.  Right now, the shadow inventory dwarfs the MLS data: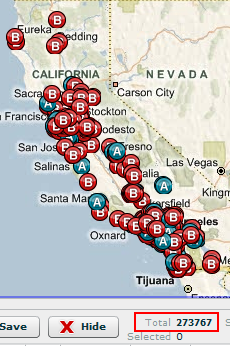 In total California has over 273,000 foreclosure filings (i.e., notice of defaults, scheduled auctions, and bank owned homes).  Keep in mind that the MLS reflects a large percentage of this.  When I was tracking this data carefully for SoCal it was roughly one-third of MLS data.  So in reality, California may actually have 75,000 to 100,000 healthy homes on the market and 273,000 distressed homes.  We have never been in a position like this so to say we are seeing signs of a healthy market are nonsense.  Many are making a bet that things can't get worse in some markets.  Yet we've never had this much distress property so there is no historical tale to give us a hint as to how things will play out.
People do quick math as well on these things.  They say that California last month sold 28,000 homes; of this 44 percent (12,320) were foreclosure resales.  At that rate we'll burn through the distress inventory in:
273,000 / 12,230 = 22 months
This assumes that foreclosure filings freeze in time today.  Well with option ARMs and other junk entering their judgment period, this number will increase.  Plus, people tend to forget that life actually goes on.  People retire, marry, divorce, have kids, and leave for jobs and this is part of the normal market in typical times.  People ask me what is a good metric to use to figure out when we reach a more normal market.  First, we should look at notice of default filings: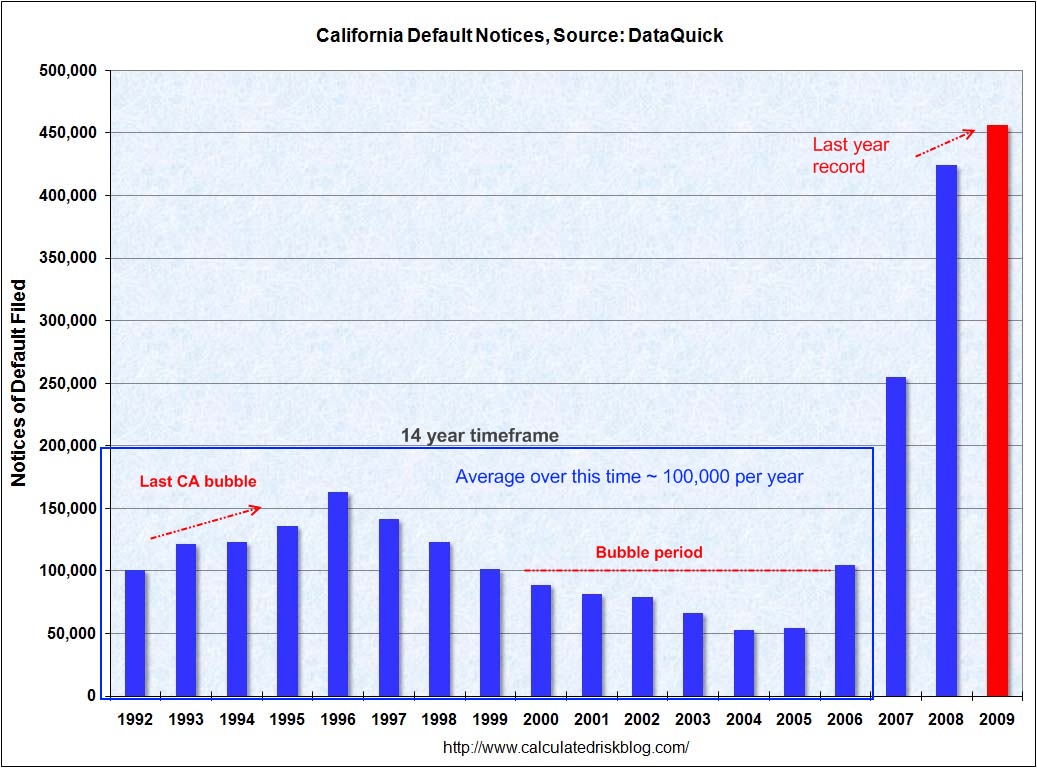 Source:  Calculated Risk, my edits added
2009 was the worst year on record.  Over a 14 year period in more "normal times" (aka no option ARMs, interest only, and other craptastic mortgages) the average number of default notices filed was 100,000.  But keep in mind, that in these times foreclosures were low as well because many loans "cured."  Take for example Q4 of 2009:
NODs:   84,000
Trustees Deeds Recorded:          51,000
But run these numbers for another time and you'll see how out of whack things are today:
Q3 2001
NODs:                   18,673  (4 times less than Q4 of 2009)
Trustees Deeds Recorded:          5,104 (10 times less than Q4 of 2009)
Keep your eye on that NOD figure: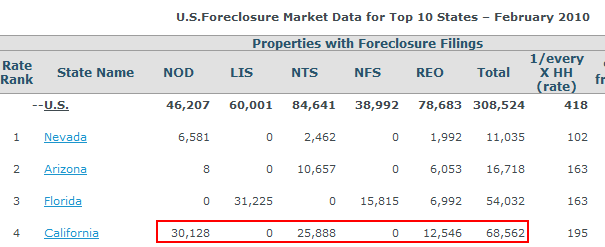 Step one in seeing a recovery in housing?  Getting that NOD number back at a rate of 100,000 per year.  But this isn't some pie in the sky economic theory.  When NODs get filed (if they even get filed if banks aren't sitting around doing absolutely nothing) this is a reflection of someone struggling.  This is someone that hasn't paid their mortgage for at least three months.  I've had people e-mail me telling me they have yet to get a NOD after 12 months of no payment!  It seems recently things have streamlined but make no mistake, NODs are a reflection of actual economic pain.  So this has to fall before any recovery talk.
The next indicator?  Tax revenues.  Since California taxes everything (i.e., sales, property, income, corporations) we have actually a fairly good read on the pulse of the state.  If you look above at the first chart, tax revenues are still at the low of this contraction.  Until this improves, no recovery.  And make no mistake, that warning from that L.A. Controller will likely mean higher taxes or less services.  That is the only way to balance.  I've talked with a few investors renting property in lower priced areas and they are "shocked" how slow city services are to respond.  Just wait until they have an issue with a tenant.  California is not a landlord friendly state.
Until that time, I'm cautious about any recovery talk especially for the state.  I'm now seeing more mainstream articles talking about the second wave tsunami.  Some of this is coming from an increase in short sales and from banks gearing up the crap that was built up after HAMP failed because it didn't address the obvious.  Of course it failed.  This is what happens when you spend two years ignoring the main nucleus of the crisis, jobs.  In fact, we are so deep in the rabbit hole that Citi is now offering a $500 temporary mortgage payment for the unemployed!  What the hell is this?  What about renters that are unemployed?  Apparently they don't count just like the 273,000 properties in shadow inventory that supposedly don't exist.
Did You Enjoy The Post? Subscribe to Dr. Housing Bubble's Blog to get updated housing commentary, analysis, and information.