It is hard to believe that there is a market more constrained than the one in Southern California but there is.  San Francisco is really in a world of its own and makes the SoCal housing market appear calm. But comparing crazy and crazier might not help those looking to buy.  A few colleagues e-mailed me about the massive jump in rents up north.  San Francisco has been a very expensive market for a long time.  The homeownership rate in San Francisco is very low.  In expensive Los Angeles County about 50 percent of households own their home.  In San Francisco County it is closer to 36 percent.  San Francisco rents have gone up dramatically in the last year or so with the median rent in San Francisco hitting $3,100.  Keep in mind this isn't for a typical home and more likely for your standard apartment.  The rise in rents obviously hits the bulk of the city given that most rent.  Let us look at what is going on up in Northern California.
San Francisco and rents
Both home prices and rents have gone up dramatically in the last year.  Take a look at data for Northern California: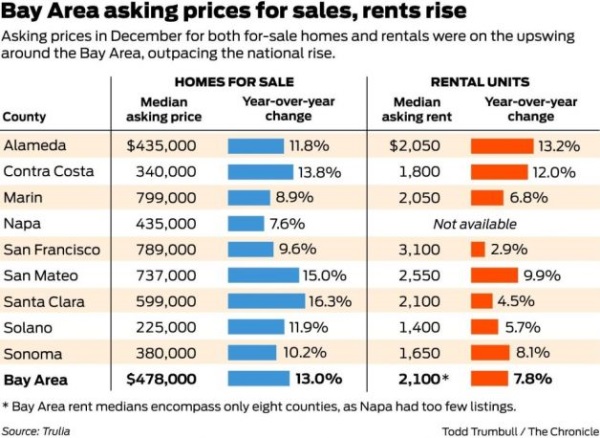 Source:  SF Chronicle
The median rent in San Francisco is now $3,100.  The median home price is $789,000.  The median home in San Francisco County went up by 9.6 percent.  Most areas saw double-digit increases in rents and home prices in the last year.  San Mateo County saw home prices go up by 15 percent and rents go up by 9.9 percent.
This is why the homeownership rate in San Francisco is so extremely low: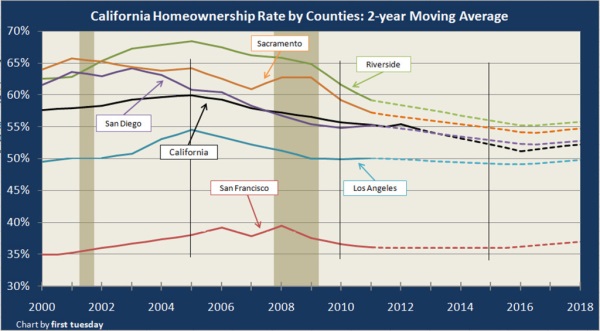 Even at the peak of the mania where California saw record homeownership, San Francisco never touched the 40 percent mark.  Since that point, it has steadily declined.  If you look at the chart above, homeownership is correlated with the price of housing.  The cheaper the area, the more likely you are to have homeowners.  Makes sense.  A place like Riverside County with more affordable housing has a homeownership rate of 60 percent, closer to that of the nation.  Overall however the bursting of the housing bubble has pushed homeownership in California much lower.      
Then you look at San Francisco above and see how detached it is from the rest of all the other areas.  Homeownership in San Francisco is extremely rare at 36 percent.  What is interesting, is that an area with many more people like Los Angeles does not have the home search activity that you see up north: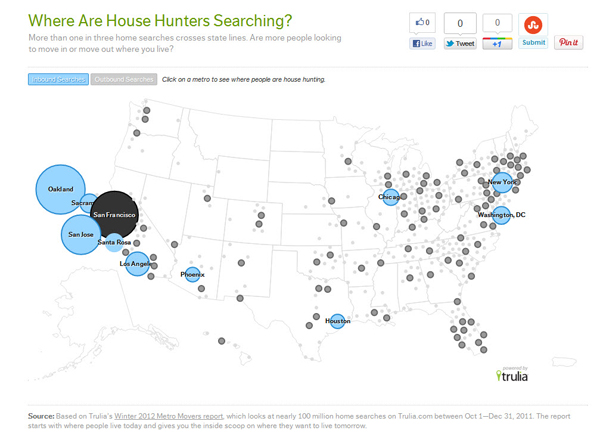 The above is an interesting graphic, what you find is that many people in San Francisco are looking for housing outside of the area (most notably counties close to the area).  This is why you see Oakland, Sacramento, San Jose, and Santa Rosa light up while San Francisco shows high outbound activity.  Does this mean people will act?  Unlikely given that many people are willing to go the route of super commuters.  I'm sure many of you saw a study regarding "mega-commuters" where people spent at least 90 minutes (each way) in traffic and travel 50 miles each way.  The area with the highest percentage of mega-commuters?  You guessed it, the San Francisco area: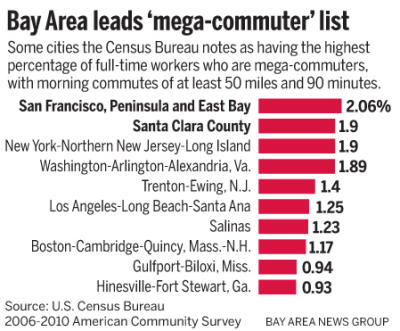 A couple of things I will add here.  While there appears to be interest in moving out (outbound housing searches from those in San Francisco) people are unlikely to make big leaps.  Hence the real figure of mega-commuters in San Francisco.  Many just went more inland and purchased a home to deal with the long commute.  Ironically San Francisco has some of the strongest rent control laws in the country covering most apartment rental units.
One of the biggest reasons for this is this exemption:
"You live in a building constructed after June of 1979. This "new construction exemption" is the biggest exemption in SF and can not be changed Click here for link to Assessor's database, where you can usually find out the date your building was constructed."
Well of course in California's older areas, most of the building took place prior to 1979 with very little new construction since that period.  Of course San Francisco is plagued by the same massive drop in inventory that we are seeing throughout the state.  Year over year inventory fell to the tune of 68 percent.  And what you see is that a large percent of inventory in San Francisco is already rented.  Given the hot rental market, you probably have fewer landlords tempted to sell and they are already used to the business.
It is hard to believe that there is a region in California that makes Southern California seem a bit more calm.  If you are in San Francisco as a buyer or a renter, good luck.

Did You Enjoy The Post? Subscribe to Dr. Housing Bubble's Blog to get updated housing commentary, analysis, and information.