60 percent of the people in the state of California live within the 56,512 square miles that make up Southern California.  22 million people in a car obsessed region.  Take a trip on any of the major highways or boulevards during rush hour and you will definitely get a taste of this congestion.  From the looks on people's faces, they are not doing this simply for pleasure.  Most Californians spend a good amount of time driving to and from work.  The cost of commuting for many has been blindly accepted as a cost of doing business to live in the area.  Many middle class Californians simply accept this as a part of their daily reality.  It is amazing how many hours of lost productivity occur by people stuck in traffic or driving to and from work.  The employment hubs usually have very little residential housing and most Californians opt to live miles away from work.  We have many commuting from the Inland Empire into downtown Los Angeles and Orange County on a daily basis.  What is the true cost of the commuting culture in Southern California?
True Cost of Commuting
It is very typical for people to drive 20 to 40 miles on one way commutes in California.  It costs money to maintain your car from fueling up, insurance, and regular maintenance (let alone the mental toll it takes on people).  The IRS provides annual standard mileage rates.  For 2012, the rate for each mile driven was 55.5 cents.
Keep in mind that many two income households have two commuters so the costs are multiplied twice.  I went ahead and calculated these figures for various round-trip mileage scenarios: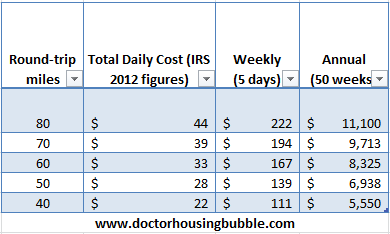 These commutes are very common but I doubt people really consider the true cost of their driving habit.  Plus, many take their cars out on vacation as well adding more miles.  Take for example a couple commuting in from Riverside into Irvine: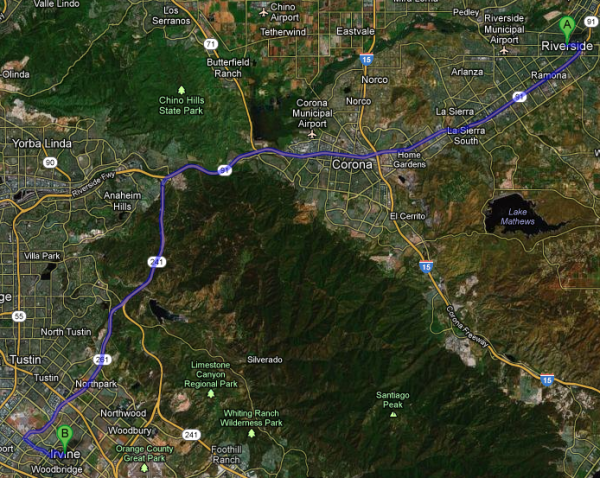 Approximate mileage:                   40 miles one way

Approximate commute time:     1 to 2 hours (each way depending on traffic conditions)
For each person taking this trip, they are dropping $44 per day on the commute.  Keep in mind there are many costs to driving including:
-Fuel
-Maintenance (i.e., oil changes, tires, brakes, tune-ups, etc)
-Car Insurance and Registration
-Car payment (many have leased or financed cars)
A 40 mile one way commute is likely costing you $11,100 per year.  This is not farfetched when you consider the monthly car payment on many new cars to be $500 alone (or $6,000 per year).  If two people in the household are making this commute, the actual annual cost is up to $22,200.  After 10 years this is a cost of $222,000 and just imagine if this money was actually invested?
This commute from the Inland Empire (Riverside and San Bernardino Counties) into Los Angeles and Orange County is very common.  But you also have people driving from LA to OC and OC to LA for example.  Now consider this in context to this data:
Riverside County
Median Household Income:       $52,883
Paycheck California: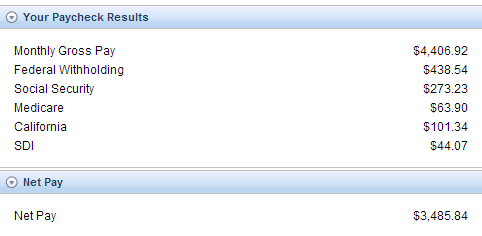 Given a net pay of $3,485 that $22,200 per year in commuting costs takes on a bigger meaning.
Lost Hours of Productivity
The median home price for homes in the Inland Empire are much more affordable than in LA and OC:
Median home price
Riverside County:            $229,000
San Bernardino:                                $183,000
Given the historically low rates on the market, buying in these areas would likely make a lot of sense.  Yet I would seriously only examine this if you lived and worked out in these regions.  Many middle class Californians feel that in order to buy a home, they need to drive to qualify as some in the real estate industry put it.  In the context of commuting costs, how much is it really worth?
Also, keep in mind that assuming a fortunate one hour commute each way from this distance, you are spending 10 hours a week in the car.  In essence many Californians are adding one additional workday with no pay just to get to work.  Millions of Californians do this on a daily basis and I rarely hear about the above details which reflects a culture that simply assumes that driving is an absolute must for daily existence.  Just like housing, I think many simply focus on the monthly payment and miss the bigger picture.
It is far better to rent or lease close to your place of employment rather than living very far from your work to purchase a home.  Some take on brutal commutes just to buy a place.  I think if people really did the commuting calculations, they would realize the cost of purchasing their home would take on an entirely new perspective.  I completely understand the deep desire to own a home but from an economic perspective, I'm not sure if people realize how expensive of a proposition they are making by locking into a long commute.
Take that hypothetical couple commuting from Riverside into Irvine.  After ten years, simply by socking away their commuting costs they can purchase a home in Riverside outright.  The catch is finding employment where you live.  So why not live close to work and bank the savings?
People think that prices only go one way with real estate.  Let us look at the median home price for Riverside County ten years ago compared to today:
Median home price:  Riverside County
November 2002:              $228,000
November 2012:              $229,000
And keep in mind the current median price is already inflated by the artificially low Fed interest rate and the massive amount of investor buying.  This implied cost of commuting is also a reason why single family homes near employment hubs cost more as well.  For the typical household, say every hour of productivity is worth $25 so you are also facing an opportunity cost by being stuck in traffic for hours on end.
The reason large down payments are so rare in California is that the vast majority of people simply fail to look at the bigger picture.  The cost of commuting is large and many people make it more expensive by financing their car purchases.  Ultimately when people buy a home they are also buying a lifestyle.  To actually buy and commit to a long commute is a very expensive proposition.

Did You Enjoy The Post? Subscribe to Dr. Housing Bubble's Blog to get updated housing commentary, analysis, and information.