There tends to be this myopic view in California regarding the housing market.  People forget the relatively young history of the housing market and the trials and tribulations associated with owing a property.  Many people also suffer a dramatic case of confirmation bias to justify their house lusting ways.  It might make paying that mortgage on the $700,000 crap shack much more palatable.  In expensive places like California, the market has spoken and people are largely shifting to renting properties.  The numbers are abundantly clear despite the house humping rhetoric for those trying to jack up the housing cheerleading.  The cheerleading is getting incredibly loud with zero down mortgage in the Bay Area and with the Super Bowl ad showing us that you can get a mortgage with the "click of a button" like buying a café latte at Starbucks.  Sounds reasonable to me that you are making the biggest purchase of your life over your iPhone in one second.  But this speaks to the financial amnesia where people just want to get into markets at their peaks and are fully driven by emotion.  So let us look at the pros and cons of buying versus renting.
Housing is overrated as a financial investment
First, housing is overrated as a financial investment.  The last median home price for a U.S. home is $288,900.  The latest data on median US household income is $53,657.  So the typical US home costs 5.3 times the annual US household income.
Run these numbers for Los Angeles County. The latest median price for a home in L.A. County is $516,000.  The median income for a household in L.A. County is $61,094.  So the typical L.A. County home costs 8.4 times the typical L.A. County household income.
This matters because it means a significant portion of your wealth is tied up in one asset.  Economists are largely in favor of diversification.  It is easier of course to diversify with stocks than it is with real estate.  Also, homes don't pay out a dividend.
The U.S. homeownership rate is declining because home prices are up: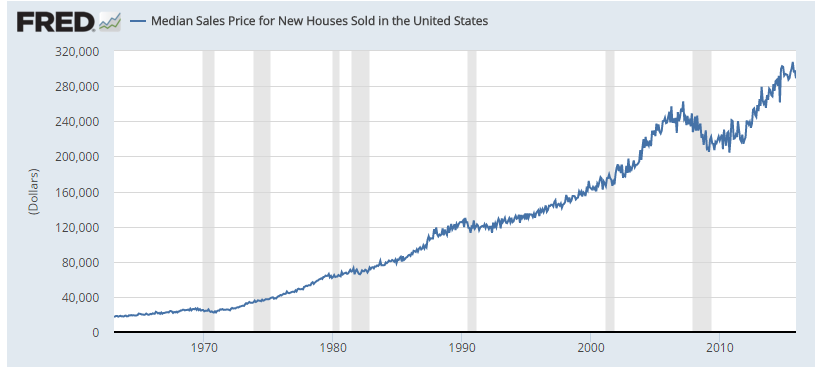 While household incomes are stagnant: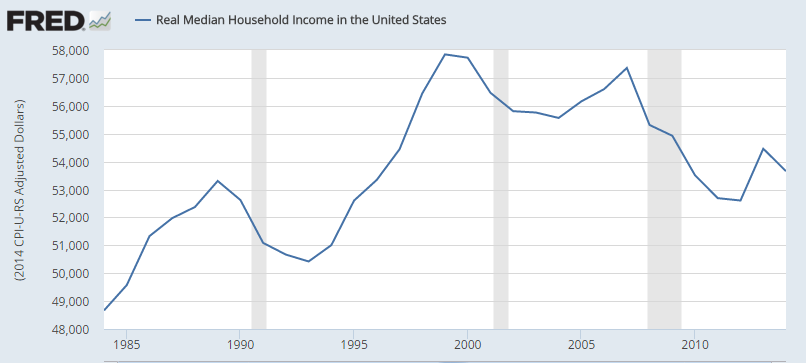 In California over the last decade we have a net loss of homeownership households while renter households are up dramatically.  In general tying up most of your wealth in real estate is not smart.  And in California, to save up for that 20 percent down payment to be competitive against all cash offers, is going to take a lot of money (in the Bay Area with the typical house costing $1.2 million it will require a down payment of $240,000).
Homeownership locks you into one location
We've provided evidence and data suggesting that Millennials don't have the same housing needs as Taco Tuesday baby boomers.  Many don't crave the McMansion life and many won't be at one job forever.  The problem is that houses lock people into locations.  Some will argue that you can sell but that is in an up market.  Just ask the millions that sat underwater for a decade or so.  If your job shifts you may need to do a brutal commute (as some do in the Inland Empire) or actually sell for a loss.  People then lock in for the wrong reasons.  When jobs disappear and home prices fall, people stay put for too long instead of moving for better opportunities.  What is interesting is there is empirical evidence suggesting higher homeownership predicts higher unemployment.  You can read "Does High Home-Ownership Impair the Labor Market."  In this way, Los Angeles County being a renting majority county is a good thing.  It is also interesting that in San Francisco with many high paying jobs, the homeownership rate is incredibly low.
Another issue is the housing market turning into a commodity and speculation being rampant.  This essentially forces people to become speculators in an asset class that was once tame.  Most of the arguments for buying look in the rearview mirror feeding into a confirmation bias.  Yet today, even some of these people if they are reasonable will argue prices are overheated.  Yet there are absolutely benefits to owning.
The positives of owning a home
People enjoy houses to decorate, have barbeques, and to stay put.  One big topic that is rarely discussed is that homes now come with an ancillary asset, that of public schools (assuming there are good public schools in the area).  This is where some economists argue for school vouchers – vouchers would break the deep connection between where you live and what school you attend.  This would give working class people a better chance at attending schools if homes and schools weren't bundled.  You see this in certain areas with crappy and poorly built homes but excellent schools.
Another perk is the principal pay down.  A home is like a forced savings account assuming you have no discipline, which many do not have as highlighted by the pathetic amount saved for retirement (if any) by most households.  However in high priced areas, the delta between your total home cost and what you can make in other investments makes the decision tougher.  You are betting on a diversification folder of one item versus a broader approach.  Economists agree, being diversified is good.  Also, there is no guarantee that in 30 years a home in a high priced market is going to outperform the market.  In fact, data suggests that homes will lag the stock market in the long-term.
This leads into the dumb logic of "well the stock market is down" by say 20%.  Stocks lead and real estate follows.  Okay, you have a stock portfolio of say $140,000 and now it is down to $112,000 (a drop of $28,000).  You still have $112,000.  But say you bought that $700,000 crap shack with the $140,000 as a down payment and prices dropped 20 percent (now that home is worth $560,000, a loss of $140,000 and you still have a mortgage of $560,000 that needs to be paid back).  You lost your down payment and with selling costs running between 5 and 6 percent, you may need to bring funds to the table to sell.  Leverage works bought ways yet house humpers only see up.
Another benefit is the hardcore marketing behind the "American Dream" of owning a home.  This is deeply psychological.  I can sense the sadness and desperation in some emails when people ask me if buying is the "right" thing to do as if they were living in sin renting.  Ultimately you are paying for a roof over your head.  Do you feel better giving money to banks or a property owner?  Many economist feel the tax code is heavily biased towards homeownership.  The mortgage interest deduction is seen as "A Senseless Subsidy" by many economists since it subsidizes housing for the wealthy.  Most Americans don't even realize that with the standard deduction, they get relatively little back for owning a home after all expenses are factored in.  Regardless, the tax code tilts in favor of owning, especially owning rental property (this gives you the tax benefits of owning property and also the monthly rents – serving as a dividend).  Wall Street ate this up since the Great Recession hit and has become the biggest landlord in the country.
It is also interesting to note that behavioral economics shows that people get used to owning a new home very quickly.  But you never get used to commuting.  So if you have this as a choice always live closer to work.  This might be worth listening to for those living in the Inland Empire and commuting into L.A. or O.C.

Did You Enjoy The Post? Subscribe to Dr. Housing Bubble's Blog to get updated housing commentary, analysis, and information.