There has been a very strong trend of shifting from homeownership to renting over the last decade. This is a dramatic reversal from the peak reached in the 2000s where homeownership reached a historical apex. Sure, this was brought on by making up income, taking on massive leverage for the biggest purchase of your life, and pretending the middle class was not shrinking but it was fun to act as if everyone was rich right? Clearly that is not the case and we now find the homeownership rate of today is now back to where it was 20 years ago. Baby boomers overall are not pleased that their kids are now part of a hyper competitive market and many of their offspring are now back living at home rocking out in their rooms with Nirvana and Pearl Jam posters. They'll need to make some room for the younger kids as well since many of these are coming back home to their Britney Spears inspired rooms. People are still itching to buy but their incomes simply cannot support those $700,000 crap shacks. This is the large reason for why sales are down and inventory is up. The assumption is that many of these younger households are slowly going to pop out of their parent's home and makeup a new part of the buying pool. So far the data does not show that to be the case and you would expect that to be happening right now since technically, we've been out of recession since the summer of 2009. The US is in a massive renter nation trend.
Renter nation galore
There has been a big shift from homeownership to renting and this trend started at the apex of the last housing bubble. What is also interesting with this trend is that more single family units are now available as rentals courtesy of your new feudal landlords. This is another trend to follow since the allure of being a feudal landlord with renting serfs is losing some draw in high priced states and investors are voting with their dollars. In the past, big money focused on apartments for rents versus single family homes to leverage economies of scale (i.e., one property manager, one roof, one area, etc). This trend of big money buying single family homes for rentals for a sustained amount of time (since 2008) is rather new.
It might be useful to take a look at this trend with actual Census data: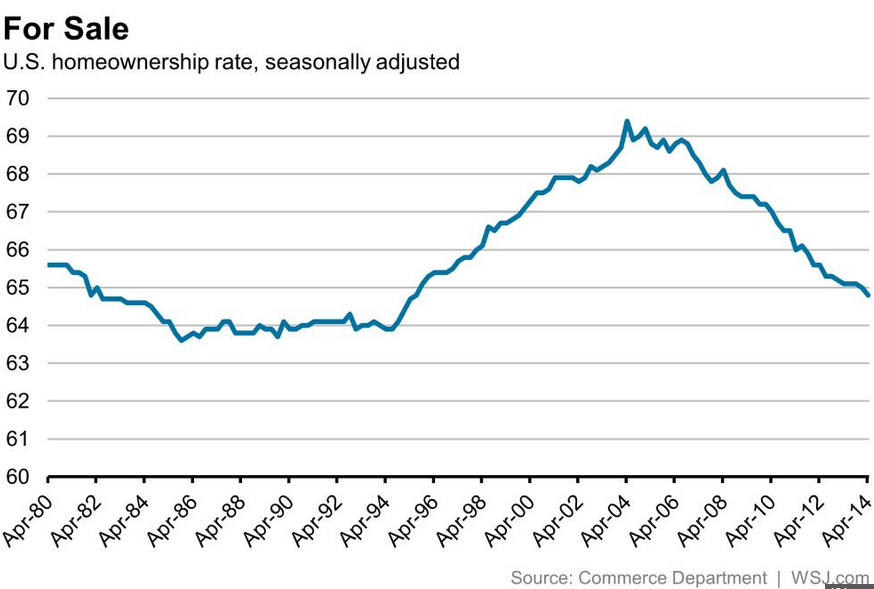 The trend is rather clear here. We hit an apex early in the 2000s and then the shift started as more households were unable to buy in spite of every imaginable toxic mortgage product you can think of. Of course, it took a few years later for this reversal to show up in prices.
This trend of renting versus buying is actually a new one looking at historical data. Take a look at household changes over the decades: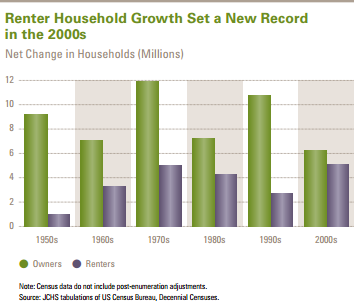 Every decade going back to the 1950s saw a lopsided win between buying versus renting. This trend held steady all the way until the 2000s. What is interesting is that we can argue that in the 2000s, this was the easiest time to purchase a home given there was no need to substantiate income, had the ability to go 100 percent LTV (and higher on some products with costs rolled into the loan balance), and simply needed a pulse to buy. Can't get much easier than that right? What happened of course is that the shrinking middle class wanted to pretend that incomes were not truly shrinking and the American Dream still included homeownership. So what to do? Leverage up baby!
The young and the homeless
There are reams of data showing that young Americans are very likely to be less affluent than their baby boomer parents. In California alone, you have 2.3 million adults shacking up with parents. No, we are not suddenly becoming Italy but simply put, people can't afford to buy or even rent in most cases. And this is why we have this trend: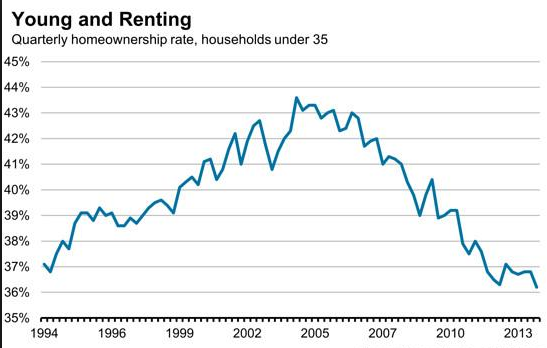 It is no coincidence that the peak of homeownership for the young coincided with the peak homeownership rate overall. Younger households took the brunt of the housing bubble. They had lower incomes and went into deeper leverage to purchase. They probably were also more junior in their careers and did not have a war chest to weather an economic hiccup. Many lost their homes in that graveyard of 7,000,000 foreclosures.
What is also fascinating is that since the market crashed, big money investors have purchased a large share of single family homes to convert to rentals. The trend is rather clear. Many are too broke to buy so why not rent? Take a look at this chart: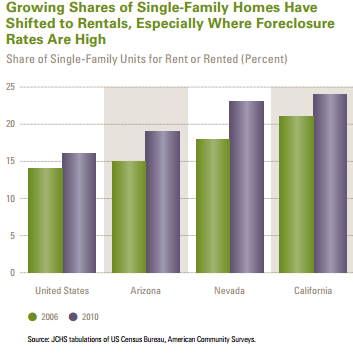 California has one of the highest share of single family homes for rent as a percentage of all single family homes available. Nevada and Arizona also have a very high percentage. It is no surprise this has happened in states that took a front hit by the foreclosure crisis. A large percentage of buying since 2008 has gone to investors, many with the idea of turning these places into rentals.
Starting in the middle of 2013, there was a clear shift that investors were pulling back from the single family home market. Because of this, we have seen inventory rise: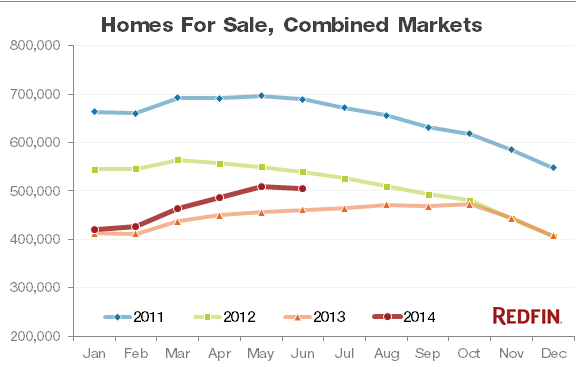 Source:  Redfin
This trend is a reversal from the last four years of data. What you also find is in areas with manic price increases inventory has jumped up even faster: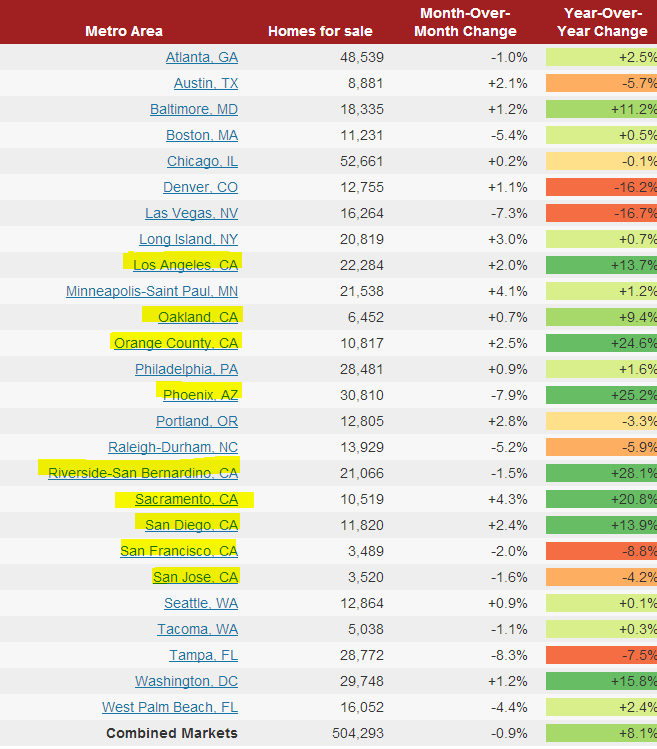 Source:  Redfin
Virtually all of SoCal has seen a big jump in inventory. As a buyer, you have more to pick from but you also have to pay the current price. The only California location that has seen inventory drop is the Bay Area (the tech boom is still sizzling).
Some would argue that the youngest of potential home buyers is the big problem here. But look at those 35 to 54 (not exactly the young and the restless here):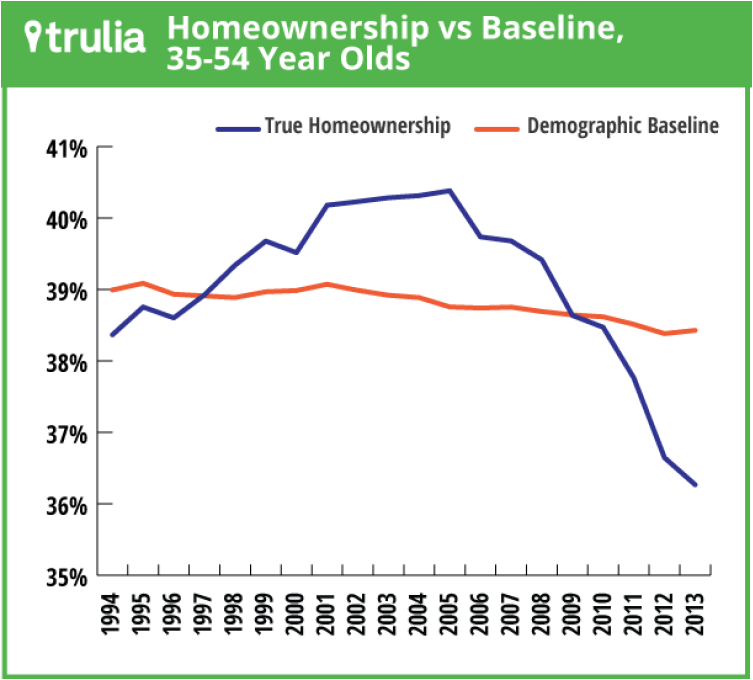 The only group that has held steady has been baby boomers and those in older generations. Of course given current income trends and the multitude of data above, it should be rather clear that this renting trend is here to stay at least for the next few years.

Did You Enjoy The Post? Subscribe to Dr. Housing Bubble's Blog to get updated housing commentary, analysis, and information.