There was an interesting study out of Arizona showing that many underwater homeowners don't walk away from their mortgage because of moral reasons.  Well they have yet to get a taste of the Alt-A and option ARM problems that will hit California in the next few years.  Another study showed that many in California and Florida had no qualms walking away from their obligations.  We now know that being underwater is the biggest risk factor in predicting a foreclosure.  This should go without saying because if you had some equity you would merely sell the home and exit the game.  I can understand the moral argument if say someone had a $120,000 mortgage and the home is now worth $100,000.  In that case, walking away isn't a big deal.  But in California with a $500,000 option ARM on a home that is worth $250,000 walking away is the right economic move.
The big question will be whether homeowners in California respond to the Wells Fargo and Chase interest only home owner renter program for example.  You haven't heard?  The plan is to basically convert option ARMs into interest only payments for six to 10 years.  In other words, you will be betting home prices speed up in this time to recoup your massive losses.  The bank of course is the big winner here.  If you can find a cheaper rental chances are you would be better off letting the place go unless you are happy keeping an albatross around your neck just so the banks can claim inflated values so they can please each other on crony Wall Street.
How underwater is California?  Roughly 7 million mortgages with 2.4 million underwater.  Throw in another 300,000 of "near negative equity" and you have yourself approximately 40% of all mortgages with negative equity.  Forced renters for the moment, but more like real estate speculators.  This isn't only a California problem.  Let us pull a report from Deutsch Bank that was released in July:
1 out of every 4 homes is underwater.  The number of homes underwater as of the end of Q3 is approximately 11 million.  DB is projecting that when all is said and done, 25 million mortgage holders will be underwater in 2011.  That is a bit pessimistic but when it comes to housing, it is hard to say where the bottom is given current programs like HAMP.  By the way, preliminary figures were released on HAMP this week and an abysmal number of permanent loan modifications were made.  As it turns out, people don't want/can subsidize the banks' zombie desires on eating the financial brains of homeowners with no job or negative equity.  With job losses in many areas, people may need to relocate and may need to sell their home.  Do you think many will let a good job pass in this economy because they are underwater?  So far the data says no.
Let us look at some of the larger California metro areas: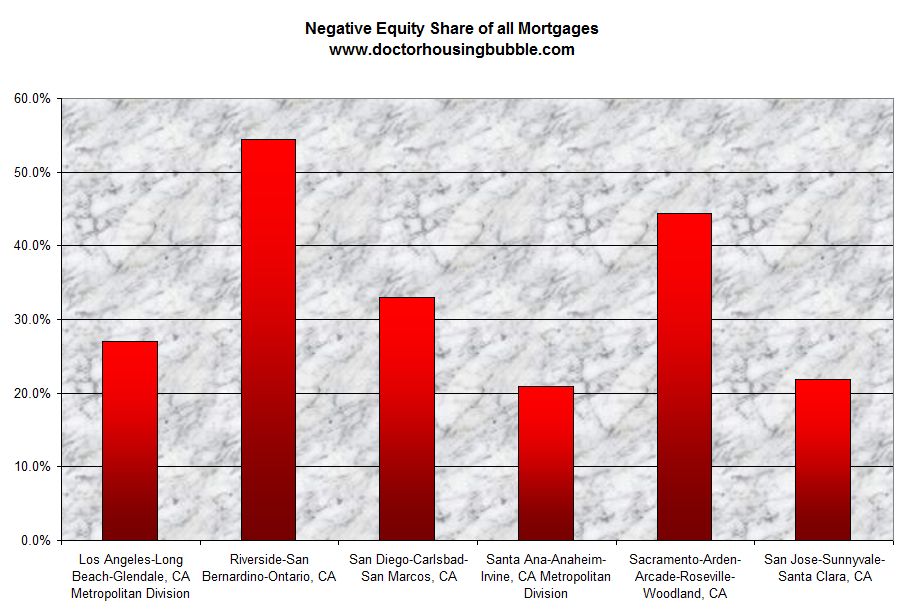 The Inland Empire and the Central Valley have been devastated.  With over 50 percent of mortgages underwater, there will be pain in these areas.  This is part of California and this will add major burdens on central state governments.  Upkeep on empty homes, rising crime, and surging unemployment.  How is this good for housing?  I have yet to hear a good argument showing how the economy in California will pull up housing prices.  The only argument the housing cheerleaders have is, "well just look at those price drops!  This has to be the bottom!"
As I have discussed for years, the housing price decline will happen in stages like tipping dominoes.  First the lower cost areas like Compton and the Inland Empire will get slammed because of their concentration of subprime loans and lack of income support.  This stage has already happened and will continue to happen.  The next phase was more middle class areas would take a hit.  This is already happening as well if you look at areas like La Mirada or Lakewood.  Prices have fallen but are still in the process.  The next phase is the higher mid tier and the upper tier.  Today's homes look at lower priced properties in a prime city.  It is funny how the caveats get narrower as time goes along.
-It will never happen in L.A. County!  Prices will only fall in the Inland Empire
-It will never happen in Pasadena!  Prices will only fall in L.A. County overall
-It will never happen in prime Pasadena!  It will only happen in 00000 zip code of Pasadena
Today we salute you Pasadena with our Real Home of Genius Award.
Pasadena Non-Prime to Prime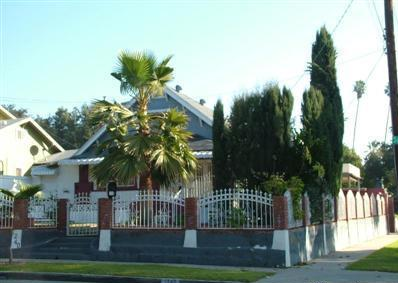 As it turns out, the name of city is not enough to keep prices high.  The above home is listed as a 3 bedrooms and 2 baths property.  Listed at 1,303 square feet it was built in 1905.  In California this is considered a modern home.  The property has been listed for 104 days.  Let us look at the sales history first:
08/27/1996:        $148,000
03/23/2007:        $510,000
This home is now a foreclosure.  Let us look at the recent pricing action:
Price Reduced: 10/01/09 — $199,900 to $159,900
Price Reduced: 11/04/09 — $199,900 to $153,504
Price Reduced: 12/07/09 — $153,504 to $147,364
We are now back to the 1996 price point.  Lost decade?  Indeed.  A 71 percent price drop in Pasadena.  Price drops are happening everywhere.  But let us pick another home just to show that there is more than one property that fits these criteria.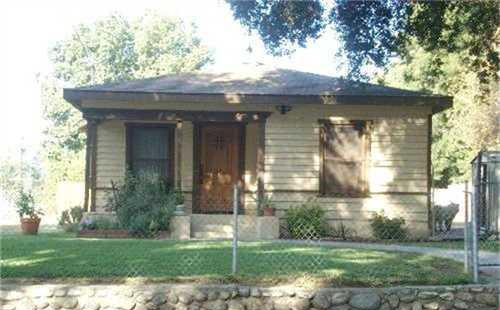 The above home is a 2 bedrooms and 1 bath home.  It is a smaller place at 888 square feet.  Let us look at some sales history here:
Sold 02/17/2006:              $370,000
This home is now listed as a short sale at $280,000.  Nearly a $100,000 price cut in 3 years.  You want to keep moving up the Pasadena food chain?  Let us go on then.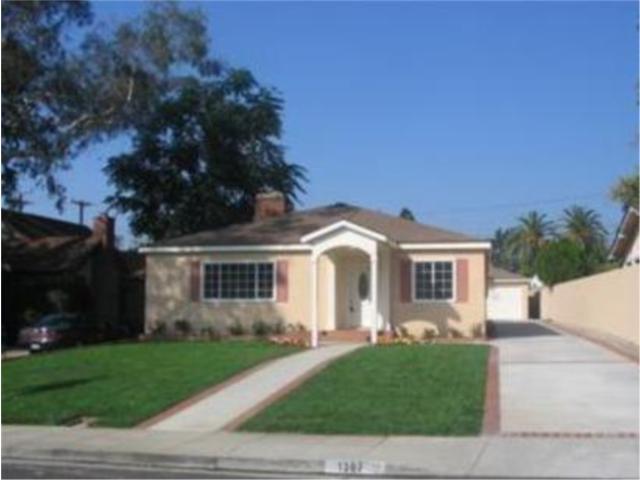 This home is a 3 bedroom and 2 baths home.  It is listed at 1,728 square feet and has been on the market for 84 days.  This home is bank owned.  At one point in 2005 this place had $750,000 in loans.  Today it is listed as follows:
Price Reduced: 10/16/09 — $557,750 to $541,018
Price Reduced: 11/13/09 — $541,018 to $524,787
A drop of $226,000 from the 2005 price.  I don't know about you but losing $226,000 in 4 years is a pretty big deal.  Not prime enough for you?  Let us continue on then.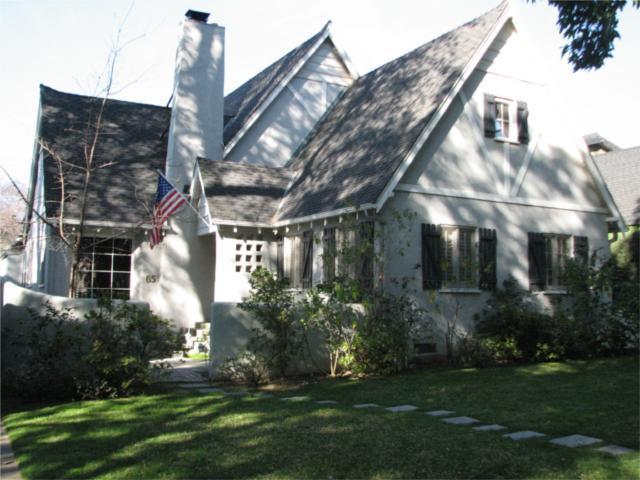 This home is a 3 bedrooms and 2 baths home.  It is listed at 1,978 square feet.  This is a current short sale or pre-foreclosure (depending on how you see it).  Let us look at what got this home in trouble:

Good old Novastar (poster child of toxic mortgage lending) made $1,000,000 in loans on a 3 bedroom home.  The notice of default was only filed in May of 2009 and the original Novastar loans were made in 2006.  So it took about 3 years for payments to be missed.  The current short sale price is $949,000.  Even an FHA insured loan won't help you here.  Anybody have a $200,000 down payment and looking to spend nearly a million dollars for a 3 bedroom home?  From $147,000 to $1 million all in one city.  That covers much of the food chain.
Today we salute you Pasadena with our Real Homes of Genius.
Did You Enjoy The Post? Subscribe to Dr. Housing Bubble's Blog to get updated housing commentary, analysis, and information.