The housing market is now fully out of control in California like a rising Hollywood actress.  People are stomping over one another with cashier's checks falling out of their back pockets to purchase a home and the psychology has shifted to "I should have bought a few years ago to cash into this party!  I'm not missing this real estate Metro bus!"  Of course, and the case remains, you do not lock into property gains until you sell.  So unless you plan on buying and selling on a routine basis, the fast rise is really nothing to scream home about especially when underlying fundamentals are so out of sync with a normal market.  You can also get a pulse on the mania by looking at how aggressive flippers have become.  I'm starting to see some incredibly epic flips and many are sitting for a good amount of time on the market.  Inventory is also increasing including in sought after neighborhoods.  Today we'll look at a home in Pasadena that demonstrates what is truly happening in the housing market in Southern California.
Home prices and interest rates
Before we look at the home, let us examine the relationship between home prices and mortgage interest rates: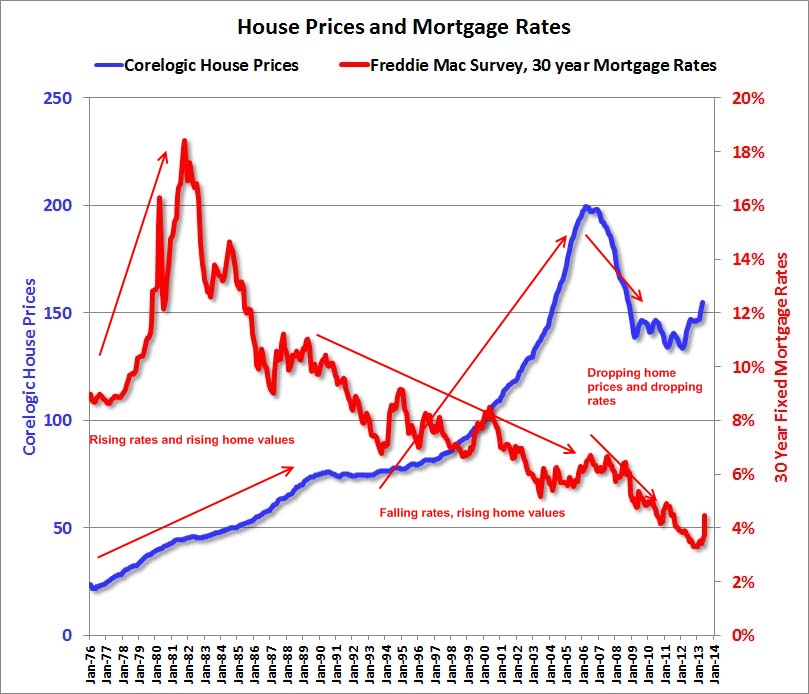 Source:  Calculated Risk, my annotations

During the 1970s, home prices went up at a very healthy pace in spite of major spikes in interest rates.  Why?  Because higher rates were a reflection of overall inflation which included inflationary pressures on wages.  So in this case, we had higher rates (ridiculously high rates) and higher home prices.  Next, you have the 1980s through the 1990s where rates fell dramatically and home prices rose.  Incomes were going up in real terms during this time as well.  The 2000s show a market where home prices fell but rates were falling.  For the 2000s however, the real kicker is that it was the first decade where households actually saw inflation adjusted wages fall in this generation plus the added benefit of juiced up steroid ridden mortgages like option ARMs and Alt-A products courtesy of Wall Street.
Today, with no real wage growth, low rates are being used as the catalyst to boost home prices.  As we saw with rates only going from 3.5 to 4.5 in the last month, the market went nutty just on this little change.  But look at the red line above!  Even 4.5 percent is a ridiculous rate thanks to the Fed's aggressive policies.  We've papered over a weak decade of wage growth with financial gimmicks.  The history of mortgages rates demonstrates that yes, incomes absolutely matter.
Pasadena Flip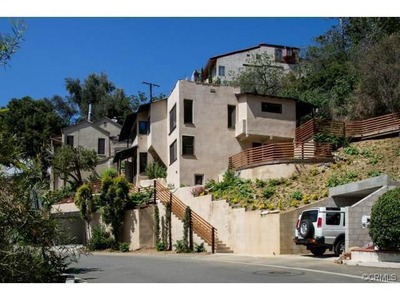 1836 Peterson Ave, South Pasadena, CA 91030
Bedrooms:3 beds
Bathrooms:2 baths
Single Family:1,363 sq ft
Lot:8,973 sq ft
Year Built:1927
The aggressiveness of flips in the current market is reminiscent of the peak days of the bubble.  There is truly no difference and the attitude is definitely permeating into the streets.  The above place has a large lot but the property itself is only 3 bedrooms and 2 baths.  Some work has clearly been done: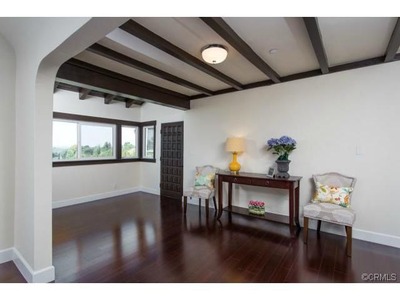 But you will be blown away when you see the sales history here: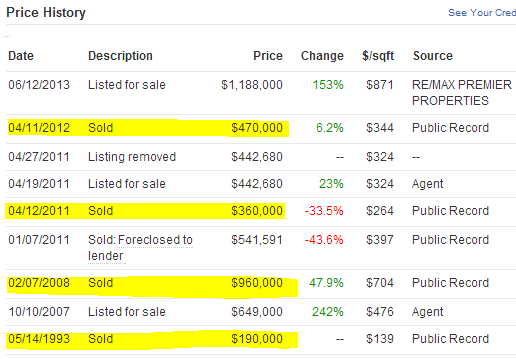 This place sold for $190,000 in 1993.  It then sold for $960,000 in 2008 which was insane.  Someone got a good deal in 2011 for $360,000 but we didn't see the condition of the place (although at $960,000 – who in the world made that loan?).  It sold last April for $470,000 and is now listed at $1,188,000.  Bwahaha!  Yes, there is no mania in Southern California.
This is merely one example of many in the loony market where supply is constrained, banks ignore non-payment on mortgages, rates are artificially low, and people like sheep line up for round two of the California housing bubble.
Los Angeles Inventory
Of course, higher rates this time will pop this bubble because many of the large investors are focusing on real estate for flips/rentals because the market is providing negative rates courtesy of the Fed.  So people are chasing yields like cats after mice wherever they can but the market is now overbought and people are trying to get their hands on whatever chair remains as the music speeds up.  For the first time in a few years, inventory is starting to increase: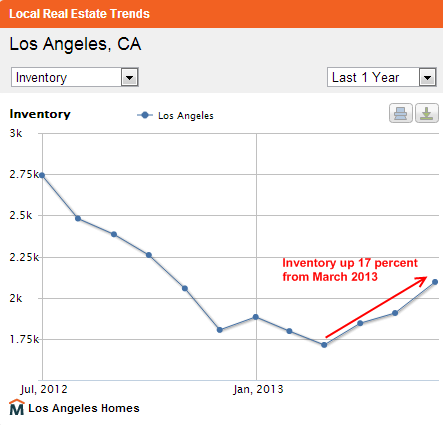 Source:  Movoto
I'm seeing more of the aggressive flips linger for months now.  From colleagues in the industry, the recent interest rate spike spooked some from buying (and pushed some from actually being able to afford the place since they were stretching to get in).  The Fed is hoping for a Japan like market.  So far it is QE into infinity but we might have hit a lower bound threshold.  Low rates or high rates, some of the homes for sale in this market reek of manic behavior.  If you are buying this summer in SoCal, good luck to you.

Did You Enjoy The Post? Subscribe to Dr. Housing Bubble's Blog to get updated housing commentary, analysis, and information.